(Top Image courtesy of ESPN)
OH YEAH BUDDY!
NCAA football rivalry week has arrived. Just like last year we will look at some classic matchups, but this time different ones. And let me tell you they are all special to someone, especially with so much riding on the result. Defeats are sooo' bitter, but victories are such a juicy sweet fruit, born from hours of practice.
# 13 STANFORD CARDINAL (9-2) VERSUS # 4 NOTRE DAME FIGHTING IRISH (10-1 )
According to OddsShark, Notre Dame is a + 2 underdog. I'm laying 350 fictional buckaroo$ on the Cardinal to win against the spread. This great rivalry will feature 2 terrific schools with the NCAA football playoff on the line. Neither can afford to lose. Coach Kelly has done a remarkable job bringing Notre Dame back to prominence over the last 7 seasons, but he will fall shy this year. Providence however might select the Cardinal. What team reflects a better chance at smacking down ridiculous stereotypes and fix the apple cart of the world's haters?
Here you have a hard-working dedicated, GENIUS, class personified African-American HEAD Coach David Shaw, and his BEST ATHELTE is a blonde, Irish-American, blur, who is shifty, speedy, elusive and a Heisman Candidate, who for religious haters, just happens to be named Christian too. For SEC fans who put all other conferences on blast, that is West Coast PAC-12 SPEED leaving defenders in the dust-not yours buddy.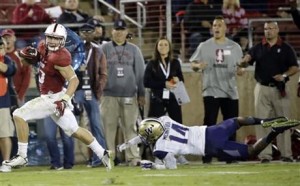 Mr. Speedy McCafferey set a new school record last week for 389 all-purpose yards against their other big rival Cal, returning kicks, taking handoffs and catching passes for huge gains and scores in a dominating victory. I'm going with Coach Shaw and the Standford Cardinal who have a smart staff and game plan to get the win at home and keep hope alive for a PAC-12 title and a playoff berth.
# 2 ALABAMA CRIMSON TIDE (10-1) VERSUS AUBURN TIGERS (too embarrassing to print)
Ahh, the Incredible Iron Bowl. So many SEC and NCAA championship runs have been decided in this game over the years between these 2 legendary institutions.
Right after the Tide got beat by Ole' Miss' early in the year, the team's ears became open to anything Coach Nick Saban has had to say. Every practice is probably filled with a fire and brimstone speech.  They haven't been this focused since 2012. Alabama seems to be starving for wins. Their defense has been a bruising force, shutting opposing offenses down. They even ruined Leonard Fournette's Heisman hopes and annihilated LSU's season, from which they still have yet to recover from the whoopin' Alabama gave them. The Crimson tide's offensive lineman are squashing opponents and providing their quarterback with enough time to set up a cot for some ZZzzz's before he decides to pass the ball.
Don't worry about the spread, shove all of your chips in on Saban and his angry Crimson Tide, they are going to roll all over the Tigers for an easy victory. And take the over under on the points, I suspect Alabama will be looking to leave no doubts on the field and try to pile on as many points against their arch-nemesis.