What is On The Bench Report?
Real Sports.  All the sports that you want to read about.
Real Insight.  Unique insight and analysis that you won't find anywhere else.
Real People.  We watch sports.  We debate sports.  We write sports.
Let's get introduced to the Real People.
Founders (and Contributors):
Mike Jacobs is one of the founders of On The Bench Report, is an occasional contributor, co-editor, and works on the "back of the house" part of the business.  Always the contrarian, Mike learned how to write as an engineering student in college, and honed his skills while reporting on slot machine data analysis in Las Vegas.  Born and raised in a suburb of Boston, Mike is a lifelong Red Sox, Patriots, Celtics, and Bruins fan.  When not writing for On The Bench Report, Mike is a consultant for the casino and gaming industry.   Mike currently lives in Cambridge, Massachusetts with his amazing wife, Jen, who encourages him to make On The Bench Report so successful that someday we buy ESPN.
Jason Fisher is a co-founder, sports director, co-editor, and lead writer for On The Bench Report. Jason was a guest writer for The Ohio State University's The Lantern, regular sports writer for the now defunct Beehive blog, and worked as a college sports writer for Get More Sports. His main sports loyalties are The Ohio State Buckeyes, Cincinnati Reds, the Bengals, the Bearcats, Indiana, Georgia, the Cubs, the Chicago Blackhawks, and the Red Sox, and junior USA Olympic swimmer Hannah Kukurugya (his cousin) , who is already a Gold (400 medlay relay) and Bronze Medalist (200 fly) from the 2014 PAN PACIFIC games. He is also an indie film screenwriter, director, and producer, who can be found on IMDB and was a semi-finalist in Project Greenlight while also being blessed enough to have a paid option and a sell to Paramount Studios.  However, due to his  obsession with sports and film he is currently unmarried. Like a WWE wrestler, he is rumored to be "currently living in parts unknown" and working on a new script.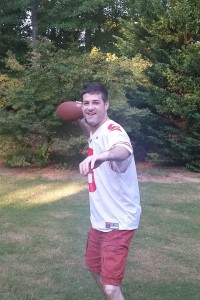 (Image courtesy of Jason Fisher/OTBR)
Ash Boodel  is a co-founder, and currently lives in Washington State, but his roots (and fan base) are with Colorado. Though he is now a fan of the Seattle Seahawks, Seattle Mariners and local teams like the Gonzaga Bulldogs, Spokane Chiefs, and Spokane indians, he still holds true to his roots and follows his first love: Denver Broncos, Denver Nuggets, Colorado Rockies and Colorado Avalanche. Self employed, he is unfortunate to come down with the flu the same time every year which coincides with the first two days of NCAA March Madness. His favorite NCAA Basketball teams to watch are the Maryland Terrapins, Wake Forest Demon Deacons, Kansas Jayhawks, Syracuse Orangemen (does not recognize change to just Orange), Cincinnati Bearcats, UNC Tar Heals and Memphis Tigers. He's a huge fan of Chaka Smart of VCU and Roy Williams of UNC. In recent years, his father instilled the love of Major League Baseball in him and he's fallen in love with the sport. He enjoys watching various teams including St Louis Cardinals, Kansas City Royals, Boston Red Sox, Oakland A's and San Francisco Giants. Though he isn't a regular writer, he owns a web development company and is part owner of various online marketplaces. He is also the main online manager for OTBR.
Contributors:
Joel Goldschmidt is a Senior writer for On the Bench Report, cranking out articles about the NHL, NFL, MLB, NBA, and anything else that he can think of. He learned to write at the University of Colorado at Boulder's Journalism school.  While getting his degree in Broadcast Production, many writing skills were needed along the way. Born and raised in the Bay Area, Joel is a diehard SF Giants, 49ers, Warriors and Sharks fan.  Obviously, he pulls for his alma mater of Colorado, but also grew up rooting for the Stanford Cardinal. Joel co-owns and operates a video production company called Serene Memories Video with his wife, Angela. Joel currently lives in the Denver area with his wife, Angela, and step-son, Brandon.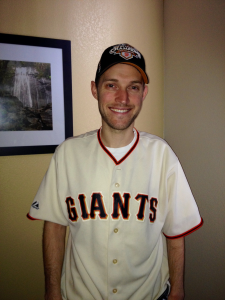 (Image courtesy of Joel Goldschmitd/OTBR)
Robert Moreno is a Senior writer for On the Bench Report, who is a guru on the UFC/MMA, and the WWE. He also loves anything San Diego, his hometown, and currently lives very close to the Sin city strip in Las Vegas, Nevada.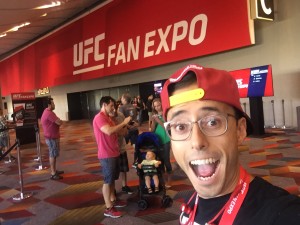 Joshua Graves is a writer for On the Bench Report, he has a vast knowledge of the NBA, MLB, and NCAA Football. He is also a comedian and live in Arizona.
Rob Hadley is a writer for On the Bench Report, he has a wealth of knowledge about the NHL, the NBA, and Chicago Sports. He is also an Indie filmmaker and lives in Arizona.
Tyler Chambers is a former contributor for On the Bench Report. He left for another opportunity and we wish him the best. Previously he had written for FantasyPros.com and RedRockBasketball.com.
You: And we want to hear from you.  We want to know how On The Bench Report can get better, and we want to know what you like about On The Bench Report.
Talk to us at [email protected]. Thanks for reading! OTBR