feature image via Troy Taormina/USA TODAY Sports
Houston, we have a problem
The Houston Rockets made it all the way to the Western Conference Finals last season and hoped to build on that success this season, but started 4-7, costing head coach Kevin McHale his job. Was he really to blame? Last season they rode an uber-hot James Harden to the Conference Finals, but he has struggled so far this year compared to last. While he is still scoring at a high rate (28.8 ppg), his shooting is terrible. He is only shooting 37% from the field and an abysmal 26% from 3-point range. For all you stat junkies, his true shooting percentage is under 55%, the lowest in his career. Combine that with his usual below-average defense and there is cause for concern. Last week, the Rockets had a players only meeting, in which his attitude was called into question. There have always been rumors that he was a bad teammate, choosing to eat alone and not socialize with his teammate, causing resentment in the locker room. If Harden wants to be a leader, he needs to do it on and off the court.
But, the Rockets problems go beyond Harden's bad shooting start. They rank in the bottom five in points allowed per game, field goal percentage allowed and three pointers allowed. That is not sustainable. They have a dominant force down low in Dwight Howard, but he is often injured and has not been scoring like he used to. Ty Lawson was their big pickup in the offseason, but he is another guard like Harden, who chooses offense over defense. The only problem is he is only putting up 8 points and 5 assists in 34 minutes per game. Perhaps removing McHale from the equation is what they needed to jolt themselves back into title contenders, but, to me, McHale seems like a fall guy for a team that over-achieved last year and simply do not match up well with many other teams in the Western Conference.
New Orleans Peli-can'ts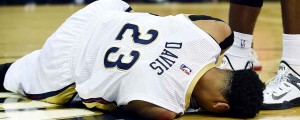 Stacy Revere/Getty Images
It has been quite a fall for New Orleans coming off a playoff berth last season, to 1-11 this season. New Orleans has built a solid club, improving on their record in each of the last four seasons, but took a huge step back so far this year. The defense that was so good last has abandoned them this season. They only allowed 98 points per game last season, but that number has ballooned up to 110 points per game, the worst in the entire NBA. Davis has been good, but not quite the MVP candidate he was billed as. They have had a fair amount of injuries to Davis, Asik, Holliday and more, but they need to turn it around fast if they plan on making back-to-back playoff appearances.
Weekly Warriors Watch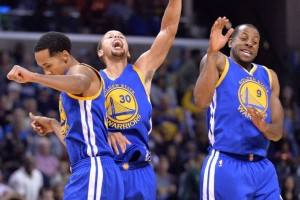 via AP
Quite a week for the Warriors. They dug themselves into a 15-point hole at home against the Nets, only to deliver in the clutch with Andre Iguodala hitting a game-tying three with six seconds left. They W's pulled away in OT to stay undefeated, but not without the drama. Next up were the Raptors with Stephen Curry throwing in an extremely average and ordinary 37 points, leading Golden State to another home victory and setting up an amazing matchup between the Warriors and the Clippers. In L.A., Golden State dug themselves in a hole due to a combination of foul trouble and an unreal shooting exhibition by the Clippers. At their worst, the Warriors found themselves down 23 in a raucous Staples Center. The Warriors found their rhythm in the second half and, more specifically, in the fourth quarter. They made 8 out of 9 on 3-pointers and 11 of 15 from the field in the fourth, closing the deficit and taking the lead late in the game. They find themselves 13-0, two wins away from tying the best start in NBA history. Next up, they get the Derrick Rose-less Chicago Bulls, Denver Nuggets and L.A. Lakers. They should find themselves in an excellent position to take those three down and set a new record.
Game of the Week
Dallas at San Antonio, Wednesday, November 25. Apart from the Rockets, Texas is having a nice year. These two teams find themselves with the top-two records in the West, other than Golden State. The 9-2 Spurs are looking like the next best team in the NBA, posting the best defense in the league. They are deep, with their second string probably being close to a playoff team in the East. The Mavs are right in the thick of things in the Southwest behind the ageless Dirk Nowitzki. Nowitzki is pumping in 18.5 ppg in only 28 minutes of action. They are keeping his old legs fresh for a playoff run and it is showing in his play. With fewer minutes, he is shooting at the highest percentage of his career, going 52% from the field and 50% from beyond the arc. This game should be interesting to see if the Spurs D can stop Dirk and the Mavs offense.