feature image via Gary A. Vasquez/USA TODAY Sports
The Kids are alright
We have ourselves a very strong rookie class in the making with guys like Jahlil Okafor, Karl-Anthony Towns and Kirstaps Porzingis filling up the stat sheet.  Towns has been spectacular, posting six double-double's in his first eight games in the NBA, posting an average of 16 points, 10 rebounds, while shooting the ball remarkably well from the field and free throw line, a rarity for a big man like Towns.  Okafor got dealt the unlucky hand of being drafted by Philadelphia, but still manages to put up 20 points a night.  Porzingis has given the Knicks a jolt of energy, posterizing opponents and still able to shoot the three ball.  The Knicks fans that booed his pick are looking pretty silly right now. 
Watch out for Minnesota
The Timberwolves have very quietly built themselves an extremely young and talented core.  Between good draft picks like Ricky Rubio and Karl-Anthony Towns and shrew trades like sending Kevin Love to Cleveland for superstar Andrew Wiggins.  Matching them up with key role players like Kevin Martin and Zach LaVine to go with veteran leadership from Kevin Garnett and Andre Miller gives the young core the depth and valuable leadership that will carry them to repeat playoff appearance.  They start this season 4-4, good enough for second place in the Northwest behind key road wins in Chicago and Atlanta.  The next month should see a rise in the standings as they spend most of November playing against the much weaker Eastern Conference.  If they can play at a high level in the near future, watch the hype and energy rise.  Will it be enough to end an eleven year playoff drought?  Only time will tell.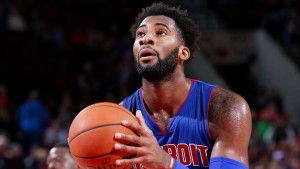 Sam Forencich/NBAE/Getty Images
Andre Drummond is a beast
The guy is putting up silly numbers, going 20 points, 20 boards three times so far this season and nearly averaging a 20/20 on the year.  He lead the Pistons to a fast start at 5-1, but dropped the last two on the road in California.  Still, the Pistons are 5-3, and find themselves in 5th place in the weak Eastern Conference.  The only knock on Drummond is his free throw shooting.  At 39%, he makes himself a liability late in the game, regardless how good the rest of his game is.  Teams will resort to hack-a-Drummond unless he can bring that percentage up.  Drummond is still a superstar and someone Detroit can rebuild around, but fixing that hole in his game will bring him up to a level of NBA elite Detroit hasn't seen in a long time.
Warriors Watch
The Golden State Warriors are off to a 10-0 start (if I'm good at math, they are on pace to go 82-0), demolishing opponents left and right.  With ten straight wins, they are only five away from tying the all-time record for wins to start a season with 15 and that looks very reachable, especially given how well they are playing.  A couple of easy-ish wins against Brooklyn and Toronto would bring them to 12, setting up a tough matchup in LA with the Clippers.  If, they can get past the Clippers, it is entirely possible they could run the table until Christmas when they play Cleveland.  Looking at their schedule, I would be surprise to see them less than a 10 point favorite in any game, other than the Clippers match up next week.  I'm not saying they are going to be 28-0 and, more than likely, there will be a slip-up game in-between here and there, but every night the Warriors take the court, they are the better team and it will all come down to executing. 
Game of the Week
That would be the aforementioned Warriors/Clippers on Thursday.  As I mentioned, this is the toughest game Golden State has on their schedule for a while and the Clippers proved to be the most formidable opponent for the defending champs when they held a 10 point 4th quarter lead in Oakland earlier in the season.  Obviously, that game turned out to be a Warriors come back win, but perhaps moving the game to LA's home court could shift the balance in favor of the Clippers.