feature image via: Ezra Shaw/Getty Images
It's been about a week since the NBA season tipped off and there have been plenty of moments to enjoy and even more to look forward to.  Here a look a some themes we've noticed so far and some surprises that may or may not become trends.
The Golden State Warriors (and specifically Stephen Curry) are actually much better than last year:
A bit of a surprise to say that the team that won the championship last year didn't even reach their full potential.  Let's break down their 5-0 start before I begin the Curry glorification.  Opening night couldn't have started any better. They started strong against the New Orleans Pelicans and everyone's darling, Anthony Davis.  All they did was win by 16, Curry opened up the season with a 24 point first quarter and the game was basically over after 3 quarters.  Game 2 was a rematch of the Western Conference Finals in Houston, where the W's quieted the arena's "MVP" chants for James Harden with a balanced attack and 20 point victory. Game 3 was a rematch with the Pelicans and their 14 point victory did not tell the whole story.  Curry outscored the Pelicans by himself in the third quarter 28-26 and put up 53 points in the game.  This is a Pelicans team that made the playoffs last year and was plenty of writers picks to make a big jump this season.  Perhaps they have improved, but so have the Warriors, picking up two big wins against them early in the season.  Game 4 was the most impressive victory in another playoff rematch against the Memphis Grizzlies and ended in a 50 (no that's not a typo) point win.  It was utter domination as the Warriors went into the 4th quarter nursing a 44 point lead.  Every player for Golden State got in on the action, scoring at least once.  Finally, just to keep things interesting, they spotted the Clippers a 10 point, 4th quarter lead before closing out on a nice run and maintaining their spotless record agains their in-state rivals.  I'm not ready to crown them champions, yet, but I am saying that the 1995-96 Bulls better watch out, because, barring major injury, this Warriors team is going to make a serious run at their 72 win season.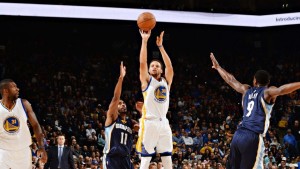 Noah Graham/NBAE/Getty Images
On to Steph Curry. The man is amazing.  Have you watched him play?  Is there anyone more fun to watch?  I say no.  What he is able to do in his small frame is incredible.  Quite possibly the best shooter of all time, Curry is averaging almost 36 points per game so far this season, and has scored 179 points through five games, the most since some guy named Michael Jordan did it in 1991. That's pretty elite company.  To make things crazier, he isn't even playing the whole game.  With so many blowouts this year, Curry has been the teams biggest 4th quarter cheerleader, happily waving his towel when the second-string guys start scoring. He has only played 160 minutes so far, so if you are scoring at home, that's more than a point per minute.  He is shooting 52% from 3-point range (Kobe is shooting 20% so far…just saying) and his 28 made 3-pointers more from beyond the arc than the 76ers, Grizzlies, Jazz, Nets and Timberwolves have made this year.  He has only turned the ball over 8 times all year, an absurdly low number for a point guard when you consider Emmanuel Mudiay made 11 in one game this year.  I could go on and on with statistics showing why Stephen Curry is an amazing player, but, instead of that, just watch.  Here are a couple of clips to get you started:
https://www.youtube.com/watch?v=O4sXdktFDEM
https://www.youtube.com/watch?v=_oabnezzodE
He is a pleasure to watch and you are missing out on a great player playing amazing basketball.
Toronto Raptors might just be for real
The only other team to start 5-0, the Raptors have put together some nice victories, scoring triple digits in each game.  They've knocked off the Pacers, Celtics, Bucks and Mavs before going into Oklahoma City and beating title contender Thunder.  They have four players averaging over 13 points per game, led by DeMar DeRozan's 22 ppg.  While it is early and their schedule hasn't been overly taxing, they are a team to keep your eyes on as they should contend for the Eastern Conference title with Cleveland, Chicago and Atlanta.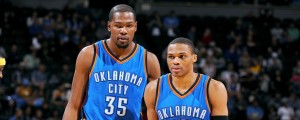 Garrett Ellwood/Getty Images
Oklahoma City are back
There is probably no better example of a team the relies so heavily on so few players.  Last year, Kevin Durant's injury kept OKC from the playoffs, but that will not be the case this year.  Durant and Russell Westbrook look like they have a chip on their shoulders and have decided to carry the Thunder as far as they can.  Only Curry is averaging more point per game than either of them, with Westbrook also leading the league in assists.  I don't know how long a two man team can last, but they should be able to carry them back to the playoffs.  How much those two have left in the tank for the playoffs after a long season is another matter, but in the meantime, they are the most dynamic duo in the entire NBA.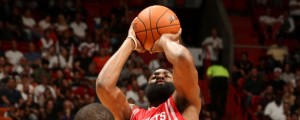 Oscar Baldizon/NBAE via Getty Images
So, are the Houston Rockets good or bad?
The Rockets made the Conference Finals last year and hoped to improve this season with a healthy Dwight Howard and new point guard Ty Lawson.  The season did not start out as planned when they were drubbed at home by the lowly Denver Nuggets.  They followed that up with losing to Golden State (no shame there) then on the road in Miami, giving them an 0-3 start and causing a few grey hairs in the Houston front office.  Since then, they have beat the Thunder and Orlando Magic, pulling them out of the cellar in the Southwest division.  The Rockets have too much talent to struggle all season, but perhaps this isn't the title contender we expected.  They have very little defense besides Howard, allowing at least 105 points each game this season and match up very poorly with elite teams like Golden State.  James Harden and Ty Lawon are offense-first players and asking them to guard a combo such as Curry/Klay Thomson or Westbrook/Durant is cruel.  They will need to make a change to balance their approach if they want to win it all, and not rely on Harden outscoring the other team because that just won't work.
Game of the Week:
For those NBA lovers, here is the best game over the next week:
Houston Rockets at Los Angeles Clippers, Saturday 10:30EST.
The Clippers were undefeated prior to losing in Golden State and look good so far.  The trio of Chris Paul, Blake Griffin and DeAndre Jordon are doing major damage, while role players like J.J. Reddick, Jamal Crawford and Paul Pierce are filling in the gaps nicely.  They are a well-rounded team and look like a serious contender in the West along with Golden State and San Antonio.  The Rockets have won two in a row and look to get back on track and regain their contender status.  A win in Los Angeles will do just that.