Let me preface this rant with the fact that I love to bet, wager, gamble or whatever you want to call it. I have never gone over the top in my gambling and wagered more than I could afford to lose, but there is a reason I moved to Las Vegas for several years in my 20s and it wasn't for the weather. I bet on poker, blackjack, sporting events and the occasional slot machine when I had a few, um, apple juices, and had a hard time counting to 21. I even played some of the crazy games that you would have seen Clark Griswold play at the seedy casino in "Vegas Vacation." Sometimes I won, sometimes I lost, but I usually had fun doing it.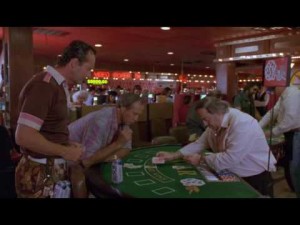 (Image Courtesy of Warner Brothers)
Now, if you are here at onthebenchreport.com, you probably enjoy watching the occasional sporting even, and, lately, you would have to be pretty oblivious to not notice the unbelievable amount of commercials advertising daily fantasy sports such as Draftkings.com and Fanduel.com. When I first started seeing these commercials a year or two ago, I thought to myself: how exactly is this legal? Surly, they will be shut down any day now. And yet, here we are, watching a game where a two-minute commercial break includes one minute from sites like these. So, again, I ask, how is this legal? How am I allowed to wager money against other people on the performance of certain players I assigned to my fantasy team, but not bet on the actual team those players are on? How can I plunk down over $5,000, build a team that centers around Andrew Luck's statistical performance, but not bet $5 that the Colts will cover the 7.5 points over the Jets? Seems like two different kinds of fruit growing from the same tree.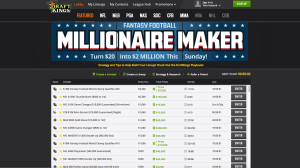 (Image Courtesy of draftkings.com)
This is extremely reminiscent of the online poker boom from several years ago when you were flooded with commercials for FullTilt Poker or Poker Stars. It was a huge industry with millions of dollars changing hands every minute until the government stepped in and shut them down, taking plenty of player's money with it. So, what is the difference between daily fantasy sports and poker? According to Fanduel.com, they say fantasy sports are "considered a game of skill and received a specific exemption from the 2006 Unlawful Internet Gambling Enforcement Act (UIGEA)." I love a good rationalization, what is the difference between having Dez Bryant on your team in Week 1, watch him break his foot, ruining your chances of winning at a one day league and seeing a river Ace bust your three-of-a-kind in a game of Texas Hold 'em? Yes, both games require skill to place yourself in a position to succeed, but luck can trump any amount of research you do about a football player, his matchups that week and his potential scoring power, just like knowing that getting 4-to-1 on your money in a hand your are going to win 90% of the time is a smart play. That ace can still come on the river, ruining your smart play, but that doesn't mean the other player won with "skill."
Last week, Senator Frank Pallone Jr. from New Jersey called for a Congressional hearing on Fantasy Football. He is thinking along the same lines as me and is obviously frustrated that a four-year battle to bring sports betting to his home state (a state that already has huge casinos and plenty of other gambling) was rejected.   That is an enormous amount of revenue that New Jersey lost over those rulings. Roughly $100 billion dollars will be wagered on NFL and college football this season. Think New Jersey could use a few extra billion dollars a year? I'm sure they could, but only if they create a new site for fantasy sports.
So, what gives? Why can I do one thing, but not the other? Is it is as simple as sponsorships? Before the season, Fanduel announced exclusive partnerships with half of the teams in the NFL, Draftkings has five NFL teams, 18 MLB teams, the entire NHL and UFC. With the support of the leagues worth billions and teams with owners worth more billions, will this ever be shut down or will this be the wave of the future? The sports bettor in me likes the idea of desensitizing the public to such obvious gambling that betting on games will be easier to do down the line. If big casinos like MGM, Caesars and Las Vegas Sands were smart, they would start their own "Fantasy Sports" site and exploit this enormous boom, then they would already be in position to capitalize if sports betting were to be included under the umbrella of fantasy sports being a game of skill.
Now, if you'll excuse me, I need to go make a fantasy football team full of Lions, Patriots and Ravens, since those would be my three picks if I were able to make a 3-team parlay ticket. Unfortunately, I live in Colorado instead of Nevada, so I guess I'll have to do it the "legal" way.