Oh dear football, it is so good to see you again in all of your glorious forms: Canadian, American high school, pro, and especially, NCAA football. On Thursday, September 3rd and Saturday September 5th, fans will be in stadiums around the country dancing and cheering on their squads to a win or at least a valiant effort.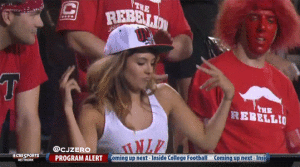 Above image is courtesy of (CBS Sports Network)
It could be said that in that in the amazing NCAA football landscape, there are always some surprises, be it some team that disappoints and drops from contention for greatness, and others who rise out of the unseen and storm their way into a case for a shot at a National Title. With so many teams and games and the need to stay healthy it can be daunting to make a top 4 finish and win, let alone even attempt to repeat. Then there is the schedule, it needs to be tough enough to impress voters, but not too tough, as you need a breather in there and a key game or two in your friendly backyard with the energy of the fans. Plus, sooner or later, you gotta win and survive a nail biter on the road against either a worthy opponent or some scrappy underdog who plays the game of the year against— YOUR team.
Last year the Ohio State Buckeyes, had the Eye of the Tiger, but will they be hungry again or still digesting desert? So who makes it? Who am I projecting will end up with the ONLY FOUR coveted seeds into Division's One's 2015-2016 NCAA playoffs, and who will be on the outside bickering about how they should be in?
Please note a disclaimer *all of these projections are provided that the teams mentioned do not suffer any debilitating injuries*. I'm also going to include the Las Vegas betting odds to win the national championship from BOVADA.
AUBURN, BAYLOR, OHIO STATE, and CLEMSON
# 1. AUBURN TIGERS 12-1
You have to like their schedule with key games at home: Georgia and Alabama. Head coach Gus Malzahn and the Coaching staff are experienced. They have a defensive Ace named Cassanova Mckinzy, and Cassanova LOVES to shut down the opponent's run game. This 250 pound middle linebacker led the Tigers with 166 tackles the last two seasons.
From the annual royal rumble known as the game's best overall conference from top to bottom, the Southeastern Conference (SEC), I believe the Tigers will come out on top in 2015, with regular season victories over their biggest rivals, and then a Conference title, but they will likely stumble against someone else along the way. If you are looking for action, LSU is home against Auburn and might have a chance to upend Auburn, but this game is in September, and that gives Auburn a lot of time to make up ground and climb the ranks.
Las Vegas odds: plus-900
# 2. BAYLOR BEARS 12-0
While the Bears have clawed their way to consecutive BIG-12 Conference championships, I just have a hunch that these guys are starving for RESPECT. Sure Bryce Petty is now in the NFL, but 6.3, 220 pound junior, Seth Russell has had some playing time to show off that he has the skills to be the next signal caller for head coach Art Briles. He's flung 11 touchdowns in mop-up duty. The Bears also discovered a new secret weapon on their roster during the Cotton bowl game last year. Remember this guy?
Above video is courtesy of (FOX sports via Youtube)
That 6 ft. 7 in., "410 lbs" of a moving mountain is senior, LaQuan McGowan, and this dude is going to be playing a lot more tight end this season. So when he is in and they run, you have virtually 6 offensive linemen. Since this former offensive guard has mobility, he will great on some counter sweep run plays. He also proved he has the soft hands, solid mobility, and who can possibly tackle that guy without taking a beating? Especially if it is in the 4th quarter and a defense is tired and bruised they won't want to tackle him. I seriously expect him to make a key 3rd down catch or two a game to keep the chains moving. So I expect the Baylor Bears to exit their November 27th contest in TCU as the victor.
Las Vegas odds: plus-2000
# 3. OHIO STATE BUCKEYES 12-1
Future half of fame coach Urban Meyer now has secured three NCAA National Titles. That makes him second on the active list of head coaches to Nick Saban. Urban has never repeated as a head coach, which is something Saban has done. This year's squad is as good a chance as Meyer could ever get to repeat and tie Saban at the same time. His team is so loaded that a former all-conference quarterback, Braxton Miller is being moved to wide receiver and kick returner, a better path for him to reach the NFL anyway. Still, who will be under center? J.T. Barret (who broke Drew Brees conference touchdown record before getting hurt) or Jones (who played stellar to finish the Michigan game and then all three post-season games), or a combination? I would not be surprised if Meyer found a way to get both of those deserving guys playing time. The Schedule is actually more ripe to go undefeated than last year, but somehow I think someone pulls an upset against Ohio State, maybe even Penn State will sneak out of Columbus with a win in October.
Las Vegas odds: plus-275
# 4. CLEMSON TIGERS 12-1
This is the team that will seem to storm out of no where and eventually work their way in. Don't forget, two years ago the Tigers roared their way onto an Orange Bowl victory. I predict their Sophomore Quarterback, Deshaun Watson, will be the ACC's best quarterback and in the running for the Heisman when it is said and done. He has the stuff be electric. Not only can he hurl the pigskin around with some accuracy (completed 67.9 % of his passes last season), in limited play to injury, but this 6 ft 2, 205-pounder has mobility and leadership skills. Backing him up is the defense, which ranked number #1  in yards allowed and only gave up an average of 16 points a game. True some have graduated, but in the four years that head coach Dabo Swinney has been in charge, quietly the Tigers have moved up the recruiting charts, gathering up four and five star recruits from nearby states. Lots of new talent will take the field. It's a long-shot, but I like their chances to surprise people and defeat both Notre Dame and Florida State, who they entertain at home this year.
Las Vegas odds: plus-2200
TEAMS WHO WILL FALL SHORT
GEORGIA BULLDOGS
They will knock off Alabama at home, but lose to Florida and Auburn this season.
TCU HORNED FROGS
They will be undefeated until they meet Baylor, who will beat them on their home field and they will sit out with 1 loss.
ALABAMA CRIMSON TIDE
Losses at Georgia and against Auburn will have Nick Saban yanking out his hair.
OREGON, FLORIDA ST., NOTRE DAME, BOISE ST., USC, OKLAHOMA, and ARIZONA, will lose 2 apiece and be eliminated.
In the end, I foresee the Auburn Tigers of the mighty SEC, claiming the national title.