(feature image via: Peter Llewellyn/USA TODAY Sports)
The non-waiver trade deadline has come and gone and the balance of power has certainly shifted, especially in the American League. We will see more moves before the end of August, but it is highly unlikely that any will be as big as what we saw last week. Some playoff-bound teams cemented their contender status and improved their playoff odds, other teams on the cusp of the playoffs look to find the missing piece to get them there. Others were in sell mode and are looking to reap the biggest reward for their assets while looking toward 2016 and beyond.
Winners:
Houston Astros: They added Scott Kasmir and Mike Fiers to bolster the rotation after Dallas Keuchel, which was so desperately needed. Carlos Gomez is a highly entertaining center fielder that you could argue is in the top-5 in the entire league at that position. More impressively, they did it without giving up any of their top prospects like Mark Appel. Their rotation can now match up with any of their competitors in the American League and Gomez's energy in that lineup with George Springer, Carlos Correa and Jose Altuve will be feared.
Kansas City Royals: They hit an absolute home run at the deadline and filled their two biggest needs in two big ways. Johnny Cueto gives them the ace in the rotation that they have lacking for decades. He can go toe-to-toe with any other starter and bolsters the rotation by allowing the other pitchers to slide down one spot. My favorite under the radar acquisition is Ben Zobrist who fills the massive offensive hole they had at second base. The Royals were already one of the popular picks to get back to the World Series, now they look like the favorites.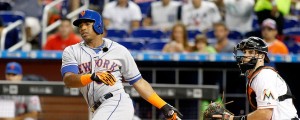 (Image Courtesy of AP Photo/Joe Skipper)
New York Mets: They needed offense badly, so they regrouped after whiffing on Carlos Gomez and picked up the best power bat available in Yoenis Cespedes from Detroit. He gives the Mets offense some credibility to go with the star power they already have in their rotation. Tyler Clippard improves the bullpen and Juan Uribe has been clutch in the postseason in the past. The best part of the deadline is that they did not have to trade Zack Wheeler who, if he can return healthy, will be the best #5 starter in the league in 2016.
Uber-Winner:
I didn't want to put the Toronto Blue Jays in the same category as the other winners because I can't remember a team whose roster improved so much in one week. They added Troy Tulowitzki, who was a huge luxury for a team that did not struggle to score runs. Getting Tulo was like selling your 4 bedroom house to buy a 6 bedroom house when you don't have any kids.  They improved the bullpen with Mark Lowe and LaTroy Hawkins, turning the pen from a question mark into a plus. They brought in Ben Revere to add speed and defense to a power heavy lineup. The best move of the entire deadline was when they brought in David Price. They needed a #1 starter and they went out there and got one of the best starting pitchers in all of baseball. He came at a steep price in terms of quality prospects, but the series of acquisitions place them square in the Wild Card hunt and the New York Yankees better watch out in the AL East because here come the Blue Jays.
Losers:
San Diego Padres: Justin Upton, Tyson Ross and Craig Kimbrel should all have been wearing other uniforms by this time, but decline to move any of them. This was a prime opportunity to rebuild after the disastrous first half of the season after their bold offseason. They must not have felt the potential return for those guys was enough and elected to stand pat.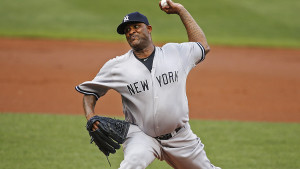 (Image courtesy of Bruce Kluckhohn/USA TODAY Sports)
New York Yankees: It is rare that a team leading a division like the Yankees do absolutely nothing, especially when there are glaring holes in their rotation and infield. Could have made a move for any number of available pitchers to improve the rotation, but chose to hold on to their prospects and stick with the team they have. C.C. Sabathia has been terrible and upgrading his turn in the rotation should not have been hard to do.  I'm not sure what they have is enough in the very competitive AL East where the Orioles and Blue Jays are within striking distance and if either or both of those teams can overtake the Yankees, they might find themselves watching the playoffs instead of participating in them.
Chicago White Sox: Not exactly sure what they were thinking by not making a move here. While they are only a few games out in the Wild Card race, they are in 8th place and jumping over that many teams is no easy feat. Jeff Samardzija is a free agent after the season and will most likely be playing for someone else next year, so getting a decent return for him should have been higher on their priority list. They have a few other movable assets that would have served them well to trade in order to rebuild, but they also chose to stand pat.
Rebuilding done right:
Detroit Tigers: Before the season, I, like so many others, thought the Tigers would be in position to contend in the American League this year, but they have been very disappointing. While not playing at a Philadelphia Phillies level of awful, they still find themselves with a small chance at a playoff berth, so GM Dave Dombrowski decided to blow it up. David Price and Yoenis Cespedes were both free agents after the season, so getting something for them now was key. They got top of the rotation starters in Daniel Norris and Michael Fullmer, with Norris already pitching in Detroit, as well as some high potential guys that can help in a couple years. The funny thing about this is that you can't even rule out the Tigers resigning either Price or Cespedes in the offseason. Detroit isn't a small budget team and they will still be in the market for a bat and an arm, so we will see if they didn't just acquire high-level prospects for lending another team their guys for a few months.
Oakland Athletics: They moved three guys who were going to be free agents and potentially picked up four starting pitchers and a guy who could be an elite catcher for years to come. Billy Beane did it again, turning a rare down year into an instant replenishment of the farm system.
Cincinnati Reds: They dealt Johnny Cueto and Mike Leake and their return was substantial. They got three left handed pitchers who could all contribute as early as next year and picked up Kuery Mella, the San Francisco Giants #1 prospect. He is more than a few years away, but his potential might be higher than any of the three arms they got for Cueto.
There were a number of other teams that improved their roster, but not as dynamically as the Royals, Astros, Mets and Blue Jays. Interestingly, American League teams made the bigger trades, while the National League team's moves made were a subtler, need-filling trades approach. With about two months of the season to go, every game counts and each start by a guy acquired at a high price like Cueto or Price will be examined with a magnifying glass. While trades may look good on paper, the real winners and losers will be determined by the players performance down the stretch and the prospects ascent in their new organizations. Time will tell.