The first of the bigger names officially came off the market when the Astros acquired pitcher Scott Kazmir from the A's this week. It was a classic trade deadline deal where the A's knew Kazmir would not return to Oakland next season when he is a free agent, so they wanted to get something in return for the three-time All-Star. On the other hand, the Astros felt they have a playoff worthy team, and needed to fill in some of their gaps to make a run at post-season glory this year. The cost of a two month rental? Highly regarded prospects Jacob Nottingham and Daniel Mengden. Nottingham is only 20 and projects to be an elite power-hitting catcher. There aren't too many of those around, so the price Houston paid is clearly high. There are bigger names to be had before the non-waiver deadline on July 31st, so we'll take a look at what some of the contenders are looking to add and who might be available to be had for the On The Bench Report MLB Trade Deadline predictions.
The Contenders:
Kansas City Royals: They have a comfortable 5.5 game lead (as of July 25th) on the Twins, so they aren't necessarily looking for someone to help in the stretch run, but for the actual playoffs. They have a good lineup, but a weak spot at second base with Omar Infante the starter, hitting only .230 with zero home runs. Ben Zobrist or Brandon Phillips would look real nice in that lineup, but the price might be too high. If the Royals are going to make a move that shakes things up more than improving the roster depth, I'd venture a guess it involves the rotation. Their bullpen is solid, but the rotation has been less than dominant. Edinson Volquez has been very good, but he projects as more of a #2 or #3 starter and would look much better pitching the game after, say, Johnny Cueto. Again, the price might be too high, but I'm of the opinion that when you are a contender (as the Royals clearly are) and you are merely one or two pieces away from getting that elusive World Series, go for it. A prospect that may or may not live up to hype isn't worth shorting yourself on a series run.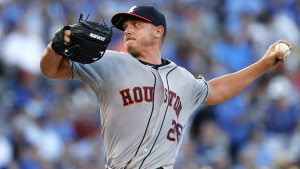 (Image Courtesy of AP Photo/Colin E. Braley)
Houston Astros: They might have made their biggest move when they got Kazmir, but their rotation could use a little more help. They are looking good with their 1-2 punch of Kazmir and All-Star game starter Dallas Keuchel, but a middle of the rotation guy like Mike Leake, Kyle Lohse or Matt Garza would make sense and balance the left handed dominant top of the rotation.
Los Angeles Angels: The Angels find themselves tied with the Astros in the AL West and they really want to win the division outright so they don't have to play in the winner-take-all Wild Card game. They have looked good this season, but have a few holes, left mainly by the Josh Hamilton debacle. They could easily upgrade their lineup at left field, second base or DH, the only problem is that they don't have the prospects to deal to get an impact bat like Carlos Gonzalez or Jay Bruce, as both players would fit perfectly in between Trout and Pujols in that lineup. A player that would make a lot of sense for them in terms of need and availability is Michael Morse.
As you can see from that video, Morse came up big for the Giants in the playoffs last year as a clutch pinch hitter, but unlike last year in San Francisco, he doesn't need to play the outfield in Los Angeles and can impact the game as a DH or pinch hitter.   He could be had for a song right now, especially with his $8 million contract for next year, which Miami will probably need to pay at least part of in order to move him.
New York Yankees: GM Brian Cashman has said they are likely to stand pat, but with a 5.5 game lead in the AL East, he needs to be preparing for the playoffs. The lineup is solid, but an extra arm couldn't hurt. A bold move would involve removing CC Sabathia from the rotation for his absurd 5.25 ERA. Just because a man is making a ton of money, doesn't mean he should be guaranteed a spot in the rotation. The Giants benched Barry Zito and his dark hole of a contract in 2010 and won the World Series with him left off the playoff roster. The Yankees should do the same with Sabathia and replace him with someone who can actually win games right now. Who knows, maybe Sabathia will regain his form next year after an eye-opening move like that.
Minnesota Twins: I can't believe the Twins are in this position. They currently sit in the second Wild Card spot and have been playing great ball, especially at home where they own a 32-16 record, but only 20-28 on the road. They have a ton of prospects to move, if they desire, but I guess they will stick with their rebuilding plan, and hold on to them. They may make a small move for depth or a bullpen arm, but don't look for David Price to be wearing a Twins uniform this season.
St. Louis Cardinals: They have the best record in baseball, arguably the best rotation and the biggest lead out of any division leader. They are another team that will likely stand pat, but I wouldn't be surprised to see them upgrade first base. They were hurt when Matt Adams went down, likely for the year, and have tried to have Mark Reynolds fill in his shoes. If St. Louis wanted to get creative, they could go out there and bring in Adam Lind or Adam LaRoche to round out a great lineup.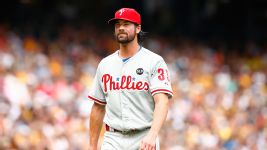 (Image Courtesy of Jared Wickerham/Getty Images)
Los Angeles Dodgers: It feels a little gross to say that a team that has Zach Greinke and Clayton Kershaw in its rotation needs another starter, but that's the truth. As amazing as those two are, they were hurt with the injuries to Hyun-jin Ryu and Brandon McCarthy and would love to upgrade their #3 for the playoffs. They have more than enough prospects to bring in any pitcher they desire. They could break the bank and bring in Price or Cole Hamels, which would result in a playoff rotation that resembles the dominant Braves rotation from the 90s, or shoot for a more reasonable guy like Jeff Samardzija or Clay Buchholz. Either way, I don't envy a team facing that rotation in a short playoff series.
Washington Nationals: The Nationals biggest acquisition from here on out is simply a healthy roster. Their rotation is phenomenal and Doug Fister recently returned from injury and Stephen Strasburg shouldn't be far behind. The lineup will look great when Jayson Werth, Ryan Zimmerman and Anthony Rendon return from injury. They may want to try to grab some depth incase the injury bug doesn't go away before October or another arm in the pen (you can never have too many of those), but this team is going to look pretty similar on August 1st as it does now.
Pittsburgh Pirates: The Pirates made a real nice move bringing in Aramis Ramirez to fill in for Josh Harrison during his stint on the DL. He will be needed to try to catch the Cardinals or hold on to one of the Wild Card spots. Ramirez is probably their big move before the deadline and anyone else they bring in would be more for depth than impact.
Chicago Cubs: Battling with the Giants for that second Wild Card spot, the Cubs have exceeded the expectations set for such a young team. They have played great with their kids in the lineup, but they have a hole in their rotation that can easily be filled. Big free agent Jon Lester has been hit and miss, Jake Arrieta has been phenomenal and Jason Hammel solid. Adding a true top of the rotation starter instantly transforms the Cubs to contenders.   The Cubs have arguably the best farm system in the league and can meet any price a team sets for a starter. Hamels, Cueto, Samardzija, Price all would look very good in a Cubs uniform this season and I would be absolutely shocked if GM Theo Epstein did not go out there and get at least one of them.
San Francisco Giants: Shockingly, the Giants are in contention in an odd year, but here we are at the end of July and they are holding a narrow lead on the Cubs for the Wild Card and in striking distance of the Dodgers for the division. Even more shocking is that they lead the National League in runs scored, so for the first time since the Barry Bonds era, hitting is not a need for San Francisco at the deadline. If the Giants were looking to make a splash, it would be with a top starter. After Madison Bumgarner, their next best starter is rookie Chris Heston. Matt Cain has shown moments of returning to form following his elbow surgery, but isn't quite to a place where they can rely on him as a #2 starter. Adding a guy like Cueto to the rotation puts them in a position to get back to the playoffs and defend their title. Stop me if you've heard this before, but another arm in the bullpen might be in their future as well. Maybe a Cueto/Aroldis Chapman package from Cincinnati?
New York Mets: This is the easiest team to fix. They have a young, impressive rotation that should not be touched, a solid bullpen, but struggle to score runs. They can upgrade at pretty much any position out there and shouldn't hesitate to make a move for a hitter or two, or three. Ben Zobrist would be a great fit because he can play so many positions. Troy Tulowitzki makes so much sense it hurts, but his price tag in terms of actual money owed to him and the prosepcts they would have to give up to get him might be too much for GM Sandy Alderson to handle. Carlos Gomez would be a great addition, especially since he is not a rental player and can play a part for the team next year as they try to build on the success their young pitching staff has enjoyed this year.
There will be a few blockbuster trades over the next week, a few head scratchers and then there will be that one trade that everyone overlooks, but pays huge dividends in October. We will see if fortune favors the bold or the cautious.