Anyone remember the show "Playmakers"on ESPN? Didn't think so. For those of you who may of missed it in 2003 running for less than four months from August till November. It showed us the backdrop of a fake football league full of players who weren't exactly model citizens off the field. Basically think "Any Given Sunday" but made for TV.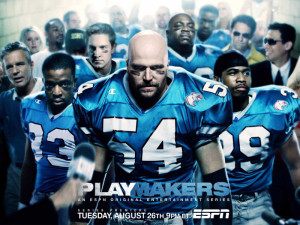 (Image courtesy of ESPN)
It was ESPN's first attempt at a drama series and the only program that produced higher ratings that year on the sports network was Sunday Night Football.
Cancellation of the show shocked and saddened a lot of fans who grew addicted to plot twists such as a player coming out gay and another being involved in a murder, both of which would later come true.
Safe to say the Nation Football League aka the "No Fun League" wasn't as big a fan as I, myself was of the show (favorite character was by far Omar Gooding as rookie running back Demetrius Harris). It came out after the show was cancelled that ESPN was in fact pressured by the NFL to pull the plug. Shocker!
You kinda have to feel bad for ESPN in a way. They took a shot in the dark and did something that was fresh and new for a change, hit a home run in the process , and ended up putting together a well made show. Two years after the hit show was given the ax ESPN became the exclusive owner of the broadcasting rights to Monday Night Football. Ultimately creative freedom lost out to politics which is business as usual when it comes to the dying world of cable TV.
12 years later enter the new HBO TV show, "Ballers." The show, which is produced by the star of the program itself Dwayne Johnson and also by movie star Mark Wahlberg also has been a huge success so far.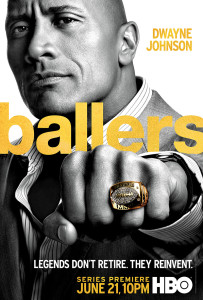 (Image is courtesy of the305.com/HBO)
Not only does HBO use actual logos from the National Football League, but also HBO's not even having to pay the fees most studios do for using NFL logos. It's a small stipulation the network avoided due to the fact that as long as they do not disparage the league in any way they're getting off scot free.
"Ballers" isn't any less disparaging than "Playmakers" was. The HBO show and writers pretty much spare no one. Everybody from front office employees who are shown being disingenuous with players being cut to the players themselves getting into public brawls and being recruited by agents with drugs and prostitutes. The opening scene of the show opens with a player dying in a car accident with his mistress while after we see his funeral where all of his teammates are picking up women and making plans to go out to the club afterward to honor their dead teammate.
Truth is both shows have similar plot lines with HBO focusing more on the player agent relationship aspect as opposed to locker room drama this time around. With that being said I doubt Roger Goodell is binge watching on his HBO-Go account.
The only difference is that HBO isn't in the running to broadcast football games that are worth billions of dollars in marketing revenue so there's no pressure the NFL can exert plus there's pretty much nothing any staff writer at the show can write that hasn't already happened in the league already.
Guys have been convicted of murder, domestic violence, and unfortunately other crimes so if it's actually happened it's not considered disparaging. I'm sure it took a brilliant lawyer hired by HBO to discover such a loop hole.
Another smart marketing strategy was the way all the commercials leading up to the premiere showed no scenes in which players were wearing NFL apparel so the league was caught completely off guard. The Miami Dolphins, the team mainly showcased, have yet to even make a public comment regarding the show at all.
"Ballers" has already been renewed by HBO for a second season. It's hard not to kind of root for the show to do well just because there's something about the way the NFL conducts business. A league that has daily news of cheating scandals, player conduct issues, and with the guaranteed contract argument broiling it's clear pro football has a P.R. problem.
The NFL publicly has already said HBO did not ask permission to use said logos before airing the first episode. Clearly once again the NFL is not a fan of any show that portrays league employees, players, and coaches in any kind of negative fashion. This time is different, ESPN is not HBO, this time there's nothing the league can do to stop "Ballers" from being a hit.