(Feature Image via baltimoresun.com)
This is to pay tribute to some of the most remarkable records ever achieved in sports. Not necessarily the best players or greatest moments, but the truly unbreakable sports records. DiMaggio's 56 game hitting steak is incredible, but would you be that surprised if someone got 57? If someone scored 101 points in an NBA game? Hit 74 home runs in a season? Impressive? No doubt, but this list is for achievements that can't be broken or the odds are so slim, even the craziest bookie in Vegas would laugh at you.
98 yard punt – On September 21, 1969, New York Jets punter Steve O'Neal, a rookie 13th round draft pick was backed up to his own 1 yard line at Denver's Mile High Stadium and hit a booming punt that traveled all the way to the Broncos' 33 yard line on a fly, eluded returner Bill Thompson and rolled to a stop at the 1 yard line at the other end of the field. An impossible to top record, seeing as a punt from the 1 yard line into the end zone would be a net punt of "only" 79 yards, not 99. To make O'Neal's degree of difficulty even harder, in 1969, the goalposts were at the front of the end zone, so he had to maneuver around a goal post just to get the ball airborne.
2 Grand Slams in the same inning – Getting two plate appearances in the same inning is hard enough, using those 2 plate appearances to hit home runs both times is harder, hitting 2 grand slams in those plate appearances has only been done once. On April 23, 1999, Fernando Tatis of the St. Louis Cardinals had the good fortune to step to the plate with the bases loaded twice in the third inning and delivered both times. To put this into perspective, only 57 times has someone hit two home runs in the same inning, only 13 players have ever hit two grand slams in the same game and no player has ever hit three home runs in a single inning before. In order for someone to break Tatis' record, a player would have to step to the plate three times in an inning, with the bases loaded and hit a home run each time.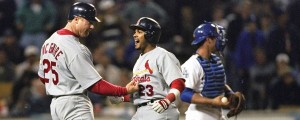 (Image Courtesy of Donald Miralle/Getty Images)
2,632 consecutive games played – Cal Ripken Jr. played game #1 on May 30, 1982 and did not stop until September 19, 1998. That is an absurd amount of games he played without a single game missed due to injury, slump or rest. With 162 games per season, a player would have to play 16 straight seasons without missing a game, and then play the next 41 games of season 17. Good luck with that. Now days, it is newsworthy when a player simply plays every game in one season.
131 knockouts – Between 1938 and 1963, Archie Moore fought in an incredible 219 matches, winning 185 with 131 via the KO. Have you seen current boxers records? Good luck finding a boxer with 100 total bouts, let alone 131 KOs. You've got a lot of catching up to do Floyd Mayweather!
Pick a record held by Cy Young– As tempting as putting Cy Young's 511 career wins on the list (also won't be broken as getting 300 is an amazing feat), innings pitched (7,335) or games started (815) I'm going to go with his 749 complete games. Read that again. 749 complete games. Start to finish. No bullpen. All Mr. Cy Young.  Utterly ridiculous. Last season, Clayton Kershaw led the league with 6. At that pace, Kershaw would need to pitch in 125 seasons in Major League Baseball. I'm going to go out on a limb and say, nope.
109 yard play – It has happened twice and, literally, cannot be broken, only tied. It was first done by Antonio Cromartie in 2007 when he returned a field goal that fell short, then was tied in 2013 by Cordarrelle Patterson when he returned a kickoff 109 yards. That is the definition of unbreakable.
Fastest Hat Trick – March 23, 1952, Bill Mosienko of the Chicago Blackhawks needed only 21 seconds to score 3 times. I don't think I could do that if there were no other players on the ice. Current NHL would have a line change mixed in there somewhere, a lost face-off, a single defensemen stepping in-between the skater and the goal, anything to prevent history from being made.
So here's to you, the holders of the unbreakable records in sports.  The achievements others can only dream of and hope to recreate, but never top.