Why the Bay Area is the best place to be a fan right now
            Let me preface this article with a disclaimer: I'm a loyal fan of most of the teams in the Bay Area. My blood bleeds black and orange with the San Francisco Giants, I grew up watching Joe Montana and then Steve Young throw to Jerry Rice claiming Super Bowl titles for the San Francisco 49ers, I remember Run TMC in Oakland and how exciting it was to get the San Jose Sharks franchise in the early 90s. I was at The Stick in 1989 during Game 3 of the World Series when the Earth shook and the World Series was postponed.
I've seen great players come and go. I've had my heart broke over a silly game (Game 6 of the 2002 World Series) and been euphoric over an equally silly game (Game 5 of the 2010 World Series). Having said all that; no other city has it as good as the Bay Area cities do. And before you start to say, "Hey, Joel! The Niners don't even play their games in San Francisco any more! Heck, the teams you are talking about are spread out all over the place!"
I know all that, but in this day and age, the actual location of the team's stadium is less important than the city that identifies with the team. Do you think New York City wouldn't be excited if the Giants or Jets won the Super Bowl even though they play their games in New Jersey, an entirely different state? Of course not. If that should happen, you better believe the celebratory parade will go right through New York City, not East Rutherford, New Jersey. So, let's put that detail to bed and let me tell you why the Bay is the best…at least right now.
MLB: Yup, they have two teams to choose from. The A's in Oakland and the Giants across the Bay and both have a lot to cheer for. The Oakland A's have been in a sticky situation for a number of years, being held hostage in the awful stadium they are forced to play in (thanks Al Davis), but they have made lemonade out of those lemons behind the infamous "Moneyball" strategy of Billy Beane. A team consistently working with a low payroll regularly finds themselves playing meaningful baseball in October. The careful construction of their roster has left them in competition every year. While they have struggled in the first half on this season, let's not forget that they earned a Wild Card bid last year and won the AL West the two seasons before that. Those three straight postseason bids give them the third longest streak in all of baseball. They have not been able to turn playoff games into World Series trophies, but they are consistently in the mix, which is something a great many franchises would love to have.
Across the bay, you have the San Francisco Giants. All they have done is win three of the last five World Series championships. They have a postseason legend in Madison Bumgarner and the face of baseball in Buster Posey. And, what do you know? They are right in the mix for another playoff appearance this season and, after last season, I don't think anyone (Even the St. Louis Cardinals) wants to match up against them when things count the most. They have the most beautiful ball park in all of baseball (even a hater can't keep AT&T Park out of their Top-5) and will gladly overpay to keep many of their home-grown, fan-favorite players around, something that most franchises wouldn't dream of. Let's put it this way, in the last five seasons, the Giants have won more championships than the Mariners, Expos/Nationals, Brewers, Astros, Rockies, Rays, Padres, Rangers, Angels and Royals have ever won in their history. Combined. Not too shabby.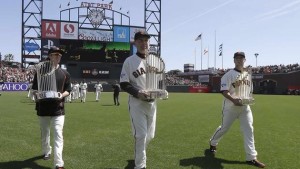 AP Photo Jeff Chiu
NFL: This becomes a bit stickier in this sport as the 49ers have had just about as bad an offseason as you can have after struggling to an 8-8 mark last season. Although, there were quite a few teams that would love to say they won as many as they lost, especially when you consider that they made three straight appearances in the NFC Championship Game before that and came within inches of winning in all a couple of times. Again, a position most franchises would love to be in. The team is consistently drafting well and developing star players from unexpected positions, so don't be surprised if they find themselves in the playoffs next year, even after about half the team retired in the offseason.
Things aren't quite as cheery across the Bay with the Raiders. Three wins last season and over a decade without a playoff game is pretty awful, but I really believe they have already hit rock bottom and might one of the more improved teams in the NFL next season. Perhaps that is too cheery of an outlook so let's just pretend that they have already left for Southern California and take them out of this equation.
NBA: The  Golden State Warriors are pretty good at basketball. A historically good season culminated in the franchise's first championship in 40 years last week behind the league MVP Stephen Curry. The W's played especially well at home in front of the most loyal fans in the game, going 48-4 at "Roracle" Arena. Expect more of that next year because everyone is coming back to the roster. Baring major injuries (knock on wood), the top ten scorers on the team will be back in full force to defend the championship they just earned. Combine that with a team-wide selflessness and comradely, I wouldn't bet against them next season.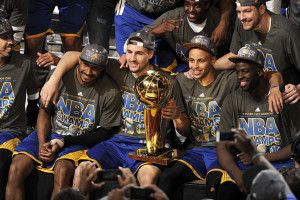 Liam Kyle/NBAE via Getty Images
NHL: The Sharks were a favorite pick of many in the hockey world during their ten-season playoff streak, but never capitalized by hoisting the Cup. They failed to make the playoffs for the first time since the 2002-03 season last year, snapping the second longest streak in hockey behind the incredible 24 straight playoff appearance of the Red Wings. Still, things aren't lost in San Jose with a mixture of veteran and young talent. Silicon Valley is simply waiting for GM Doug Wilson to figure out the proper mixture to push them over the hump.
NCAA: Stanford Cardinal football has been a source of pride for a number of seasons with 5 straight bowl appearances, 4 of them BCS bowls. They were rebuilt under Jim Harbaugh and David Shaw has kept that going after Harbaugh left. Expect more of the same with the recruiting haul they bring in every year despite the academic standards most schools don't need to deal with. The Cardinal basketball team made it to the Sweet 16 in 2014 and won the NIT this year. They will bring in several key recruits to position themselves for another tournament run next season.
There are weaknesses in the Bay, sure, but across the board, no one has it better than they do. Two defending champions in major sports and a consistent barrage of playoff appearances make the Bay Area they envy of the nation right now. This is all just one writer's opinion, but, seriously, who has it better?
feature image via sfgiants.com