Feature image via Bruce Bennett/Getty Images
Well, now. That was quite a Conference Finals, wasn't it? Even if you aren't a hockey fan, seeing both series go a full seven games is pretty remarkable, especially compared to the NBA Conference Finals which took nine games total for both series. The Lightning came up with a historic win, becoming the first team to ever beat the Rangers in a Game 7 at Madison Square Garden with a 2-0 shutout, while the Blackhawk won back-to-back elimination games against the most balanced team this year in the Ducks.   Tampa Bay won their only trip to the Cup Finals back in 2004 and has rebuilt their team with young, fast, talented scorers. The Blackhawks have a slightly less young, but equally fast and talented group of scorers that are looking for their third Stanley Cup in the last six seasons. There are many similarities between this seasons Lightning team and the Blackhawks squad that started this mini-dynasty they are working on. Whoever emerges, one thing is certain: this will be an exciting series with plenty of goals, chances and star power.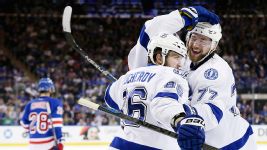 AP Photo/Frank Franklin
Tampa Bay has already done something that no team has ever done before and that is to beat three of the Original 6 hockey teams in the postseason. They went through Detroit, Montreal and New York and now are set to face off against their fourth Original 6. This is beyond rare and wildly impressive. Tampa has remained cool and collective against the bedrocks of the hockey community, coming up with big wins on the biggest stages behind Steven Stamkos, Tyler Johnson, Anton Stralman and more. But the biggest reason they emerged out of the tough Eastern Conference is the man in net, Ben Bishop. After a hiccup in Game 6 against the Rangers when he was pulled from the game, he bounced back with a shutout in Game 7 (not to mention another shutout in Game 5 at MSG). Bishop has been the rock in Tampa all regular season and postseason and I expect nothing less in the Finals. Captain and phenom Steven Stamkos was held without a goal in the first eight games of the playoffs, but since then has tallied seven goals, seven assists with two game winners. Not bad for a 25 year old. The Lightning will need him to take the reigns and lead this team to the promise land.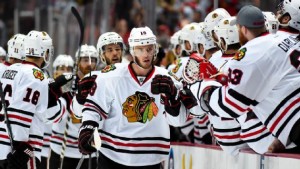 Harry How/Getty Images
Chicago's fate was far from a sure thing headed into the playoffs, mainly because of the health of Patrick Kane. But after returning from injury, he has played spectacular in the playoffs logging 10 goals and 10 assists. On a team with more star power than any other, Kane is the spoke that keeps their wheel turning. Sure, Jonathan Toews, Marian Hossa, Patrick Sharp, Duncan Keith and Brent Seabook are there as well, but before people were able to see Kane return from his broken clavicle without any ill effects, they were not the popular pick they are now. Goalie Corey Crawford has been inconsistent at times, but was clutch against the Ducks, even though it was a high scoring series. This Hawks squad have been there, done that and they will use that experience to intimidate the young Lightning team.
The Pick: I've done pretty well picking series this playoffs, only missing two so far, but one of those was last round when I underestimated Chicago and picked the Hawks to fall to Anaheim.  Here, Chicago has the better roster, the experience, the confidence, but they will need to play a perfect series to beat Tampa. The higher scoring the game, the more the odds favor Chicago.  I would worry about their depth on the blue line, but, perhaps it won't come in to play as the puck will be on Kane, Toews and Sharp's stick the whole series. But, I doubt that. I love the Lightning team and we are about to see a changing in the guard as the Cup will return to Florida and usher in the Tampa Bay Lightning era where they have a chance to win multiple Cups in the near future. Tampa Bay in 6