Feature Image via Bruce Bennett/Getty Images
I'm starting to think I shouldn't have moved away from Las Vegas with the way I'm picking hockey this year. 7 for 8 in the first round and 4 for 4 in the second round. Not too shabby picking skills on my part…just don't look too closely at my March Madness bracket.
The Conference Semifinals had a little bit of everything. Out West, the two favorites eaaaaasily advanced to the next round with the Ducks needing only five games to advance for the second straight round and the Blackhawks look like they regained their Stanley Cup contender form with a sweep of Minnesota. In the East, the Lightning continued their dominance over Montreal this season, jumping out to a 3-0 lead before holding off the Habs in 6, extending the Canada-less Stanley Cup streak another year. The best series of the playoff so far was the Rangers/Capitals, which needed overtime in Game 7 to decide a winner. It is a shame that either team got sent home, but the Rangers and Henrik Lundqvist were too much for Washington. Halfway home for each team in their quest for the Cup, so who will play in the Finals? Let's take a look at each matchup and see who will emerge victorious.
Shop Amazon – Father's Day Gifts in Tools
Eastern Conference Finals: Tampa Bay Lightning vs. New York Rangers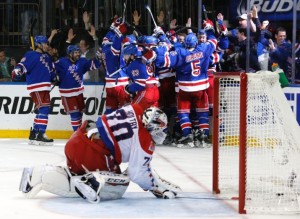 Photo Courtesy of AP Photo/Kathy Willens
Plenty of back-stories in this series, so I'll start with what happened on the ice during the regular season. The Rangers had the best record in hockey during the season, but no thanks to their meetings with Tampa. The Lightning went 3-0-0 against New York in the regular season, though they have not faced each other since December 1st, so take that for what you will. The Lightning had similar ownage over the Canadiens in the regular season (5-0-0) and translated that into postseason success. Can they do that again against a tougher Rangers squad?
Remember when Martin St. Louis was the face of the franchise in Tampa Bay? I do. He lead the team to the only Stanley Cup in franchise history, but was the main piece in a trade that sent him from Tampa to New York and will now face off against his old team in the biggest setting possible. He should prepare himself for a few boos when the series goes to Florida and will need to put all that drama behind him if he wants to chase another cup. The biggest piece of the trade the Rangers gave up to get St. Louis was Ryan Callahan and his status is very much up in the air after an appendectomy Monday night. He skated with the team this week, which is incredible to hear so soon after surgery, but skating around and playing the most physical kind of hockey is another thing, so we'll keep an eye on his status. Dan Boyle was knocked out of Game 7 in the last round had his status also uncertain but more optimistic. Boyle is yet another former Lightning player and will need to be at his best if New York plans on advancing.
The goaltending should be stellar this series with Lundqvist in net at one end and Ben Bishop at the other. Lundqvist's reputation preceeds him and everyone will be shocked if he is anything less than sensational, but Bishop has played equally well without the fanfare. All he has done is post a 93% save percentage and allowed less than two goals per game while knocking off Detroit and Montreal. The Lightning are a fast paced team and knowing they have a rock in net is a huge relief.
My Pick: Lightning in 6. I like the Rangers. I like them a lot, but Tampa has been the best team in the East this playoffs and have younger, fresher, healthier legs. New York is a little beat up and tired and Stamkos and the rest of the young Lightning talent will emerge to take this one and send Tampa Bay to their second Stanley Cup Finals.
Western Conference Finals: Chicago Blackhawks vs. Anaheim Ducks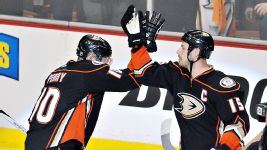 Photo Courtesy of Gary A. Vasquez/USA TODAY Sports
These two teams are on a tear, having only lost three games combined in the first two rounds of the playoffs. They both deserve to be here and boast remarkable star power with the likes of Ryan Kesler, Corey Perry, Ryan Getzlaf, Patrick Kane, Jonathan Toews, Duncan Keith and Marian Hossa. The Hawks have not struggled to score this postseason, but their blue line can be beat. A high scoring, open ice style of play will favor Chicago while a gritty, grind-it-out style will favor the Ducks. Anaheim is more balanced on both sides of the ice, but will they have enough firepower to advance. Neither team boasts an elite goaltender like the Eastern Conference teams do, but Frederik Andersen has been very good for Anaheim and Corey Crawford can be excellent like he was last round. Both teams have plenty of guys who were part of Stanley Cup runs in the past, so experience will be a wash. This should be a very even series even if there are a few games that aren't so close.
My Pick: Ducks in 7. The Ducks just don't have any weaknesses. Unless Kane, Sharp, Hossa, etc get super hot and light the lamp over and over again, the Ducks will simply outlast Chicago and make fewer mistakes over the course of these seven games.
Shop Amazon – Free Shipping on Orders Over $35