The last two seasons in the NL Central, we have seen the same basic story line. The Cardinals lean on experience, solid fundamentals and a well-built roster to lead them to the Central division crown while the Pirates rely on youth, potential and athleticism to earn back-to-back Wild Card berths. Will this be the year Pittsburgh gets over the hump to dethrone the Cards? Will a new contender emerge in Chicago behind the free agent star Jon Lester and a slew of elite prospects? Is there hope in Cincinnati or Milwaukee to contend? Top to bottom, this might be the best division in the National league, so let's make one last stop in the National League and preview the Central Division.
St. Louis Cardinals

– I tried really hard to talk myself out of picking the Cardinals to win the division, but I just couldn't. They might have the best starting 8 in the league and a group of players who have been to the playoffs four straight seasons, which includes two pennants and one World Series title. They have a rare mix of star power, role players and young talent that few teams have. It would be a shock if they did not reach the playoffs for a fifth straight season and, if they don't, I can guarantee injuries were the reason for it.
Possible Lineup
Matt Carpenter, 3B
Jason Heyward, RF
Matt Holliday, LF
Matt Adams, 1B
Yadier Molian, C
Jhonny Peralta, SS
Kolten Wong, 2B
Jon Jay, CF
Possible Rotation
Adam Wainwright, RHP
Lance Lynn, RHP
John Lackey, RHP
Michael Wacha, RHP
Jaime Garcia, LHP
Bullpen
Closer – Trever Rosenthal, RHP
Set Up – Jordan Walden RHP, Matt Belisle RHP
I've been a big fan of Jason Heyward since he broke into the league with Atlanta in 2010 and it seems like he has been on the verge of breaking out ever since. Fitting in the seconds spot in the lineup will go a long way when he gets to hit behind Matt Carpenter and in front of the power of Holliday, Adams and Molina. Moving Shelby Miller for Heyward was a great move since Miller would be competing for a spot in the rotation, while Heyward will be an instant impact guy in the field and at the plate. Molina has been the heart and soul of the Cards for years and they will rely heavily on him both with the bat in the middle of the lineup and managing the pitching staff. Young guys like Kolten Wong and Jon Jay hitting in the 7th and 8th spots in the lineup will give the opposing pitchers headaches with no easy outs in the lineup. The bench is one of the best as they boast a few guys that would start on other teams around the league. Randal Grichuk, Peter Bourjos, Mark Reynolds and Pete Kozma are all solid options off the bench and are poised to fill in should a regular starter go down from injury. The rotation is strong and is one of the best out there. Adam Wainwright is an ace and, though his elbow surgery in the offseason is a bit of a concern, should be the same Wainwright from seasons past. Lynn is young and seems to be improving with each season he spends in the big leagues. But the pitcher you will want to keep an eye on is Michael Wacha, who has the best "stuff" in the rotation and is finally healthy. If he can stay healthy this season, look out. The pen is yet another strength with flame throwing closer Trevor Rosenthal and set up guy Jordan Walden. Coach Mike Matheny even has a few left-handed relieves he can depend on late in the games to give that group a nice balance.
Prediction – 95- 67 1st in NL Central
Bold Prediction – Wacha stays health and inserts himself into the Cy Young conversation while Heyward does the same for the MVP race.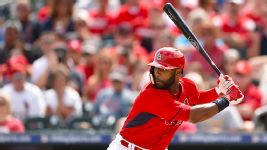 Stacy Revere/Getty Images
Pittsburgh Pirates

– They are so close to overtaking the Cardinals in the division, but I just don't think they have the firepower the Cards do at the moment, but that is not to say that this is a weak club or that they couldn't take the division. Losing Russell Martin hurts a lot, but they are hoping guys like Gregory Polanco are ready to pick up the slack and make the jump from prospect to star. Their rotation can't match up with the Cardinals but Gerrit Cole is primed to be the ace they were hoping for when the Pirates made him the first pick in the 2011 draft.
Possible Lineup
Josh Harrison, 3B
Gregory Polanco, RF
Andrew McCutchen, CF
Neil Walker, 2B
Starling Marte, LF
Pedro Alvarez, 1B
Jordy Mercer, SS
Francisco Cervelli, C
Possible Rotation
Francisco Liriano, LHP
Gerrit Cole, RHP
J. Burnett, RHP
Charlie Morton, RHP
Vance Worley, RHP
Bullpen
Closer – Mark Melancon, RHP
Set Up – Jared Hughes RHP, Tony Watson LHP
The Pirates have a very strong lineup and can be even better if the young studs are able to continue improving. Harrison was a break out star last year and will need to be a catalyst at the top of the lineup. McCutchen is easily one of the ten best players in the league, and even that may be an insult to his skills and credentials. If Pittsburgh is going to overtake St. Louis, it will be because Polanco and Marte realized their full potential. They have the skills, now we just need to see them become the well-rounded players they want to be. The Pirates had mercy on Pedro Alvarez by moving him to first base permanently where they can enjoy his power bat without watching him throw the ball from third base into the stands behind first.
https://www.youtube.com/watch?v=tNkaUSAvHZ4
Yikes.  As I said before, Cole is on the verge of being one of the best in the league and they will need him to be that guy. Liriano is a solid member of the rotation but I would worry about the rotation past that. Burnett is old and has definitely shown signs of deteriorating. Morton and Worley could be very good, but you just don't know exactly what you are going to get out of them. The bullpen lacks the star power, but has been very effective. Melancon has been stellar the last two seasons posting ERAs of 1.39 and 1.90 and they will need him to repeat those performances. In the end, I would not be surprised at all to see them take the division, but a third Wild Card berth is the most likely outcome.
Prediction – 90 – 72 2nd NL Central, Wild Card Berth
Bold Prediction – Pedro Alvarez finally doesn't have to worry about defense and hits 35 home runs
Chicago Cubs

– If there is a team out there that could follow in the Kansas City Royals footsteps and come out of no where to make a deep postseason run, it's the Cubs. The overwhelming amount of elite prospects makes them a little tricky to judge because baseball prospects are so hit and miss, but if only half of them make the jump, they will be a force. GM Theo Epstein is doing a great job rebuilding a Cubs roster that was terrible and bringing in Joe Maddon was a phenomenal move. He got a great boost when he convinced old friend Jon Lester to come to Wrigley field and be the ace of a very young team.
Possible Lineup
Dexter Fowler, CF
Starlin Castro, SS
Anthony Rizzo, 1B
Jorge Soler, RF
Kris Bryant, 3B
Miguel Montero, C
Chris Coghlan, LF
Javier Baez, 2B
Possible Rotation
Jon Lester, LHP
Jake Arrieta, RHP
Jason Hammel, RHP
Kyle Hendricks, RHP
Travis Wood, LHP
Bullpen
Closer – Hector Rondon, RHP
Set Up – Neil Ramirez RHP, Pedro Strop RHP
That lineup could produce anything. First of all, I'm going to ignore Theo Epstein's recent comments of Kris Bryant not being ready for the majors because that is ridiculous. He has hit the cover off the ball in spring training and dominated every level of play he's been at. Even if he isn't the starter on opening day, it won't take long before the number one prospect in baseball is a superstar in Chicago. Bringing in Dexter Fowler could pay off big time if he can regain some of the success he had in Colorado and would be huge in setting the table for Castro, Rizzo and Soler. Miguel Montero was a nice under the radar move to shore up the catching position. Soler tore it up in limited action in the majors last year and will be a beast in the middle of that lineup. Javier Baez struggled in his audition, but he is only 22 and has plenty of room to develop. There is a good chance he will start the season in the minors, letting Arismendy Alcantara take the reigns until he is ready. The rotation isn't flashy behind Lester, but Arrieta had a real nice season last year that he will look to build on. The same can be said for the bullpen lacking depth behind Rondon who had a nice season last year, saving 29 out of 33 chances. The pitching is definitely not a strength, but the offense might be able to bail them out. In the end, there are dozens of question marks surrounding the 2015 Chicago Cubs, but there is no doubt that Joe Maddon's team will be fun to watch.
Prediction – 81-81 3rd NL Central
Bold Prediction – The Cubs boast 4 players with 25+ home runs and the NL Rookie of the Year in Kris Bryant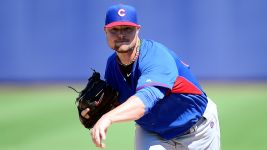 Joe Camporeale/USA TODAY Sports
Cincinnati Reds

– The Reds have an interesting roster with some excellent players, but they don't have the depth to contend just yet. They are transitioning into rebuilding mode but won't jump in the deep end of that strategy right off the bat. They still have the potential to make a run at the playoffs, even if it is not likely. The lineup is above average, they have an ace in Johnny Cueto and superb closer in Aroldis Chapman. If everything comes together, a Wild Card run isn't impossible.
Possible Lineup
Billy Hamilton, CF
Joey Votto, 1B
Brandon Phillips, 2B
Todd Frazier, 3B
Jay Bruce, RF
Devin Mesoraco, C
Marlon Byrd, LF
Zack Cozart, SS
Possible Rotation
Johnny Cueto, RHP
Mike Leake, RHP
Homer Bailey, RHP
Anthony DeSclafani, RHP
Jason Marquis, RHP
Bullpen
Closer – Aroldis Chapman, LHP
Set Up – Jumbo Diaz RHP, Sam LeCure RHP
Their season, and the next few seasons' success, might hinge on Hamilton. He is the fastest guy in the league, but struggles to get on base. There is nothing better than a leadoff hitter who can disrupt a pitcher and steal a base, but you can't do that from the dugout. If Hamilton can learn how to get on base, Votto and Phillips will be huge beneficiaries as they will be able to hit with a runner in scoring position often. Staying healthy will be key for those two as Votto missed 100 games last year and Phillips missed 41. Jay Bruce is pure power and hopes to bounce back from a down year. What to do with Johnny Cueto is another question. An undeniable ace, he is a free agent after the season, so if the Reds find themselves out of contention in July, look for them to deal him and reload their farm system. Homer Baily is banged up at the moment, but should be back in April some time. No one throws harder than Chapman and the bullpen in general is a bit of a weakness. The Reds will have to rely on the stars on the roster all season if they want to contend; otherwise a fire sale is looking pretty likely.
Prediction – 72 – 90 4th NL Central
Bold Prediction – Votto regains his MVP caliber form and hits about .300, with at least 25 home runs
Milwaukee Brewers

– The Brewers had a weird season last year where they spent a decent amount of time atop the NL Central, but ended up in the middle of the standings due to some horrid streaks. They still have some of the game's best players in Carlos Gomes, Jonathan Lucroy and Ryan Braun, but the starting rotation might be too weak for them to sustain any success.
Possible Lineup
Carlos Gomez, LF
Jonathan Lucroy, C
Ryan Braun, RF
Aramis Ramirez, 3B
Adam Lind, 1B
Khris Davis, LF
Scooter Gennett, 2B
Jean Segura, SS
Possible Rotation
Kyle Lohse, RHP
Wily Peralta, RHP
Matt Garza, RHP
Mike Fiers, RHP
Jimmy Nelson, RHP
Bullpen
Closer – Francisco Rodriguez, RHP
Set Up – Jonathan Broxton RHP, Will Smith LHP
The Brewers had the 6th best offense last season and that was without Ryan Braun at 100% for most of the year. This could be an excellent offense if he (and others) stay on the field. Lucroy is one of the best catchers in the league and Gomez is a supremely talented young talent. Apart from having one of the best names in the league, Scooter Gennett showed potential in his rookie season and will build on that now that Rickie Weeks won't be taking his at bats. The rotation is going to be the Brewers downfall. They lack a true ace and have loaded up with middle of the rotation type guys. That is going to be a problem in a division with Wainwright, Cole, Cueto and Lester. The bullpen was outstanding last year and they bring back Francisco Rodriguez to close and former closer Jonathan Broxton to be his set up. This group will be their strength, now the trick will be to get the ball into their hands with a lead.
Prediction – 70-92 5th in NL Central
Bold Prediction – Ryan Braun regains his MVP swing and hits 40+ bombs.