Things were looking pretty good for the Nationals last year. They had the best record in the National League, locking up home field advantage throughout the NL playoffs. After dropping the first game in the NLDS against San Francisco, they held a 1-0 lead with 2 outs and no one on base in the ninth inning thanks to an absolute gem from Jordan Zimmerman. Then, he walked Joe Panik (his only walk of the game) and, to the delight of Giants fans and horror of Nationals fans, manager Matt Williams decided that was enough for Zimmerman and brought in closer Drew Storen who was greeted with a first pitch single from Buster Posey, then a game tying double from Pablo Sandoval. 9 innings later, Brandon Belt hit a home run to win the longest postseason game ever, crushing the spirits and chances of Washington. Will there be a repeat of postseason disappointment or can the Nationals get over the hump? Will another team out east emerge as a contender or will it be a runaway for the Nats?
1. Washington Nationals – Did you know the Nationals have never won a playoff series in their history? Not too surprising since they only became the Washington Nationals in 2005, but I'm talking about franchise history. Before the Nationals were the Nationals, they were the Expos who spent 35 years in Montreal, making the playoffs once (though who knows how 1994 would have turned out if it weren't for that stupid strike) and losing that series. Kind of mind-blowing to this writer. However, this year is unlike other years. Their roster is loaded, especially with that pitching staff. Their young hitters are another year older and wiser and hopefully their manager learned a few things from his rookie season last year. They are a little banged up going into the season, but there is virtually no chance this team doesn't make the playoffs, and, if they are healthy in October, look out baseball world.
Possible Lineup
Denard Span, CF
Anthony Rendon, 3B
Bryce Harper, RF
Ryan Zimmerman, 1B
Jayson Werth, LF
Ian Desmond, SS
Wilson Ramos, C
Yunel Escobar, 2B
Possible Rotation
Max Scherzer, RHP
Jordan Zimmerman, RHP
Stephen Strasburg, RHP
Doug Fister, RHP
Gio Gonzalez, LHP
Bullpen
Closer – Drew Storen RHP
Set Up – Casey Janssen RHP, Matt Thornton LHP
That rotation is bonkers. It's so good that Tanner Roark won 15 games as a rookie last season and got rewarded for that with a trip to the bullpen when they threw all kinds of money at Max Scherzer in the offseason. But that kind of depth is what winning teams need in case of injury. You never know what a season has in store for you and having a young gun that already proved himself on the roster is more than a little valuable. Their question marks don't revolve around pitching since they are stocked up on elite starters, have a top tier closer in Storen and even brought in Janssen and his 81 saves in the last 3 years as a set up man/emergency closer. Their biggest issue this season might be staying healthy. They will start the season with Span and Werth on the DL but they shouldn't miss significant time. If they can avoid catastrophic injuries, they should be set. Anthony Rendon is poised to make the jump to superstar and will be a household name in no time. And what happens if they do suffer one of those injuries? They have a farm system ranked in the top-10 across baseball, so they certainly have the pieces to pull off a blockbuster trade at the deadline to fill any holes that emerged over the season. With a roster like this and guys like Fister, Zimmerman, Span and Desmond free agents after 2015, this is the year for the Nats to finally do so celebrating in October.
Prediction – 99-63 1st in NL East
Bold Prediction – They will boast two 20 game winners. Not sure who they are, but since I can't go wrong with any of those guys, I'll take Scherzer and Strasburg.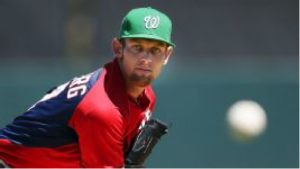 (Photo Courtesy of AP Photo/Carlos Osorio)
New York Mets –

First the good news about the 2014 Mets, they finished in second place in the NL East, their highest finish since 2008. The bad news? They were still 17 games behind the Nationals and failed to win as many as the lost. That is the current state of affairs in the NL East where the Nationals are clearly the best team and everyone else is trying to catch up. The Mets are the team closest to catching up thanks to some superb young talent. If they can ever get their financial situation settled, they will be right there to compete with the Nats. They were crushed by the Bernie Madoff scandal and they have seen their payroll drop from $142 million in 2011 to $98 million last year. Nothing the sneeze at, but not quite to the level they need to be to outbid other teams with huge payrolls. They opened up the checkbook a little in the offseason, but that was to give 36-year-old Michael Cuddyer $21 million dollars while sacrificing the 15th pick in the draft in the process. Huh? Despite my confusion over that signing, it looks like the Mets are better this year than they were last year.
Possible Lineup
Juan Lagares, CF
Daniel Murphy, 2B
David Wright, 3B
Lucas Duda, 1B
Michael Cuddyer, RF
Curtis Granderson, LF
Travis d'Arnaud, C
Wilmer Flores, SS
Possible Rotation
Matt Harvey, RHP
Jacob deGrom, RHP
Jonathon Niese, LHP
Bartolo Colon, RHP
Dillon Gee, RHP
Bullpen
Closer – Jenrry Mejia, RHP
Set Up – Jeurys Familia RHP, Dario Alvarez LHP
The starting lineup looks pretty good. If Lagares can develop into a solid leadoff hitter, they can score a lot of runs. Murphy is an ideal #2 hitter and the middle of the order is has plenty of power and manager Terry Collins can stagger the lefty and righty hitters, making it much harder to match up against in the later innings. David Wright can look like a superstar, but can also look very human.. Last year he struggled and had career lows in many categories. The Mets will need a big bounce back year from their third baseman if they plan on competing for the division or Wild Card. The rotation has the potential to be excellent if Matt Harvey can regain his form after missing last season with an elbow injury. They will miss young star Zack Wheeler this season who is dealing with his own elbow injury and is headed toward Tommy John surgery. Harvey, deGrom and Niese form a nice top of the rotation and their farm system is pitcher heavy if more rotation spots open up during the season. The bullpen is mostly untested and could be a large question mark unless they find a diamond in the rough somewhere. The Mets could insert themselves into the playoff mix, but only if their young guys like Lagares and d'Arnaud make the leap from talented prospect to legitimate major league starter. Everything will need to go right in Queens this season, but I see the Mets playing meaningful baseball late into the season.
Prediction – 84 – 78 2nd in NL East
Bold Prediction – Harvey pitches lights out in the first half and starts the All-Star Game for the National League.
Miami Marlins –

Raise your hand if you thought the Marlins would be the team to give out the biggest contract in Major League history. Put your hand down you liar! Giancarlo Stanton will be forever tied to the number $325 million as he signed the massive deal that could keep him in South Beach until 2029. The good news for the Marlins after that deal is they won't have to continuously answer the question of will you trade Stanton or not all season. The Marlins are loaded with young talent and have done well since unloading their previous huge contracts (Reyes, Buehrle, Bell) and replacing them with their own prospects.
Possible Lineup
Dee Gordon, 2B
Christian Yelich, LF
Giancarlo Stanton, RF
Michael Morse, 1B
Marcell Ozuna, CF
Martin Prado, 3B
Jarrod Saltalamacchia, C
Adeiny Hechavarria, SS
Possible Rotation
Henderson Alvarez, RHP
Mat Latos, RHP
Jarred Cosart, RHP
Dan Haren, RHP
Tom Koehler, RHP
Bullpen
Closer – Steve Cishek RHP
Set up – A.J. Ramos RHP, Mike Dunn LHP
Gordon at the top of the lineup will cause havoc on the league if he can get on base like he did in Los Angeles last season. Their outfield of Yelich, Ozuna and Stanton is one of the best in the league, not to mention the youngest. Stanton is the elder statesman of that group at the ripe age of 25 while the other two are primed to be All-Stars themselves. Morse was a good signing if he can stay healthy and even if the bottom of the order struggles, the top six should provide enough offense to compete with anyone. The rotation is another spot of strength and I didn't even include Jose Fernandez in their possible rotation since he is coming off of Tommy John surgery and won't come back until after the All-Star break at the earliest, so anything he can provide down the stretch is just a bonus. Alvarez emerged as a legit ace himself with three complete game shutouts and a 2.65 ERA last season. They brought in veteran Mat Latos to tie the rotation together. With so many young players on the roster, their season could go any number of ways. The talent is there for success now and even if they don't reach the playoffs this season, the roster is very well set up for 2016 and beyond.
Prediction – 81-81 3rd in NL East
Bold Prediction – Fernandez comes back into the fold in August, pitches lights-out, but it still isn't enough as they fall short of the post-season.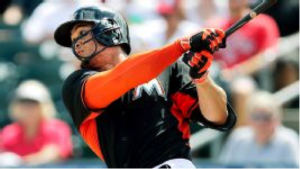 (Photo Courtesy of AP Photo/Jeff Roberson)
Atlanta Braves –

The rebuild in Atlanta has begun. They moved Justin Upton and Jason Heyward in the offseason to stock up on prospects. The rotation is young and talented but when Jonny Gomes is your cleanup hitter, your lineup is going to have some issues scoring runs. There are going to be a lot of low scoring Braves games this year but that might be just what they were trying to build when they moved their two star starting outfielders in order to rebuild the farm system and improve the rotation with Shelby Miller. Why they signed Nick Markakis to a 4-year deal is a bit of a head-scratcher since that doesn't really fit in with the rebuild that is in the early stages.
Possible Lineup
Nick Markakis, RF
Jace Peterson, 2B (he keeps it warm until prospect Jose Peraza is ready)
Freddie Freeman, 1B
Jonny Gomes, LF
Chris Johnson, 3B
Andrelton Simmons, SS
Melvin Upton, CF
Christian Bethancourt, C
Possible Rotation
Julio Teheran, RHP
Alex Wood, LHP
Shelby Miller, RHP
Eric Stults, LHP
Mike Minor, LHP
Bullpen
Closer – Craig Kimbrel
Set up – Jason Grilli RHP, Jim Johnson RHP
The top three guys in the rotation are building blocks every team would love and the back end of the bullpen is as good as they come with Kimbrel, Grilli and Johnson who both closed earlier in their careers. Once you get past that, it leaves a lot to be desired. The lineup has an odd mix of prospects, young starters and veterans to fill in the gaps. The team will struggle to find runs, but Peraza can revitalize the lineup if he hits the ground running whenever the day comes that he suits up for Atlanta. We will see how Christian Bethancourt handles the pitching staff in his first season as a starter. There are many "ifs" in Atlanta, but what seems certain is there will be struggles and the Braves will do all they can to stay out of last place in the East.
Prediction – 70 – 92 4th in NL East
Bold Prediction – They score the fewest runs in the league and at least one pitcher on the staff voices their frustration with the lack of run support.
Philadelphia Phillies –

Oh, Philadelphia, what have you done to that team? The Phillies won the NL East five straight seasons from 2007-2011 which included a World Series title, but have been plummeting ever since behind huge contracts given to past-their-prime players, bad trades and worse decisions at every level of the team. They have a few players worthy of value in the trade market and a few young players they might be able to build around, but make no mistake about it, the Phillies are in full rebuild mode and won't sniff the postseason for a while.
Possible Starters
Ben Revere, CF
Carlos Ruiz, C
Chase Utley, 2B
Ryan Howard, 1B
Domonic Brown, RF
Darin Ruf, LF
Cody Asche, 3B
Freddy Galvis, SS
Possible Rotation
Cole Hamels, LHP
Aaron Harang, RHP
David Buchanan, RHP
Jerome Williams, RHP
Chad Billingsley, RHP
Bullpen
Closer – Jonathan Papelbon RHP
Set Up – Ken Giles RHP, Jake Diekman LHP
Plenty of question marks up and down that roster. Ruiz/Utley/Howard are at least 3 years removed from their prime and aren't likely to get better. Revere is an excellent centerfielder and leadoff hitter, but this is another lineup that will struggle to find runs throughout the season even if the aging middle of the lineup can stay healthy. I'm sure the roster will look much different at the end of the season with the inevitable in-season trades, so we'll see what manager Ryan Sandberg can do with what he was given. The rotation is in flux too with Cliff Lee out for an unknown amount of time and how effective he would be upon return is questionable. Hamels can still deal as evident by his 2.46 ERA last year and will be the biggest trade chip they hold. After Hamels, there is not a whole lot for Phillies fans to rest their hats on. The bullpen might be the strongest part of the team with Papelbon still putting up good numbers (39 for 43 in save chances) and Ken Giles looking like their closer of the future putting up a 1.18 ERA and 64 strikeouts in just 45 innings. The trick will be getting the ball into their hands in a meaningful situation.
Prediction – 68 – 94 5th in NL East
Bold Prediction – The Phillies finally become interesting just ahead of the trade deadline in late July dealing both Hamels and Utley to the Dodgers in a blockbuster trade. Papelbon also gets shipped out to Detroit for their playoff run.