In what might be a preview of the NBA Finals, the Hawks and the Warriors matched up in Oakland last night (March 18, 2015) sporting the two best records in the league. Each team boasted 53 wins going into the game last night but the Hawks earned bragging rights when they beat the Warriors back in Atlanta last month. However, last night was a different story as the Warriors cemented their status as the best team in basketball this year with a 114-95 beat down. Both teams were shorthanded as the W's were without second leading scorer and splash brother Klay Thompson, while the Hawks were without sharp shooter Kyle Korver. The Warriors obviously managed to live without Thompson's 22 points per game, but the Hawks really missed Korver as they never looked in sync from beyond the arc. Perhaps it was because there are at the tail end of a West Coast swing where they have played 5 games in 8 days.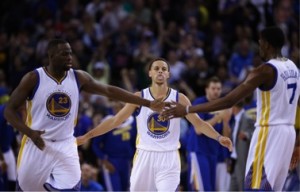 (Photo Courtesy of Noah Graham/NBAE/Getty Images)
Golden State relied on unselfish play, each player more than happy to make the extra pass to hit an open teammate. They had a crazy 39 assists as a team on 44 baskets getting everyone in the mix. Coach Steve Kerr got everyone in the mix, not relying on just Stephen Curry, who only scored 16 points. Where did they find the offense if the 45 points they can usually count on from Curry and Thompson turned into just 16? By guys like Andre Iguodala, Leandro Barbosa and Harrison Barnes playing their "A" game. Barnes scored 25 points on 11-for-13 shooting and Iguodala scored a season high 21 points on 9-for-12 shooting. The chemistry and depth of their bench showed last night as they overcame early turnovers to rout the Eastern Conference's best team in a playoff-like atmosphere.
| | | |
| --- | --- | --- |
| Player | Points Per Game (season) | Points last night |
| Harrison Barnes | 10.3 | 25 |
| Draymond Green | 11.8 | 18 |
| Leandro Barbosa | 6.9 | 13 |
| Andre Iguodala | 7.7 | 21 |
That's 40 points more than their usual output and just the kind of balanced attack that will take them far in the playoffs. The Warriors ran their home record to an eye-popping 31-2 this season where they will have home court advantage for the playoffs, unless something crazy happens and they lose their large lead over second seeded Memphis.   They are the team no one wants to face when the stakes are the highest and certainly not in front of that home crowd. The Warriors are primed for a deep run in the playoffs that they haven't seen in the Bay Area since the mid 1970s and the Warrior fan base is about to be paid off for their loyalty.