The Pac-12 season started off with the potential to build upon last season where half of the teams made the NCAA tournament (all with a 10 seed or better), but this season hasn't gone exactly to plan where it is conceivable, however unlikely, that they will only get 2 teams to the big dance. Let's take a look at the contenders out west.
Arizona – 26-3 (14-2)
Clearly the best team in the Pac-12. They clinched the Pac-12 regular season title when they swept Utah last week, own a 26-3 record and rank #5 in the country.   The Wildcats were one basket away from reaching the Final Four last year and added elite recruit Stanley Johnson to try to push them over that hump. But with great talent can come great prima donna drama. While completing that season sweep over the Utes, Johnson went 3-for-19 without an assist. He got benched by coach Sean Miller, then spent the remainder of the game (arguably the most important game of his young career) pouting on the bench. If he can put this past him and get on the same page as Miller and the rest of the Cats, the sky is the limit with his talents. They have a balanced lineup with six different players averaging at least nine points per game. They close out their season with very winnable games at home against Cal and Stanford before the Pac-12 tournament. If they can win out, I'd be surprised if they didn't get one of the #1 seeds in the tourney and would put them in excellent position to be the team to finish second to Kentucky this season.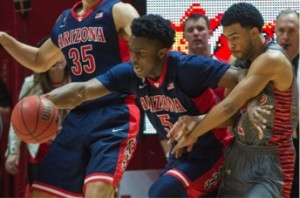 (Photo Courtesy of Rick Egan | The Salt Lake Tribune)
Utah – 22-6 (12-4)
Utah is the other Pac-12 school that doesn't have anything else to prove to the committee and is simply fighting for a better seed. The loss they suffered at home to Arizona last weekend was their first home loss all season and eliminated them from winning the Pac-12 regular season title. Unfortunately, the Utes can't play their NCAA tournament games at the Huntsman Center, but they can still make a deep run into March. They play stifling defense, ranking 8th in all of college basketball in points allowed and dominate around the hoops ranking near the top in rebounding and blocked shots. What interests me most about Utah is that in this age of college basketball where players can't wait to leave for the next level, Utah's three highest scorers consist of two Juniors and a senior. That kind of chemistry can't be found on every contender and may work in their advantage late in the season while other teams rely on uber-talented Freshmen to carry them to glory.
Oregon – 22-8 (12-5)
Oregon has had a very solid season from start to finish. The low point of the season was when they lost back-to-back games at the weak Washington schools, but that was tied for the longest losing streak they had all season. They go into the final weekend of the regular season 22-8 and have a chance (with some help) to leapfrog Utah into second place in the Pac-12. Their RPI of 34 is solid, but the strength of schedule is not at 68. They played five games against teams ranked in the Top-25 and lost four of them, finally getting a win against Utah in their last opportunity for a win against a contender. That was a statement win for a team struggling to find on and should be fresh in the committee's mind. The Ducks could use a strong showing in the Pac-12 tournament to cement their status as a tournament member, but they should be in anyways. They rely heavily on senior guard Joseph Young (the Pac-12's leading scorer) and a high-powered offense that ranks 23rd in the nation in points scored per game, but an appalling 280th in points allowed per game. If they are going to win in March, they will need to pick up their defense or pray that they don't have a cold-shooting game the rest of the year.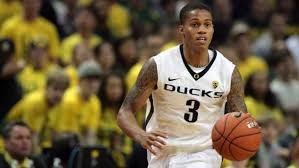 (Photo Courtesy of Scott Olmos – USA Today Sports)
UCLA – 18-12 (10-7)
It is kind of amazing that a team that recruits as well as UCLA finds themselves on the bubble, but that's where we are. Their season hit it's low point when they lost their fifth game in a row in Utah by 32 points. They have picked it up since then, but their 18-12 record isn't exactly something they can pound their chests about. I give them credit for scheduling such a tough lineup of non-conference games (North Carolina, Kentucky, Gonzaga, Oklahoma, Alabama) yet they lost all of those games. They have a nice mix of upper and lower classmen, but never have been able to put it all together. They have five guys averaging double figures and Freshman Kevon Looney has had an excellent first season as a Bruin. They finish the season with a should-be win against USC before the Pac-12 tournament and they may just have to win every remaining game to get in the dance, otherwise they will be NIT-bound.
Stanford – 18-10 (9-7)
The Cardinal season started out so well winning 13 of their first 17 games including a few big wins against top teams, but have derailed on the home stretch. Losing against teams that they should beat and coming up short on late season statement games put them in a similar postseason position as UCLA. Their record (18-10), RPI (56) and strength of schedule (67) give off a very mediocre vibe, but it might not be too late for Stanford. Unlike UCLA, they can still make a statement win to influence the committee. It's a tall task, but if they can sweep the Arizona schools in the desert and win a game or two or three in the Pac-12 tournament, that might be enough to land them in the dance. The dynamic duo of Chasson Randle and Anthony Brown score nearly half of the teams points, so they cannot afford to have anything less than their absolute best the rest of the season.
Oregon St – 17-12 (8-9)
The Beavers play amazing defense, allowing only 58 points per game. But that doesn't quite do it when you rank 323rd in the NCAA in scoring. Gary Payton II lead the team in scoring with 13 points per game, but did it inefficiently, failing to shoot 70% from the charity strip or 30% from beyond the arc. The Beavers are NIT bound and hope to use that experience as building blocks for next year.
California – 17-12 (7-9)
The Bears started 10-1 (Yay!), then lost 8 out of 9 (Boo!). They have been all over the place this season winning multiple games against top-25 teams, then losing against teams that won't even make the NIT.   17-12 is not a bad record, but won't be enough for anything but the NIT.