With popular NBC sitcom Parks and Recreation coming to a dramatic close this week after a successful seven season run, I thought it would be appropriate to take several of the characters from the show and try to figure out who their NBA Doppelganger would be based off of their personality. Some characters were no brainers, while I had to stretch things a little to get a few of these to fit, but overall I think most of the Parks and Rec crew would be satisfied with their NBA equivalent. So without further ado, I present to you the NBA versions of your favorite Parks and Rec members.
Leslie Knope and Marc Gasol
Leslie's doppelganger had to be someone who was fiercely competitive, loyal, dedicated, and able to make the people around them better. I also felt that the player should have a strong identity with not just the team that they play for, but also the city that they represent. This player would have to have spent most of their life in the city that they play in, but must be born elsewhere as Leslie was not actually born in Pawnee. My first instinct told me that Leslie's NBA equivalent would have to be a point guard. A real floor general that could read teammates and make the crucial decisions that would either win or lose games. But as I searched through the possibilities no one really stuck out as a potential Leslie Knope. Chris Paul was briefly considered, but quickly dismissed as he has never even led his team to the Western Conference Finals and his personality seems nothing like Leslie. Then it hit me. Leslie wasn't a floor general in the usual sense. She wasn't the guard flinging passes all around the court or orchestrating the proper fast break. No, Leslie Knope would be the type of player that contests all shots head on. She's the leader of a fierce team and she gets all parts of the job done. Marc Gasol is the undisputed leader of the Grizzlies – a tough bunch of mismatched pieces and cast-offs that when put together form an incredible team. He was raised in Memphis after his family moved there when Pau was traded to the Grizzlies, and played his high school ball in the city as well. Gasol leads an impressive defense year after year with his shot-altering abilities, as well as consistently puts up above-average offensive numbers as well. He is the best center in the NBA and honestly right now it might not even be close. Both Marc and Leslie show that the best leaders are those who improve the people around them.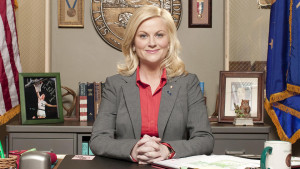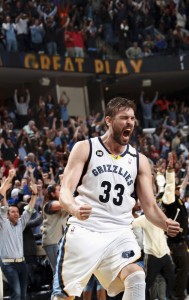 (Leslie Knope Photo Courtesy of AP, Marc Gasol Photo Courtesy of Reuters)
Ben and Daryl Morey/ Sam Hinkie
Can't you just imagine Ben in a room with Daryl Morey and Sam Hinkie trying to explain to them the rules of Cones of Dunshire until three in the morning during the MIT Sports Analytics Conference? Ben was made for the front office, and with his leadership skills and accounting background it wouldn't have surprised me if the Pacers had contacted Mr. Wyatt during the show to gauge his interest in becoming one of their numbers guys behind-the-scenes. Both Morey and Hinkie come from the school of numbers and analytics, which infuriates much of the basketball world, but Ben would fit in perfectly with these guys. He could even bring along his old accounting buddies as a favor. I wonder how many bottles of blueberry wine it would take for Ben/ Daryl to convince the rest of the front office that calzones should be served at the stadium starting immediately. The real worry with relating someone to Ben is the risk of another Ice Town incident, but I believe those days are behind him and if given an opportunity to run an NBA franchise I believe Ben has what it takes.
(Ben Photo Courtesy of NBC, Daryl Morey Photo Courtesy of Thomas Shea)
Andy and Blake Griffin
Both Andy and Blake are awesome to be around, and always seem like they are having a blast. Work doesn't feel like work to these two, and their bubbling personalities spread to those around them. While Blake seems like he has more of a clue when it comes to the world around him, both guys seem like they would be perfect teammates. Both guys are multitalented, and use those talents to bring joy to others. Blake not only drops dunks on unsuspecting bystanders by night, but he also acts in several commercials while he isn't on the court, and I must say he does a pretty good job. Andy, on the other hands, not only worked for Parks and Rec, but he was also a musician, worked in the nonprofit sector for a while, and let's not forget he created and starred in his own T.V. show.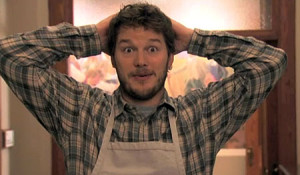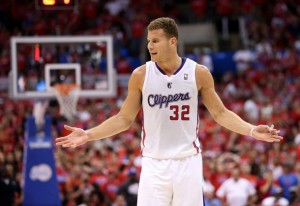 (Andy Best Photo Courtesy of NBC, Blake Griffin Photo Courtesy of Getty)
April and Rajon Rondo
When fans of the show hear the name April Ludgate they think fierce. They think different. They think of a loner. But they also think of someone who cares deeply for those that are close to her, and of someone who steps up in the face of adversity. Though she may ruffle feathers from time to time, at the end of the day you'd rather have her on your side than against you. Same goes for Rondo. He's one of the toughest players in the league, but not because of his size. Just one of those scowls from the fiery point guard will send an opponent running. Both April and Rajon make those around them better, but they ultimately succeed when they have smarter people in control. April needed Leslie and Ron to straighten her out and show her how to get along with people, while Rondo needed Doc to steer him down the right path, and it eventually led him to an NBA Championship. April became a little too predictable as the seasons went on, sticking to the "I'm going to say something shocking and weird anytime someone asks my opinion" bit that grew tiresome and stale like Season 4. And Rondo has now seemingly clashed with every head coach he has played for, and his hotheadedness is getting about as old as April's desperate attempts to remain different throughout the series. But both remain vital to their perspective teams as April finally discovered who she was meant to be, and Rondo tries to reconcile with Rick Carlisle in an attempt to get back to the NBA Finals.
(April Ludgate Photo Courtesy of NBC, Rajon Rondo Photo Courtesy of Getty Images)
Donna and Zach Randolph
Donna isn't afraid to play dirty to get the things that she wants, and before she finally settled down with Joe in the final season, she was wild and seemingly could not be tamed. People fear and respect her at the same time, and she is definitely someone you could go to war with. Zach Randolph is the best comparison I could find for Ms. Meagle. Z-Bo is as tough a player as they come. He is not one to back down, and he battles night-in and night-out harder than damn near anyone in the league. He earned all those 20-10s he posted throughout his career by grinding it out down low and banging bodies, which allows Marc Gasol freedom around the rim. Like Donna, Randolph had some crazy years before he settled down with his Joe (Memphis), but now that he has found a place that he belongs, and a city that truly appreciates his talents, he is able to be the player he was always meant to be. Donna found her calling in the last episode, when she helped found Teach-Yo-Self, an organization that helped out with after-school programs for children. Her friendship with Leslie was anything but conventional, but some fans might say the same about Z-Bo and Gasol.
(Donna Meagle Photo Courtesy of NBC, Zach Randolph Photo Courtesy of Spruce Derden, US Presswire)
Tom and J.R. Smith
Tommy Tsunami has always had a passion for the finer things in life. Be it the newest threads, newest technology, or even the newest alcohol and Tom was all over it. His career path during the show was all over the place, and it took him several chances to finally figure out what he was meant to do. He bounced around from one job to the next trying to find his place, and with the help of some poor advice, some terrible friends, and some mistakes of his own, it took him a long time to finally settle down with Tom's Bistro and really make a name for himself. This is how I feel about the career arc of J.R. Smith. He has been on several different teams now, and not one of them has felt like the right fit. Sure, he had some moments of brilliance in Denver and again in New York, but every time it seemed like he was going to put things together, he'd go and screw something up again. He hung out with questionable people, doing questionable things at questionable places, but you could tell the guy was genuine and loved the game. He went out every single night with the confidence and swagger that only a young Mr. Havorford could possess. Things may have finally gone the right way for Smith though. He was traded to the Cavs earlier this season to be paired along with LeBron James, Kyrie Irving and Kevin Love to be another scoring punch when they need him. If all goes well, Smith could redeem himself this year, and prove to all of the people out there who doubted him that he is capable of being a champion. If Tom can run a successful business based only on confidence and a taste for the finer things in life, I think J.R. Smith can be a valuable asset for a potential championship team.
(Tom Haverford Photo Courtesy of NBC, J.R. Smith Photo Courtesy of NBAE via Getty Images)
Craig and Tyler Hansbrough
Knowing Craig, he might not respond all that well to being compared to perennial ninth-man Tyler Hansbrough, but I mean come on. A guy nicknamed "Psycho T" is the perfect doppelganger for Craig. Their passion for what they do is so great, that they feel the need to scream at/attack anyone who does not feel the exact same way. Craig isn't a major player in the cast of Parks and Rec, but honestly Hansbrough really isn't a major player in the NBA either. Unless he's picked out another person to fight, he usually stays pretty quiet, especially in the box score. Both Craig and Hansbrough's passion for their jobs is paralleled by few, and that passion also makes them someone you'd much rather have on your team.
(Craig Photo Courtesy of NBC, Tyler Hansbrough Photo Courtesy of AP Photo / Chuck Burton)
Jerry/Gary/Larry and Ron Artest/Metta World Peace/ Panda's Friend
Jerry is constantly blamed for everything at his job, and that is if his coworkers can even remember his name. He messes up frequently, and often times in very embarrassing ways. But even through everything he's put up with during his many years with the Parks Department, he still comes to work every day with a smile on his face looking to make someone's life a little easier. There aren't many NBA players I could relate to Jerry, but Metta World Peace comes close. Sure he is known for a violent temper, and it's possible that he used to booze up during halftime of games, but he shares a few similarities with the office goof. First of all, he has been blamed for more things in his NBA career than most players can say. He was blamed for the Malace in the Palace, the James Harden Elbow Incident, and many other violent outbursts over the years, and people aren't quick to forget. He has also changed his name or almost changed his name a few different times and now people are as confused on what to call him as they are with Jerry/Gary/Larry. Everything worked out in the end for Jerry, and he eventually became the longtime Mayor of Pawnee, and I'm hoping that there's something out there waiting for Metta when he is finally through with basketball. I'd just hate to know a guy with that much talent on the court will only be remembered for a few mistakes he made over the years.
(Jerry Gergich Photo Courtesy of NBC, Metta World Peace Photo Courtesy of Lucy Nicholson/Reuters)
Ron and Gregg Popovich
Ron manages people by letting them manage themselves, or more accurately, he lets Leslie manage everyone. He mocks the government that he works for, and brings it up every chance he can get. His way of managing is by being seen and heard as little as possible, which worked wonders for him during his career with the Parks Department. He is as stoic as they come, and would sooner eat a vegetable than ask for help. Pop brings many of the same qualities to the table. First he coaches by letting his players do what they do best. He lets Duncan, Parker and Ginobili run his offense, and he usually stays out of the way to let the team run itself. He brings in the personnel that can get the job done, and he expects them to do it right. He mocks the media, and the NBA itself in some regards, but you can tell he does value his job very much. He is as stoic in interviews as Ron is in general, and I bet he enjoys a nice steak as much as the next guy. His attitude towards foreign players would upset Ron, but that is something the two of them could discuss over a glass of Lagavulin while listening to some Duke Silver records. Ron needed Leslie to run his department the same way Popovich needs Tim Duncan to run his. Both are immensely successful by most measures, but you can tell they do their job right for more than just the money and the fame. Watching both of them work is like watching an artist attack a canvas after a fresh idea pops into their head, but use that simile with either of them and you might not ever speak in their presence again.
(Ron Swanson Photo Courtesy of NBC, Gregg Popovich Photo Courtesy of Noah Graham/NBAE/Getty Images)
I hope you enjoyed reading this NBA Doppelganger piece as much as I enjoyed writing it. Parks and Recreation had a great run, and unlike so many shows nowadays, they ended it perfectly and at the right time. These are just a few comparisons that can be made to NBA players, and if you think of anymore feel free to send them to me on Twitter: @beardedsports8. I'll gladly discuss some of your comparisons on there. Once again thanks for reading, and make sure you check out some of the other stuff on the site.