We are now a little more than a month away from the 2015 NCAA National Championship game on April 6th in Indianapolis so we thought it would be a good idea to break down some NCAA teams conference by conference to see who might have a shot at cutting down the nets this season. We will take a hard look at some tournament bound teams in each conference that have a legitimate shot at running the tables, and we will also examine those teams who are on the bubble and will need an impressive last few weeks to even go dancing this year. Our first stop is the Big 12 who could send as many as seven teams to the Big Dance this year. With #8 Kansas losing Monday night to rival Kansas State, first place is there for the taking. The question is who has what it takes to take it from them?
Likely Tournament Teams:
Kansas – 22-6 Overall and 11-4 Conference
The Jayhawks lost a tough one Monday night in Manhattan despite an impressive 24 point nine rebound performance from the ever frustrating Perry Ellis. The rest of the team shot a combined 12-40 (30 percent) from the field and 1-12 (8 percent) from long range. A win on Monday could have really separated them from Iowa State and Oklahoma, but now the Jayhawks are only a half-game ahead of the Cyclones and a game in front of the Sooners for first place in the conference. Kansas has three games left on the schedule: vs. Texas, vs. West Virginia, and @Oklahoma. All three of those teams could find themselves in the field of 68 in a month, and if Kansas wants to claim another Big 12 title it is likely that they have to win all three games. Kansas has struggled on the road during conference play, so I will predict that Bill Self and Co. get by Texas and West Virginia with no problem but they will be overmatched by a good Oklahoma team and they will lose their last game of the season. Depending on the result of those games Kansas is a likely 3-seed come tournament time, but if we compare this team to some of the famous Jayhawk teams of the past, I would say this team won't make it past the Sweet Sixteen. This team lacks the depth that other top 10 teams have this season, and I just don't think this team is destined to go very far in the tournament.
Iowa State – 20-6 (10-4)
Ask your average college basketball fan who the best team in the Big 12 this season is and you might get five or six different answers, but Iowa State should the team on more people's radar. The Cyclones run a very balanced attack, but they do it as efficiently as almost any team in college basketball. Georges Niang might be the name everybody knows, but this team has some supremely talented players across the board including Jameel McKay, Dustin Hogue, and Bryce Dejean-Jones. Fred Hoiberg has coached this team to three straight wins over Texas, Oklahoma State, and West Virginia after a tough loss in Norman. The Cyclones have three games left on their schedule: @Kansas State, vs. Oklahoma, and @TCU which are all very winnable. The Oklahoma game will be tough, but it will be senior night and those stands at Hilton Coliseum will be shaking at tip-off. Iowa State has a good chance of winning this conference outright and grabbing a 2 or 3-seed in the tournament. They have the players to make a good run at it, but I don't think they have quite enough to reach the Final Four. They might not have enough to win it all, but they should be the last Big 12 team standing this season.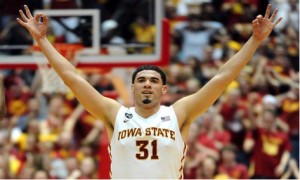 (Photo Courtesy of Nirmalendu Majumdar/Ames Tribune)
Oklahoma – 19-8 (10-5)
After a span where they lost four of five games in January the Sooners have suddenly won seven of eight, and are a legitimate threat to win the Big 12 outright. Oklahoma has two legitimate wing scorers in Buddy Hield and Isaiah Cousins, and TaShawn Thomas and Ryan Spangler are a nightmare matchup inside. My real concern with the Sooners is that they are virtually five deep. No bench player averages more than 14 minutes or six points per game, which will become a concern if they plan on making a deep run. Oklahoma is really in the driver's seat as far as conference standings go. They trail Iowa State by half a game and Kansas by a full game, but they play both teams again and if they could somehow win both they would be conference champs. The game against Iowa State will be tough, but they have beaten them once already this season could do so again. My prediction is Oklahoma lands a 5 or 6-seed in the tournament but doesn't survive longer than many of the other Big 12 teams.
West Virginia – 21-6 (9-5)
After getting blown out by both Baylor and Oklahoma, the Mountaineers looked like the tougher Big 12 competition had finally caught up with them and their early success was only a result of playing against weaker competition. That certainly doesn't seem like the case anymore. West Virginia pulled off back-to-back wins against Kansas and Oklahoma State last week, and now they find themselves back in the hunt. The rest of the way is going to be tough though, and I don't honestly think the Mountaineers have a chance to win the conference. They face Texas at home on Tuesday, and then they travel to Waco and to Lawrence to face Baylor and Kansas before finally finishing the year against Oklahoma State at home. West Virginia loses at least two of those games, and they will find themselves as an 8 or 9-seed in the tournament. Iowa State has dominated the Mountaineers in the two games they've played this season, and I think against tournament quality teams West Virginia will struggle. I see an early round exit in their future.
Baylor – 20-7 (8-6)
Baylor is the final team that I believe is a lock to make the tournament at this point. The Bears have beaten some very good teams this season, including both Oklahoma and Iowa State. Baylor will travel to Ames to take on the Cyclones later this week in a game that both teams desperately need. If the Bears come out on top against Iowa State, their season starts to look a little more impressive. They finish up the season vs. West Virginia, @Texas, and vs. Texas Tech which are three very winnable games. The likely outcome is that Baylor loses to the Cyclones and ends up a 7-seed come tournament time. The Bears are a very dangerous team when they are shooting well though, and they have a chance to once again make some noise this March. They have four volume shooters who average better than 37 percent from long range, and even when they do miss, Rico Gathers averages 5.1 offensive rebounds per game so they get plenty of extra opportunities to let shots fly. Watch out for the Baylor Bears come tournament time to upset a team or two.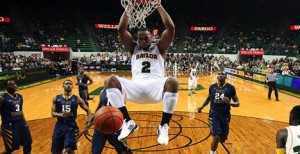 (Photo Courtesy of Rico Gathers)
Bubble Teams:
Oklahoma State – 17-10 (7-8)
Oklahoma State looked like a very good basketball team during most of this season, picking up two wins against Baylor and another big win against Kansas. After their second win of the season against Baylor the Cowboys were 7-5 in conference play, and things were looking up. Then the wheels fell off. Oklahoma State has now lost three in-a-row and is in jeopardy of not making the tournament. The Cowboys do have a very favorable schedule left: @ Texas Tech, vs. TCU, and @West Virginia, but they need at least two to even be looked at for a bid. Even if they do sneak in this team just isn't as good as multiple other Big 12 teams. They won't make it out of the first round.
Texas – 17-10 (6-8)
The Longhorns had high hopes to start the season, and for good reason. They entered conference play with an 11-2 record, the only two loses coming to a loaded Kentucky team and a good Stanford team in overtime. They were highly rated and most people expected them to compete for a Big 12 championship, but those hopes were quickly smashed. Texas' only quality win is over an average West Virginia team. Other than that they have beaten up smaller schools and the doormats of the Big 12. They haven't beaten Kansas, Iowa State, Oklahoma or even Baylor yet and they should scare no one in March. They play @West Virginia, @ Kansas, vs. Baylor, and vs. Kansas State to close out the year, and I think the Longhorns lose three of those games and miss the tournament all together. It seems like every year we have to answer the "Is it time to fire Rick Barnes?" question, but this year it seems more real. Texas finally moved on from Mack Brown after so many years, maybe it's time to do the same with Barnes. Either way this team has no hope of advancing in the tournament, despite how impressive Myles Turner has looked at times.
Final Thoughts:
I believe Iowa State will win the Big 12 outright this season, and they will survive the longest out of all Big 12 schools in the tournament.
I believe Kansas is due for another early-round upset this season.
I believe Baylor can make a serious run this year.
I do not think the Big 12 will be represented in the Final Four for the third straight season.