Whether they love him, hate him, respect him or loathe him, most basketball fans have a strong opinion about John Calipari. To some he is a blatant cheater. Someone who doesn't deserve to coach any NCAA team, let alone the University of Kentucky. And yet to others he is a great head coach and motivator who has taken several programs to the top of the basketball world. However you feel about him there is one thing everyone can agree on: the man can recruit. Over his coaching career he has lured dozens of high school All-Americans to his teams with the promise that if they work hard and listen to him, they can someday make it to the NBA. His recent success at Kentucky stems completely from his ability to recruit some of the best talent in the country. Fans of old-school style college basketball hate his method of recruiting the "one-and-done" type players, but why should do it any other way? College basketball is evolving whether fans like it or not, and the days of teams loaded with juniors and seniors are long gone. Since the boys down in Lexington are having a truly remarkable season, I thought it would be interesting to create a list of the Top 10 John Calipari Coached Players of all time. This list will take into consideration not only what these players did while playing for Coach Cal, but also what they have accomplished in the NBA. Before we count down the top 10, let's take a look at some of those players who just barely missed the cut.
HONORABLE MENTION:
PF Patrick Patterson (Drafted 14th Overall by Houston in 2010)
Patterson was only coached by Calipari for one season, but in that season he was named to the All-SEC team and the SEC All-Defensive team. Patterson averaged 14.3 points, 7.4 rebounds, and 1.3 blocks per game on a team stacked with future NBA players John Wall, DeMarcus Cousins, Eric Bledsoe and Daniel Orton. Patterson developed his three-point shot during his lone season under Calipari, and because of that outside shot, he is one of the more dangerous stretch fours in NBA today. Patterson has averaged 8.4 points and 4.8 rebounds during his first five seasons in the league, and remains a threat from both inside and outside.
PF Julius Randle (Drafted 7th Overall by the Lakers in 2014)
In his lone season with Kentucky, Randle averaged 15.0 points, 10.4 rebounds and 1.4 assists on his way to SEC Freshman of the Year. Randle was a powerful force on the low block, and opposing players quickly learned how quick he was for a guy of his size. Randle helped lead Kentucky all the way to the Final Four before finally losing to UConn in the finals. Randle was drafted by the Lakers with the 7th overall selection in the 2014 NBA Draft, but he broke his right tibia during Los Angeles' first game of the season. Randle's career didn't start off the way he had planned, but there will be plenty of opportunities for him to prove himself at the next level.
PF/ C Nerlens Noel (Drafted 6th Overall by New Orleans in 2014)
When Nerlens Noel landed awkwardly after stuffing a layup against Florida every Kentucky Wildcat fan knew what had happened immediately. Watching Noel scream in pain as his teammates rushed to his side is not something that can be easily forgotten. Noel was on his way to potentially being named Player of the Year, but the ACL injury would sideline him for the rest of his freshman season at Kentucky as well as his first season in the NBA. At the time of his injury, Noel was averaging 10.5 points, 9.5 rebounds, 1.6 assists, 2.1 steals and 4.4 blocks per game. Luckily Noel has recovered from his scary injury, and is in his rookie season in what looks like a very promising NBA career.
THE TOP 10: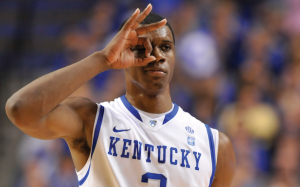 (Photo Courtesy of Everything Kentucky)
PF Terrence Jones (Drafted 18th Overall by Houston in 2012)
In Jones' two seasons playing under Calipari he averaged 14.0 points, 8.0 rebounds, 1.5 assists, 1.2 steals and 1.9 blocks, earning himself SEC Freshman of the Year honors in 2011. Jones helped lead the Wildcats to the Final Four as a freshman before being defeated by the eventual champs, UConn. In 2012, with help from Anthony Davis and Company, Jones helped lead Kentucky to its first National Championship since 1998. Jones declared for the draft after his sophomore season, and was selected 18th overall by the Rockets. Jones has had an up-and-down start to his NBA career. He struggled as a rookie, averaging only 5.5 points and 3.4 rebounds in 19 games. Before the start of his second season in the league, Jones was charged with stomping on a homeless man in his hometown of Portland, Oregon, and he was forced to settle with the man outside of court. But despite some off the court issues, Jones was very productive in his second season with Houston. He started 71 games in 2013-2014, averaging 12.1 points, 6.9 rebounds and 1.3 blocks. Since then however Jones has been bothered by a series of injuries, most recently a nerve injury in his leg, and has missed much of the 2014-2015 season. He still looks like an NBA starter, and most Cats fans are optimistic that his best days are ahead of him.
PG Brandon Knight (Drafted 8th Overall by Detroit in 2011)
Knight was expected to be John Calipari's next great point guard at Kentucky, following in the footsteps of Tyreke Evans, Derrick Rose, and John Wall. Looking at those names, one would think that Knight was somewhat of a disappointment in Lexington, but most Cats fans would tell you otherwise. Knight was a part of that team that lost by a point to the eventual champion UConn Huskies in 2011, and they would not gotten that far if it weren't for some late game heroics early on in the tournament from Knight. Knight averaged 17.3 points, 4.2 assists and 4.0 rebounds on his way to being named to the All-SEC first team. Knight was then drafted by the Detroit Pistons with the 8th selection in the 2011 NBA Draft. After two disappointing seasons in Detroit, Knight was dealt to the Milwaukee Bucks, and has thrived ever since. In his first season in Milwaukee, Knight averaged 17.9 points, 4.9 assists and 3.5 rebounds per game, and he has been even better this season. Knight is shooting better from all over the court, especially from long range, which has always been one of his weaker areas. Knight is shooting 41 percent from deep this season on almost five attempts per game. Knight is slowly becoming one of the better guards in the league, and he owes much of that to his former coach at Kentucky.
SF Michael Kidd-Gilchrist (Drafted 2nd Overall by Charlotte in 2012)
Michael Kidd-Gilchrist will go down as one of the more popular players to ever put on a Kentucky jersey due to his constant energy, relentless defense, and his big-play ability. He and Anthony Davis co-starred on the 2012 National Championship team where MKG averaged 11.9 points, 7.4 rebounds and 1.9 assists per game. For all of his efforts, Kidd-Gilchrist was named a Consensus second-team All-American, All-SEC first-team, and he was also named to the 2012 All-Final Four team. After winning it all with the Cats, Kidd-Gilchrist was selected second overall in 2012, taken behind former teammate Anthony Davis. Kidd-Gilchrist has had some troubles in the NBA. He lost a lot of confidence in his shot during his rookie season, which made his already different jump shot even more awkward. But with lots of hours spent in the gym with shooting coach Mark Price, MKG has improved his jump shot, and his confidence, and is quickly becoming one of the better young wing players in the NBA.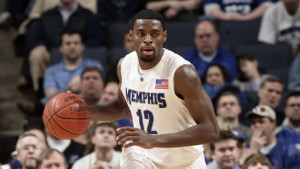 (Photo Courtesy of ESPN.com)
PG/ SG/ SF Tyreke Evans (Drafted 4th Overall by Sacramento in 2009)
It seems like an eternity ago, but John Calipari coached the University of Memphis for nine years, and during that time he had several big-name recruits, one of which being Tyreke Evans. Evans struggled early on in his rookie year under Calipari, but a mid-season move to point guard by Coach Cal helped Evans become the basketball player he is today. Evans averaged 17.1 points, 5.4 rebounds, 3.9 assists and 2.1 blocks in his only season with the Tigers. Evans was named Conference USA's Freshman of the Year in 2009, and then declared for the NBA draft. Evans was selected 4th overall by the Kings, and played four seasons there before landing in New Orleans in 2013. Evans had a very strange start to his career. He averaged over 20 points as a rookie, but then saw both his minutes per game and his points per game drop every season until 2014. He spent much of last season with the Pelicans in a reserve role off of the bench, but he has started 47 out of 50 games this season, and is averaging 17.0 points, 5.5 rebounds, and 6.0 assists in those games. Evans was a part of some really bad Kings teams, and most believe that once he found the right head coach, everything would turn around for him. He can play three different positions in the NBA, which is very rare, and he can attribute that to his mid-season position change in college.
PG/ SG Eric Bledsoe (Drafted 18th Overall by Oklahoma City in 2010)
Bledsoe was a part of Calipari's first recruiting class in Lexington with John Wall and DeMarcus Cousins. He and John Wall made up one of the best backcourts in college basketball during that one magical season. Bledsoe played mostly shooting guard for the Cats and averaged 11.3 points, 3.1 rebounds, 2.9 assists and 1.4 steals per game while being named to the SEC All-Rookie team. Bledsoe was drafted 18th overall by Oklahoma City, and then traded to the Clippers before the season began. After backing up Chris Paul in Los Angeles for three seasons, Bledsoe was ready to prove himself as a starter. In July of 2013 Bledsoe was traded to Phoenix in a three-team deal that sent Jared Dudley and J.J Redick to the Clippers, Bledsoe and Caron Butler to Phoenix, and a few second-round picks to Milwaukee. Bledsoe has thrived ever since arriving in Phoenix. This season he is averaging 16.9 points, 5.9 assists, 5.2 rebounds and 1.7 steals per game for the always exciting Suns. Don't be surprised if Bledsoe makes an All-Star game or two in the coming years, I know Coach Cal won't be.
PG John Wall (Drafted 1st Overall by Washington in 2010)
As mentioned before, Wall was in John Calipari's first recruiting class for Kentucky, and some could say he set the stage for all of these "one-and-done" guys Calipari has recruited recently. After being suspended early in the season for taking improper benefits from an agent, Wall showed Big Blue Nation exactly what he was capable of. In his only season with the Cats, Wall averaged 16.6 points, 6.5 assists, 4.3 rebounds and 1.8 steals per game on his way to being named SEC Player of the Year in 2010. After a disappointing loss to West Virginia in the Elite 8, Wall declared for the NBA Draft where he was selected first overall by Washington. Wall has had a very nice first five years in the NBA with averages of 17.6 points, 8.6 assists, 4.3 rebounds and 1.7 steals per game. Wall has established himself as one of the better "dribble-drive" point guards in the league, and he has quickly emerged as the face of an on-the-rise Wizards team. Wall was selected to his first All-Star Game last season where he would eventually win the Slam Dunk Contest with this dunk:
(Video Courtesy of TheAssociationLiveHD)
Wall is one of the best point guards in the league on both ends of the floor, and at only 24 years old fans should expect to see him in All-Star games for years to come.
PF/ C DeMarcus Cousins (Drafted 5th Overall by Sacramento in 2010)
Cousins had actually committed to Memphis before John Calipari had taken the Kentucky job, but he decided to follow Coach Cal to Lexington, and the rest is history. Most people know the story on Cousins by now. He is hot-headed, temperamental, and a fierce competitor that loves nothing more than absolutely dominating people down low. The 6'11 270 pound beast of a man played only the one season for the Cats, but it was a season no fan could soon forget. Cousins averaged 15.1 points, 9.8 rebounds and 1.8 blocks per game while also winning the SEC Freshman of the Year award. Cousins decided to forego his final three years of eligibility after falling short of a National Championship with Kentucky, and he was drafted fifth overall by the Kings in 2010. Cousins has had a rollercoaster of an NBA career so far. The Kings have been a total mess in Cousins' four plus seasons in Sacramento. They are currently on their fourth head coach since Cousins arrived, and most people think Tyrone Corbin, who is replacing Mike Malone who was fired earlier this season, is not the answer. Through all of that mess however, Cousins has prevailed. This season the big fella is averaging 23.9 points, 12.4 rebounds, 3.2 assists, 1.7 blocks and 1.5 steals per game. He will finally make his first All-Star Game this season, and he expects there to be many more in the future. Cousins has finally began controlling his temper, and if he keeps up this pace he could go down as one of the best big man to ever put on a UK jersey.
C Marcus Camby (Drafted 2nd Overall by Raptors in 1996)
Though Marcus Camby's college career will forever be remembered for the mistakes that he made, let us not forget all that he achieved in his three years under Calipari. Camby averaged 20.5 points, 8.2 rebounds, 1.8 assists and 3.9 blocks per game in 1996 as a junior, and he helped UMass advance all the way to the Final Four. He won the John Wooden Award as well as the Naismith College Player of the Year Award in 1996 before declaring for the draft. He was selected 2nd overall in the 1996 NBA Draft by the Toronto Raptors. Camby played for six different teams during his 18 seasons in the NBA. He won the Defensive Player of the Year award in 2007, was named to the All-Defensive first-team twice, the All-Defensive second-team twice, and was the NBA blocks leader in four different seasons. He finished his career averaging 9.5 points, 9.8 rebounds, and 2.4 blocks per game. And while most people will remember his time with John Calipari for the vacated Final Four run, he still had a very long and successful NBA career.
PG Derrick Rose (Drafted 1st Overall in 2008)
Rose too will forever be linked to John Calipari for a vacated Final Four run at Memphis, but if we ignore the mistakes he made and focus on how he played on the court, Rose deserves the number two spot on this list. Rose averaged 14.9 points, 4.7 assists, 4.5 rebounds and 1.2 steals per game while leading the team to a 38-2 record in his lone season at Memphis. Rose took the Tigers all the way to the Championship game before falling to Kansas in overtime. Rose had a very nice run while at Memphis, but he earned his spot on the list with what he has done in the NBA. Rose was selected first overall by Chicago in 2008, and quickly became one of the best young point guards in the league. He was named Rookie of the Year in 2009, averaging 16.8 points, 6.3 assists and 3.9 rebounds for the Bulls. It was during his second season that Rose was selected to his first All-Star Game while averaging 20.8 points, 6.0 assists and 3.8 rebounds. The Bulls lost in the first round of the Eastern Conference Playoffs to LeBron James and the Cavs, but one thing was clear: Derrick Rose was an emerging star. The next season saw Rose at the apex of his game. He averaged 25.0 points, 7.7 assists and 4.1 rebounds per game on his way to becoming the youngest player ever to win the NBA's Most Valuable Player award. The Bulls were eventually defeated again by LeBron James but this time it was with the Miami Heat. Chicago desperately wanted revenge against James and the Heat, but that chance never came. In the first-round of the 2012 playoffs, Rose landed awkwardly on his left knee, and was in visible pain on the court. Tests later revealed that Rose had torn his ACL, and he would miss the rest of the playoffs. The last few years have been difficult for Rose as he slowly comes back from multiple knee injuries, but things are looking up. This season he is averaging 18.6 points, 4.9 assists and 3.1 rebounds per game and hopes to get Chicago back to the Eastern Conference Finals. Rose is still only 26, but some are afraid his best basketball may be behind him. Coach Cal might have a few choice words for anyone who doubts that Derrick Rose will play like an MVP again.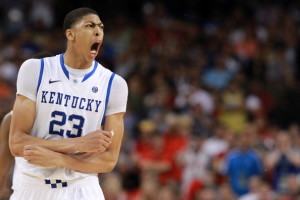 (Photo Courtesy of USA Today Sports)
PF Anthony Davis (Drafted 1st Overall by New Orleans in 2012)
And finally we arrive at the number one John Calipari Coached Player: The Brow. Anthony Davis has been terrorizing basketball since he arrived in Lexington in 2011, and he has picked up plenty of hardware too. In his only season with the Cats Davis not only helped lead the team to a National Championship, where he was named the Final Four Most Outstanding Player, but he also won the National Player of the Year Award, the NABC Defensive Player of the Year Award, the Freshman of the Year Award, and also the SEC Player of the Year. Davis averaged 14.2 points, 10.4 rebounds, 1.3 assists, 1.3 steals and a ridiculous 4.7 blocks per game, all while shooting 62 percent from the field. Davis declared for the NBA Draft after winning the title, where he was selected first overall by New Orleans. As a rookie, Davis averaged 13.5 points, 8.2 rebounds, 1.2 steals and 1.8 blocks per game in 64 games. His career really started to take off in his second season where he averaged 20.8 points, 10.0 rebounds, 1.6 assists, 1.3 steals and 2.8 blocks per game. This season through 46 games, Davis is averaging 24.5 points, 10.3 rebounds and 2.7 blocks per game. If Davis keeps that pace up through the rest of the season, he will break the all-time PER record, previously held by Wilt Chamberlain. At only 21 years old, Davis will be an MVP candidate for years to come, and with his mid-range game improving daily, teams are struggling to find ways to contain the big man. Davis belongs at the number one spot on this list, and it might be tough to knock him off for years to come. He might go down as the greatest player ever to come out of the University of Kentucky.
The players on this list come from all over the country. Their skill sets are all very different, and no two players on this list are really alike. But they do have one thing in common: they were all coached by John Calipari.