Senior Quarterback Hutson Mason and his (4-1) Georgia Bulldog teammates march into the show me state, without their magnificent halfback, Todd Gurley, (suspended indefinitely for possible NCCA Violations) as (-3) point favorites, while their objective is to gain control of the SEC East division, we have to wonder what their mindset will be given Gurley was removed from the lineup only late Thursday and that may change the spread. Coach Pinkel and his Missouri Tigers (4-1) are feeling the drive and smelling an opportunity for a division crown. They will be glad to be in front of their raucous home crowd in Columbia, Missouri as they are considered slight underdogs (+3).
Both schools have been the East division winners the last two years. The previous winner between these two has gone on to the SEC Championship. Maybe these teams need to start playing for a trophy each year, in the shape of a fancy black-leather steering wheel. This year's winner may also be the one who advances on with an opportunity to secure a trip to college football's new National Championship playoffs.
UGA is 2-1 in conference play with a loss to South Carolina. Missouri is 1-0, after shocking South Carolina on their home field 21-20 on September 27th, South Carolina now is saddled with 2 SEC losses, taking them out of the driver's seat. Other than recent years, the only real history between these universities was the 1960 Orange Bowl, when perhaps the original athletic Quarterback, Fran Tarkenton's clutch play and leadership led the 'Dawgs to a 14 point victory over Mizzou's rugged bunch and an Orange Bowl title. I expect the level of excitement to be on full strength as everyone knows what's at stake. For each team it is arguably their toughest exam to date.
Coach Richt's offense averages 45 points a game, but without the Heisman hopeful Todd Gurley, and injured reserve blazer, Sony Michael, they will rely heavily on the legs and shoulders of two young running backs eager to prove themselves (Fr. Nick Chubbs and So. Brendan Douglass). Nick Chubb , who last week was the SEC co-freshman of the week displays similar abilities to Todd Gurley. Reports out of Athens, are that Douglass as the speed and tackle breaking ability as well other UGA backs, but hasn't yet had the opportunities to show it much.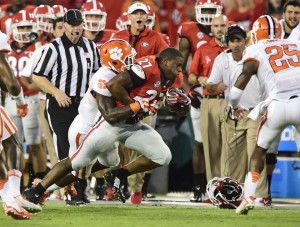 (courtesy of wsbradio.com)
However, I am not sure they will have anyone else left after these two kids, who are also prepared to play. Douglass will need to step in a couple times to spell Chubbs a breather, but can either guy pick up the pass protection? That remains to be seen. Now the big guys up front, creating running lanes are pretty good too. This unit gets 7.0 yards per rush and 288 yards on the ground a game, outstanding numbers and a real strength.
The unheralded fullback Taylor Maxey is a local kid, who walked on and just earned a scholarship this season, but his fantastic blocks sealing edges on run plays and on kickoff returns help 'Dawgs backs really get loose. Don't be surprised if Maxey is playing on Sunday somewhere next year. He might need to run on short yardage opportunities to help out the running load and be called upon for a swing out pass.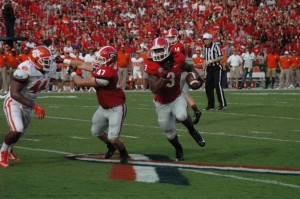 (Photo Courtesy ofbulldawgsillustrated.com)
Georgia should have no problem with success running as Indiana was able to do so at will, when they defeated Mizzou on their field, but Georgia will need to call on senior QB, Hutson Mason, who has been in the shadow a bit, but he wasn't needed to be amazing, just solid. He'll have to take on a few more throws until the depth of Georgia's running game can be re-loaded. His 68 % percent completion and 7 strikes are good, but he needs to avoid forcing passes and throwing picks. Wideout Michael Bennet is one of Mason's favorite targets. UGA may try a few roll outs to heave a couple deep shots against Missouri.
The 'Dawgs defense will need to be at their best as Missouri has a fine QB in Maty Mauk, that can pitch and scramble. I think this makes the linebackers and the secondary the two most important units for UGA. Amarlo Herrera and Ramik Wilson, are 230-lb senior inside linebackers with a smart mind for being in the right place at the right time. Herrera tops the club in 43 tackles and has three Sacks of the QB and Wilson has 37 tackles and one Sack. I look for one of them to spy Mauk or take turns. So they should limit the Tigers running game.
The Secondary has shown susceptibility to get diced like an Iron Chef's vegetables, and at times shown growth in their ability to cover. To be fair it is a group of youngsters and Redshirt cover-man Aaron Davis is probably the best. This side of the ball does not take the ball away much, but Coach Richt will be hoping they can this Saturday. Aaron Davis has an interception, a fumble recovery, and leads the fellas in passes smacked away. The special teams, has many standouts, and likely will be a strength for UGA.
When we examine Mizzou Nation's gridiron squad, we know that they have a sophomore playmaker under center in Maty Mauk. He's quite comparable to recent UGA signal caller, Aaron Murray, with similar abilities, but he will take off more often. Mauk's ability to escape trouble and run for a first down occurs at least once if not twice a game when his team really needs him to keep a drive alive. At other times, he dances around toward the edge, but keeps his eyes downfield for a big completion. He will need to do this a couple times to increase the Tigers opportunity to win. Maty Mauk has launched 89 successful targets this year for 1,110 yards and 14 scores, and only 4 interceptions. Fairly nice except his completion percentage is at 56%, that's not all on him, but he shares part of it. On the other hand he'd rather toss it out of bounds than to the other guys, so don't expect Georgia to set a record with picks.
(Video Courtesy of of the Mizzou Network)
Missouri's o-line is solid, and led by All-SEC center, Even Boehm, but will need to play with ferocity to provide Mauk protection against a Georgia rush that can come in different directions. Their spread offense will create opportunities in the trenches for Russell Hansbrough, who relies more on eluding tackles than breaking them. He's solid, but despite leading the team has only cracked 20 carries in 1 game. I believe Mizzou needs to stick with the running game enough to keep UGA honest. If they do, Mauk might get a few better looks downfield. Another back is Marcus Murphy who is more of a duel threat, with 10 receptions and has 313 yards rushing. Leading the split ends is 6 foot 2, 210 pound, Bud Sasser, who has 30 catches for 454 yards and 4 visits to the end zone. Pinkel's offense has weapons.
The Special teams is good and arguably an even draw between these two foes, yet some people may say they are not as deep as UGA's special teamers. Scat back, Marcus Murphy has been sensational on kickoff returns this year with a 37.6 average and one delivered all the way. However, Coach Pinkel won't want it to come down to needing a long field goal, Andrew Baggett, while excellent on short chippers and extra points, this kicker struggles when 35 yards away and beyond with accuracy. I think UGA has a slight advantage in special teams.
On the defensive side of the ball, one might at first notice, Missouri is better ranked than the Bulldogs overall, at 59th to their 75th, but I think this is fool's gold. The Bulldogs have so far faced stiffer competition. Mizzou is not without stars though. The bookends on the front line are Marcus Golden and Junior Shane Ray. These stalwarts play like mad hornets, full of energy, and they could slow down the now limited depth of Georgia's running attack on the edge and press Hutson Mason into making mistakes. Michael Scherer is a tackle magnet at linebacker with 50, as he leads the team.
Weather is now expected to be a factor with rain storms expected to pound the state of Missouri on Saturday. That could impact the play of the game and reduce the scoring. I look, for this game to start out close perhaps even with the Tigers in an early lead, if Georgia can survive the shock of no Todd Gurley, they might still win. If the Tigers can jump on the 'Dawgs early it may create a panic on UGA's offense.
Hutson Mason is a senior, but he hasn't started regularly until this year. This is the biggest test of his college career. Gurley took the focus of opposing defenders, now Mason and new starting tailback Chubbs will feel the heat a bit. Mason will have to make some throws to keep the Missouri defense honest. Richt will likely dial up a play action pass off his run game, spice with some short pass plays to get Mason in a rhythm.
Missouri may have a nice day creating a turnover or two and a few tackles for loss. Then again their game plan this week is to stop the run. If they stick 8 or 9 in the box daring Georgia to throw, they will get burned at least once. Maty Mauk will work some magic and get some big throws in, as well as scamper for enough to move some chains, keeping the Tigers in the game. The Tiger's fans will be into it with great energy, yet and in the end, I see Richt motivating his kids and UGA getting enough out of its running game and just squeeking by Missouri (+3) winning 24-22.