Article first posted on Get More Sports.
Are you ready for a touchdown derby in the ole' Horseshoe? Both of these rosters have shown the propensity to tattoo points on the board. The Buckeyes, who are favored by 14.5 points, recently lit it up for 66 and the Bearcats have thrown a 58 up there too. The potential for a video game like score is there for the viewing between these regional foes. It's not a traditional rivalry as these schools have only previously met 14 times in the last 121 years. Many of these contests were defensive struggles in the old days. To be sure it was a much different game in 1911 when OSU defeated UC 11-6. Their first matchup was in 1893 with Ohio State claiming the W. Cincinnati did claim back to back wins in this series in 1896 and 1897, but they haven't won since. In 2002 UC nearly clawed up OSU's national title run before it started in a heart stopping 23-19 finish which required a game winning drive from the Bucks. Ohio State leads the overall series 12-2 and won the most recent game in 2006. So let's examine the Iron Chefs and their ingredients in this version of a gridiron cook-off.
OSU's Urban Meyer is widely considered one of the NCAA's very best and an offensive innovator who helped create and popularize the spread offense while capturing two National Championships from his days at Florida. UC's Tommy Tubberville is also respected as a standout coach, who once served as a defensive assistant under the legendary Jimmy Johnson at "the U"of Miami-Florida, then embarked on stints at Mississippi, Auburn, and Texas Tech before arriving to Cincinnati. Don't forget ten years ago when Tubberville was at the helm of the Tigers they won the SEC title, a BSC Sugar Bowl, and arguably deserved a split national title with Southern Cal as they finished with a sparkling 13-0 record. He gave 'Tide fans some dark days dominating the Iron Bowl rivalry with a 7-3 record. Tubberville has seen the game change over the years and one time was an old fashioned run up the middle kind of guy, but has been astute enough to adapt to the cycles and has his own variety of the spread. Both of these leaders and their staffs can flat out coach and they have been in rivalry games, huge Bowls, title games, and faced the likes of other coaching titans: Nick Saban, Steve Spurrier, Bobby Bowden, Mack Brown, and Bob Stoops to name a few. The two men consider one another friends and have faced against each other twice when Tubberville was the top man at Auburn. On each occasion, Tommy's teams came out the victor in close games. Urban Meyer himself once played for the University of Cincinnati and, in 2009, his Florida Gators rocked the Bearcats in the Sugar Bowl.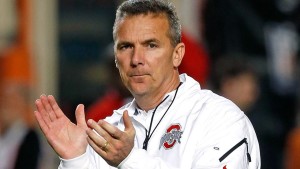 (Photo Courtesy of Cbssports.com)
The 14.5-point underdog Bearcats feature Notre Dame transfer Gunner Kiel slinging the pigskin for a pass happy offense that averages 44.5 a game and has totaled 42 points already off turnovers. Kiel has put up electrifying numbers so far with 689 yards passing and 10 touchdowns in just two games. At that ridiculous pace he'd pass for over 4,000 yards and 60 scores. Kiel feeds many receivers the ball, but his favorite is the lanky, quick, 6 ft. 6 in. Mekale McKay whose gluey hands and precise routes have led to three scores and 215 yards already. It's fast becoming a highlight combo. McKay will require double coverage from OSU before the game is complete. Hosey Williams leads the rushing attacking with 6 yards a clip and 114 yards total. On this side of the ball they tend not to make many penalties, but they also don't control time of possession. However, Cincinnati will score some points Saturday.
So far the Cincy special teams haven't done anything to crow about, but it hasn't hurt them either. Can their Defense stop anybody? Honestly, not often. It's kind of a bend, and bend some more defense, and then hope the other team makes mistakes. The 'Cats give up an average of 29 a game, with a displayed vulnerability to both the ground and air, especially a steady ground attack, yet it's not without some talented guys that occasionally create havoc and turnovers against the other guy. To be fair sometimes they force opposing offenses into a big loss of yards or to cough up the ball. In the middle is a 256 pound mauler, Jeff Luc, who leads the team in tackles with 30, 2.5 for a loss, and has 1.5 sacks. He leads a unit that does come at the quarterback in an assortment of directions and has plastered opposing QB's 11 times for a loss. They've also created five turnovers but they give up as many big plays as they make.
As for Ohio State they rekindled their offensive firepower against a downtrodden Kent State team. It's just the kind of confidence boost the young linemen and Quarterback needed. In addition, they had the luxury of an extra week to prepare for Cincinnati and allow a couple linemen to heal from minor wounds. Tight end Jeff Heuerman, who last year was a contributor in the passing game for Ohio State with 466 yards receiving is also expected to return and Barrett will look his way a few times. I also believe OSU will be balanced with their spread attack that features Barrett and the halfbacks Samuel and Elliot carrying the ball, and wouldn't be surprised if flanker Dontre Wilson used his wheels to gain some yards on the edge. Thomas, Smith, and Wilson are all capable receivers who will make plays. The team has scored on 81.2 percent of their red zone opportunities and it would be higher if the kicker didn't have such a bad day at the office and missed a couple attempts versus Virginia Tech.
While Wilson has not gone off on special teams it is only a matter of time before he takes one back to the house. Cameron Johnston is an excellent punter with a 41.9 yards per attempt average and Urban's coverage teams have plenty of skilled players that get there in a hurry and wrestle down opponents. Place kicker Nueremberger is better than his stats show and will improve his numbers as the season goes. OSU has an advantage in special teams.
Ohio State's defense would certainly be more powerful if DE Noah Spence was available. He's a remarkable play maker with a nose for the backfield. Spence is still waiting on his appeal for a second failed drug test and is suspended indefinitely, while also getting some much needed medical help. Despite that, with guys like Bosa and McMillan, the Bucks can still press the quarterback. Ohio State is not bad against the ground (remember Navy's unusual style of option skews the stats a little) but they do give up touchdowns 75 percent of the time in the red zone. Regardless, UC prefers to let Gunner rip the rock all over the field. OSU will need Bosa, McMillan, and leading tackler Perry, to squeeze Kiel all day. OSU will likely keep a safety over top to help with covering McKay and crank open the defensive play book in hopes of giving Cincinnati many looks mixing zones and man to man. I believe OSU's pass defense against UC's race car offense will be the most important matchup of the day.
What's the end result? Each offensive unit excels at the opposing team's defensive weakness. Both teams will come out passionate for bragging rights and an opportunity to build a resume for their ranking. While the score won't hit the level of East Carolina and North Carolina's basketball-like score of 70-41 last Saturday, we still need to get the popcorn ready. Early on UC will keep it close, but Ohio State will wear down the Bearcats, pull away and just cover the (-15.5) spread.
The Pick: Ohio State (-15.5)