(Image coutesy of Jasen Vinlove-USA TODAY Sports)
Here we are at the All Star Break, so this seems like a good time to take a look around the Majors to see who is doing better than expected, worse than expected and as expected.
Before the season started, I wrote a series of in depth articles on the outlook of the National League (NL West, NL Central, NL East)   with a quick picks version for the American League. I think you can tell which league I prefer and spend more time watching based on the accuracy of my picking.
It's been an interesting first half of the season with an influx of young talent that we have not seen in years. Guys like Harper, Trout, Bryant, Pederson and more and surging on the scene, living up to the hype they have carried with them since the minor leagues. We've had two no hitters, one from a very expected source in Max Scherzer and another from an unexpected source in Chris Heston, a rookie not on the Giants opening day roster.
But that is baseball in a nutshell. A guy making $17 million a year can have the same success as someone making less than one. To me, that is a beautiful thing.
National League East:
My Picks:                                                         Actual Order:
Washington Nationals                            Washington Nationals
New York Mets                                           New York Mets
Miami Marlins                                             Atlanta Braves
Atlanta Braves                                            Miami Marlins
Philadelphia Phillies                                 Philadelphia Phillies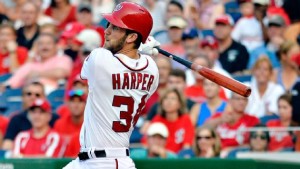 Image Courtesy of Tommy Gilligan/USA TODAY Sports
Looks pretty good other than flipping a couple teams in the middle.
The Nationals are clearly the best team in the division with a deep roster and incredible starting rotation. It didn't even matter that two key guys on offense (Anthony Rendon and Jayson Werth) missed most of the first half. A couple of guys will need to turn it on in the second half for my bold prediction of two 20 game winners to come true, but Max Scherzer has been nothing short of spectacular in his first few months in Washington.
New York has been an interesting team so far with a slew of talented, young arms. Harvey hasn't pitched "lights out" but he and Jacob deGrom are poised to create a dynamic 1-2 punch in Queens for years to come.
Atlanta has been a bit of a surprise for me, playing very good baseball despite trading away their best players in the offseason. Freddie Freeman was off to a torrid start before injuries landed him on the DL. Shelby Miller turned out to be a very shrewd pickup, leading the pitching staff with an ERA just above 2.
Miami disappointed with inconsistencies. They boast the 3rd best hitter in the NL (Dee Gordon hitting .338) and home run leader (Giancarlo Stanton with 27), but have a hard time scoring enough runs to win games consistently. The return of Jose Fernandez will help, but they will need more than just him to make a run at the playoffs.
The Phillies are who we thought they were, losing roughly 2 out of every 3 games. You know you have a problem when Ryan Howard and his .217 batting average is the biggest threat in the lineup.
National League Central:
My Picks:                                                        Actual Order:
St. Louis Cardinals                                    St. Louis Cardinals
Pittsburgh Pirates                                    Pittsburgh Pirates
Chicago Cubs                                              Chicago Cubs
Cincinnati Reds                                         Cincinnati Reds
Milwaukee Brewers                               Milwaukee Brewers
Well, look at that. Looking good on those picks so far. I'm glad I didn't talk myself into picking the Pirates because the Cardinals look scary good so far.
Easily boasting the best record in baseball, the Cards have been tearing it up without a stand out player on offence. They have a very balanced lineup, getting production up and down the order. While my bold prediction of Jason Heyward as an MVP candidate isn't too likely, Michael Wacha might be a Cy Young candidate. A 10-3 record and sub-3 ERA will put him on anyone's radar, but the same thing could be said of teammates Carlos Martinez, Lance Lynn and John Lackey.
Pittsburgh seems doomed to finish second over and over again. They have been getting tremendous pitching all season, helping them overcome a slow start offensively by Andrew McCutchen, but still find themselves well behind St. Louis in the standings. McCutchen has certainly turned it on and Pittsburgh is finding their stride, but the slow start might be too much to overcome in the division. Another winner-take-all wild card game looks likely in their future.
Chicago has been a very pleasant surprise with their unreal amount of young talent every other team in the league is jealous of. Kris Bryant is living up to the hype and the team has more than him in the conversation for Rookie of the Year. If the pitching and $155 million man Jon Lester hold up for the Cubbies, they might find themselves in the postseason sooner than everyone expected.
The Reds and Brewers struggled, as expected, and will certainly be sellers at the trade deadline at the end of the month. They both have pieces in place for the future, but they need to flip their veteran pitching for young prospects to help with the rebuild. They will need all the help they can get if they plan on jumping over of any of the three teams ahead of them in the standings any time soon.
National League West:
My Picks:                                                      Actual Order:
Los Angeles Dodgers                            Los Angeles Dodgers
San Francisco Giants                             San Francisco Giants
San Diego Padres                                    Arizona Diamondbacks
Arizona Diamondbacks                       San Diego Padres
Colorado Rockies                                    Colorado Rockies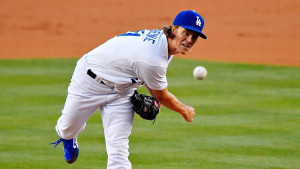 (Image Courtesy of AP Photo/Mark J. Terrill)
You know your team is good when you have underachieved and had injury problems but still find yourself with a comfortable lead in the division.
That is the situation the Dodgers find themselves in at the break. Zach Greinke can pencil himself in as a Cy Young finalist, more than picking up the slack for Clayton Kershaw, who has struggled to find his incredible form from the last few years. I expect L.A. to be very active at the deadline to fill in the gaps in their rotation left when Hyun-Jin Ryu and Brandon McCarthy went down for the year with injuries. Even if they don't, it would be a shock if they didn't coast down the stretch to another playoff berth.
Injuries have stifled any momentum the Giants have gathered this year. Hunter Pence, Nori Aoki, Matt Cain, Jake Peavy, Jeremy Affeldt and more have spent time on the DL and the reigning champs have had significant struggles at times due to that. Still, they are in playoff contention and if they can get healthy in the second half, they will be a team to be reckoned with. Hunter Pence returned from injury this week and, not surprisingly, the Giants go into the break with a three game sweep and in striking distance in the division and Wild Card.
Arizona has been a bit of a surprise in the first half, mainly because of MVP candidate Paul Goldschmidt. He is not only an MVP threat, but also a Triple Crown threat, hitting anything and everything thrown at him. The team lacks the depth to contend right now, but with Goldschmidt, they are a few pieces away from being right there with the Dodgers and Giants.
In San Diego, all the moves they made in the offseason to rebuild the roster have not gone as well as planned. James Shields has pitched well, but the roster overhaul has failed to gel and they find themselves well behind in the standings. The main question for the Padres is if they will switch from buyers in the offseason to sellers at the trade deadline. If they do, Justin Upton will be the best player on the market and they might be able to restock the farm system with one wise trade.
The Rockies are struggling to the surprise of no one. Nolan Arenado would be on every highlight reel and be on everyone's MVP radar if he played anywhere else. He plays incredible defense and it putting up amazing offensive numbers. Consider me a fan of his play. Tulowitzki has stayed healthy all year and has put up number you have come to expect from him. Perhaps they can parlay a healthy half season from him into increased trade value and give their rebuild a kick start by moving him and/or Carlos Gonzalez and their huge contracts for younger, cheaper talent.
American League: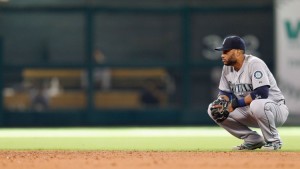 (Image Courtesy of Bob Levey – Getty Images)
Teams I overvalued: Seattle Mariners, Detroit Tigers, Cleveland Indians. I really thought the Mariners were primed to be contenders, but that is not looking so good. They have struggled mightily all season and aren't looking like they will even make the playoffs, let alone the World Series. The Tigers turned out to be older and more injury prone than I thought and the Indians failed to build on last season's success. But no one is out of it yet, and a well-timed run in the second half can put any of them back on the radar. I'm not giving up hope on my picks just yet.
Teams I undervalued: Houston Astros, K.C. Royals, and N.Y. Yankees. It turns out that the Astros bold rebuilding plan worked quite well and well ahead of schedule. Like the Cubs in the NL, the Astros are loaded with young talent that has mostly performed as they had hoped. The Royals shrugged off the disappointment of losing in the World Series and find themselves with a solid grip on the AL Central and the Yankees lead the very competitive AL East. Unlike the National League, no one team has ran away with anything yet, so things might change over the next 75 games or so.
Award Winners:
NL MVP: I should have just gone with Harper. He has hit the cover off the ball all season, putting up video game numbers, leading the Nationals offense almost single handedly. Paul Goldschmidt is the only one close to Harper in terms of stats, but will suffer because the D'backs are not in contention like the Nationals are. McCutchen was my pick before the season and he has played well, just not quite MVP well yet.
AL MVP: Um, can I get a mulligan on that one? Robinson Cano? Really? What was I thinking? He has been terrible and a big reason behind the Mariners struggles this season. Miguel Cabrera would have been a good candidate, but he just suffered a calf injury that will probably eliminate him from this conversation in the end. There isn't a runaway player for this award just yet, so Mike Trout will probably get it on reputation alone. Ranking in the top-10 in average, home runs, RBIs, runs, and a slew of other categories doesn't hurt either.
NL Cy Young: Jordan Zimmerman was a good pick and he has been very solid, but not Cy Young worth, yet. It is looking like a two-man race between Zack Greinke in Los Angeles and Max Scherzer in Washington. Scherzer has the edge in strikeouts and wins, but Greinke has a miniscule 1.39 ERA compared to Scherzer's "astronomical" 2.11. I'd give the slight edge to Greinke and his absurd ERA after the first half, but the second half will ultimately separate these two aces.
AL Cy Young: Just like everything else in the American League, things are very even in the Cy Young race. I took David Price before the season and he is right in the thick of things, ranking in the top-10 in all the major statistical categories. But no one is separating themselves from the pack. Chris Sale, Chris Archer, Dallas Keuchel, Sonny Gray, Felix Hernandez and Hector Santiago are all right there. Keuchel is my pick in the first half, playing a huge role in the Astros' resurgence.
NL Rookie of the Year: I like my chances on getting this one right. Kris Bryant is a star, hitting for power and average, unlike his competitor Joc Pederson who has mashed 20 homers, but is struggling with a .230 batting average. Bryant wins this one assuming he avoids injuries and slumps in the second half.
AL Rookie of the Year: Again, there is no runaway leader for this award in the AL. Daniel Norris hasn't had enough Major League playing time to really get the numbers needed for the award. On the pitching side, Nathan Karns and Kendall Graveman have put up solid numbers, but are not spectacular. I think it will come down to Billy Burns in Oakland and Carlos Correa in Houston. Correa is uber-talented and has played beyond his hype in just 32 games so far, mixing power and average. Burns has been there all year and it hitting well over .300. Nothing to scoff at, but unless Correa has a meltdown in the second half, this is his award to win at the pace he has set for himself.
It has been an incredible first half and I am hungry for more. The upcoming big event is the trade deadline at the end of July where contenders will try to find that missing piece to carry them to postseason glory. Who will be bold and go for it all? Who will sell off everything? Who will play it safe? I can't wait to see what's next.