(Top Photo is courtesy of Joe Camporeale-USA Today Sports)
Happy Easter! Happy Passover! Happy one week away from Game of Thrones premier! And, of course, Happy Opening Day for us baseball lovers. Sure, not all of our teams are taking the field tonight, but when Jon Lester throws out the first pitch tonight, "wait 'till next year" officially becomes "this is our year." I already looked at the National League teams in depth, so, before the season becomes official, I'll make my picks for winners of the playoffs series and various awards.
NL Wild Card – Pittsburgh Pirates over San Francisco Giants
NLDS – Washington Nationals over Pittsburgh Pirates
Los Angeles Dodgers over St. Louis Cardinals
NLCS – Washington Nationals over Los Angeles Dodgers
AL Wild Card – Detroit Tigers over Los Angeles Angels
ALDS – Cleveland Indians over Baltimore Orioles
Seattle Mariners over Detroit Tigers
ALCS – Seattle Mariners over Cleveland Indians
World Series – Washington Nationals over Seattle Mariners
You can check out my NL previews for more in depth analysis for those teams.  In the American League, I think this is the year a couple teams make the leap from contenders to winners. Seattle has upgraded their roster every year lately and are primed with a deep pitching staff and great hitters to pole vault them ahead of the Angels and Athletics out West. In the Central, the Tigers reign is over. Verlander, Cabrera and Martinez are getting up there in years, have battled injury issues and who knows how long they will be able to stay on the field. The young Indians squad will make the push to be the new power in the Central behind CY Young winner Corey Kluber. In the East, Boston upgraded in the offseason, but they lack an ace and have a few too many question marks. Toronto always seems on the cusp to content, but just can't get over the hump. The Yankees and Rays will fight to stay out of the cellar in the very tough AL East, but we will see a repeat of the Orioles and Adam Jones as the winners. How far they can go in the playoffs is another story.
NL MVP
This is a category with plenty of worth candidates. Often, the MVP award goes to the best player on the best team and not necessarily the most valuable player. I think the Nationals are the best team, so is this Bryce Harper's award to lose? Unlike the Cy Young, the team's overall success factors in to the voting, so that may eliminate a number of worthy candidates. I'll stay away from the longshots and go with Andrew McCutchen. He can do it all on the field and at the plate and the Pirates should contend for the division crown and, potentially, the World Series.
Winner: Andrew McCutchen PIT
Maybe next year: Yasiel Puig LAD, Giancarlo Stanton MIA, Anthony Rizzo CHI, Matt Kemp SD, Bryce Harper WAS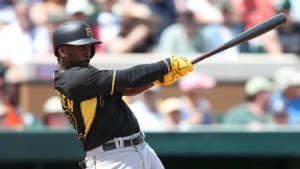 Tom DiPace – ESPN
NL Cy Young
I refuse to pick Clayton Kershaw. He can't win it every year, right? Having said that, it's his award to lose. But I predict a slow stretch leaving the door open for someone else. I bet it is someone in Washington, and there are a few very good options. Max Scherzer is probably their best pitcher and Stephen Strasburg has the best stuff, but I'm going with Jordan Zimmerman. He ended the season with a no-hitter followed by 8 2/3 innings of shutout baseball in the NLDS. I see him building on that success, plus the incentive of it being his first contract year so he'll want to show his best stuff and get that Kershaw money in the offseason.
Winner: Jordan Zimmerman
Close, but no cigar: Clayton Kershaw LAD, Max Scherzer WAS, Madison Bumgarner SFG, Johnny Cueto, CIN, Matt Harvey NYM
NL Rookie of the Year
It has been a while since we've had a talent pool this deep. Jorge Solar looked amazing in his brief stint last year and will benefit from the Cubs power hitting lineup. Joc Pederson is so talented, the Dodgers traded away Matt Kemp and benched Andre Ethier to be able to play him. But, I have eyes and after the ridiculous 12 games Kris Bryant will be forced to spend in the minor leagues to delay his free agency a year, he will run away with it all. He has crushed the ball at all levels and I see no reason that should stop. The future is bright in Chicago.
Winner: Kris Bryant CHI
There will be plenty of other awards down the line: Joc Pederson LAD, Jorge Solar CHI
AL MVP
Mike Trout seems like the safe pick here. Hard to argue with him being the most talented player in the world and he plays for a team that looks playoff bound, but I have a sneaking suspicion that it will go to another player out west. If this is the year the Mariners realize all their potential and capture the AL West crown, they will need someone to step up and play like an MVP. Lucky for them, they have that in second baseman Robinson Cano. He did not disappoint last year after signing the big contract and this year, he will be surrounded by a better lineup, giving him more opportunities.
Winner: Robinson Cano SEA
So close: Mike Trout LAA, Jose Abreu CHI, Josh Donaldson TOR, Jose Altuve HOU, Miguel Cabrera DET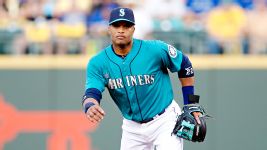 Rob Leiter/Getty Images
AL Cy Young
All hail King Felix! Right? Maybe, maybe not. He posts amazing number and with the Mariners ascent, he should tack on a few more wins to make his resume look better. Chris Sale is a tremendous talent when he is healthy. Corey Kluber just signed an extension and is coming off his own Cy Young win. Yordano Ventura has filthy, filthy stuff and will win the award at some point in his career. But David Price is the guy. He's got a chip on his shoulder, will be a free agent after the season and hasn't shown any signs of letting up.
Winner: David Price DET
Not quite: Felix Hernandez SEA, Chris Sale CHI, Yordano Ventura KC, Corey Kluber CLE, Garret Richards LAA
AL Rookie of the Year
This is a little more tricky because some of the prime candidates are starting the year in the minors without an obvious call up date like Bryant has. Carlos Rodon has great stuff, but was just drafted last year, so I'm not sure at what point he will be ready to take the mound in the majors. Rusney Castillo got millions thrown at him by Boston, but will start the year in the minors and has a huge log jam in the outfield in Boston to break through. He'll be up at some point, but, when and how much playing time will he get when he gets there? My pick is Daniel Norris in Toronto. Immediately penciled in as the #3 starter up north, his stuff is legendary as left handed pitchers who throw 97 don't grow on trees. He may be living in a van and shaves with an ax (true story) but I see him being a staple in the Blue Jay rotation for years
Winner: Daniel Norris TOR
At least they still have youth and talent: Carlos Rodon CHI, Rusney Castillo BOS, Steven Souza Jr TB
So, there you have it! Jump on a plane to Vegas and place those bets! Just cut me in for a slice of the profits and don't blame me if I am completely and totally wrong. Even if I am, celebrate because it is baseball season!