Rough week for Chicago sports fans as it was announced that Bulls superstar Derrick Rose needs surgery, followed that night by a devastating injury to Blackhawks star Patrick Kane. Kane suffered a left clavicle fracture, which will require surgery followed by a 12-week absence. That timeline would set his return date at mid to late May, meaning the Blackhawks will need to make a deep run in the playoffs without their leading goal scorer and points leader just to see him play again this year. The only upside is that the injury happened days before the trade deadline, allowing the Blackhawks to make a move to replace some of Kane's scoring prowess from an external source. Look for the Hawks to find a scorer with an expiring contract, because their cap situation will be dire next season when Kane and Jonathan Toews' massive contract extensions kick in. Lucky for the Blackhawks, several names fit that bill. Antoine Vermette from Arizona or, my pick for them to acquire, Chris Stewart in Buffalo is very available and might be had for a song. The Blackhawks are too strong to raise the white flag this season, so look for them to insert themselves as buyers before Monday's deadline passes.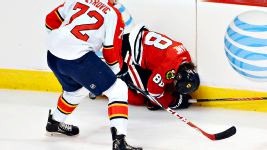 (Photo Courtesy of David Banks/USA TODAY Sports)
---
Hockey in Vegas? The subject that has been in and out of the news for what feels like a decade is still in talks. Construction is underway for a state of the art facility to be completed in 2016 and potential NHL owner Bill Foley attempted to get 10,000 season-ticket commitments from the community to prove the viability of a team out there, but he fell short with only 7,000 commits in two weeks. It's an interesting idea to bring a team there (if there is ice hockey in California and Florida, why not Nevada?) but if there in isn't interest from the residents of Las Vegas, the league does not need another Florida Panthers or Carolina Hurricanes situation where they can't fill two thirds of their arena.
---
Remember the last Rink Report when I said that the Kings were a team on the upswing? All they've done since then is reel off four straight wins, allowing only four goals in those games which included a memorable, momentum building win against the Sharks at Levi's Stadium in the Outdoor Classic. Jonathan Quick has been superb and with their schedule about to take a softer turn, look for them to climb the standings and insert themselves as a team with home-ice advantage in the playoffs.
---
Maybe it won't be so bad for the worst of the worst. Potential #1 pick in the next NHL Draft Connor McDavid is a beast. On Wednesday, he had 4 goals and 6 points, giving him 36 goals and 98 points (98!?! Really?!?!?!) in just 37 games this season. Someone in Buffalo or Edmonton might be very happy to see this guy wearing their sweater next here. Here is a clip of him going coast-to-coast, then top shelf scoring one of those four goals
(Video Courtesy of Ryan Kubiak)
I know I'd want him on my team…