After losing 10 of their previous 12 games, the defending champions Los Angeles Kings have turned it on by winning their last 4 games. The rest of the NHL should have one eye on LA with their postseason track record. As we saw in last year's playoffs, a hot Jonathan Quick in net coupled with clutch scoring can overcome any deficit (ask San Jose) and go all the way (ask the Rangers). They currently sit just outside of the last playoff spot, but if you ask the teams at the top of the Western Conference standings who they would least like to play in the first round of the playoffs, I'm sure the Kings would be the first name on their list.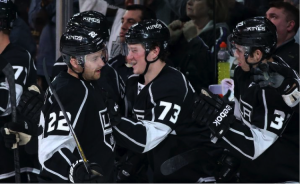 (Photo Courtesy of Stephen Dunn/Getty Images)
Speaking of hot teams just outside the playoff picture in the West, Minnesota has not lost in regulation since January 19th against Columbus. Since then, they have gone 8-0-2, inserting themselves in the conversation for the last few playoff spots. They have fended off the last 26 penalty kills behind the great goaltending of Devan Dubnyk, who has been nothing short of a steal since coming over from Arizona midseason for a measly third round pick. If they can get healthy and/or make a key move before the trade deadline, they could be playing some very meaningful hockey in April and May.
The trade deadline is less than two weeks away, but who will be changing their sweaters? The team that may be most interesting to watch is Toronto. With 51 points as of February 16th, they find themselves well out of the playoff picture thanks to a 1-12-2 stretch. They have already fired their coach, traded soon-to-be free agents Cody Franson and Mike Santorelli, so would they be willing to deal some of their high priced players? Dion Phaneuf is an elite defenseman, but still has six years at $7 million per year left on his deal. Phil Kessel is having another great year and would add a great scoring punch for a team in need. Will they deal them mid-season, or try to start a bidding war in the offseason? It will be curious to see how team president Brendan Shanahan plays it but there is no doubt the Leafs are in sell mode.
The Stars are chasing the final playoff spot in the West, but their chances took a hit over the weekend when superstar Tyler Seguin went down on a hit that angered everyone in Dallas. Florida defenseman Dmitry Kulikov went low and hit Seguin at his knees, which started an altercation on the ice, and harsh words from head coach Lindy Ruff.
"It's a dirty, low play that I don't like. The league doesn't like it and I want to see the league deal with it."
The league listened and suspended Kulikov indefinitely. In typical hockey fashion, his injury is listed as "lower body" and he will miss at least two weeks and could be as much as six weeks. The Stars are already behind the eight ball in the Western Conference and this might be too much for them to overcome.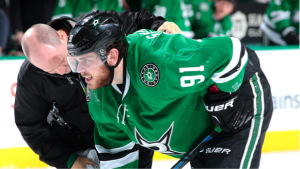 (Photo Courtesy of Glenn James/Getty Images)