Hey! Look at me! I got 7 out of 8 first round picks correct! Darn Canucks ruining my perfection. There was some great hockey in the first round with one sweep and two Game 7's. No surprises out East as all No. 1 and No. 2 seeds advanced but the Wild, Wild West was a different story where only one higher ranked team (Ducks) survived to play in the Conference Semifinals. Eight teams remain and Round 2 starts tonight, so lets take a look at what we have in store for us.
New York Rangers vs Washington Capitals
How crazy would it have been if the Islanders were able to take the Caps down in Game 7 and set up a New York/New York series? Close, but it wasn't meant to be as Ovechkin and the Caps emerged to face the Rangers in the playoffs for the fourth time in the last five seasons. The Rangers took two of those three series' and it looks like they might keep up that trend. They easily took care of Sidney Crosby and the Penguins in five games in round one to continue their regular season dominance. Henrik Lundqvist has been his usual amazing self, only allowing 8 goals in those 5 games to the high-powered offense in Pittsburgh. He will need to do just that again against Ovechkin. But, while everyone is focused on the Rocket Richard Trophy winner going against a top goaltender, the series might be decided on the other end of the ice. Braden Holtby played spectacular in the first round posting a 94% save percentage while allowing only 10 goals in those 7 first round games. He got help from his defense when they were successful on all 14 penalty kills. Combine that with a Rangers squad that struggled on the power play and we might see a much lower scoring series than people expected
My Pick: Rangers in 6. As good as Holtby was in round one, Lundqvist is better. He's been there and done that and will use his experience to lift the Rangers over a physical Capitals team. Maybe next year Ovey.
Montreal Canadiens vs Tampa Bay Lightning
I am quite sure the Habs and their fans groaned when the Red Wings couldn't finish off the Lightning in Games 6 or 7 seeing as the Canadiens failed to record a single point against Tampa Bay in any of the five regular season meetings. That is ownage, at least in the regular season. But this is the season that really counts and the Habs boast the best player in hockey this year, Carey Price. He played solid in the first round (other than a five goal stinker in Game 5) but peaked in the clinching Game 6 with a 43 save shutout. Ben Bishop has been stellar for the Lightning this year, especially against the Canadiens posting a 5-0-0 record while allowing less than 2 goals per matchup. Lightning star Steven Stamkos has struggled mightily, not netting a goal in any of the Lightning's last 10 playoff games. He will need to step it up in a hurry if Tamps Bay is planning on getting past the future Hart Trophy winner in Price.
My Pick: Lightning in 7. This is going to be a very close series with some big name talent, but I think Stamkos finally finds his scoring touch and Bishop does just enough to help them get by. Price will be fantastic as usual and steal at least one game for Montreal, but it won't be enough to stop the young talent in Tampa Bay.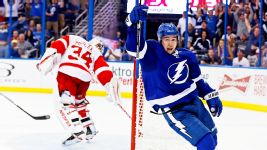 Mike Carlson/Getty Images
Chicago Blackhawks vs Minnesota Wild
Déjà vu. The Blackhawks were the reason for the Wild's departure from the playoffs in each of the last two seasons. Will it be three in a row or third time's a charm? The Blackhawks will rely on their star power in Patrick Kane. Kane hadn't played a game since February, but came back in round one to post 2 goals and 5 assists in 6 games. That was a huge sigh of relief coming from Chicago to see their best player not miss a beat despite the missed time. The Hawks played in the highest scoring series of the first round against Nashville, not only because guys like Kane stepped up, but because their defense was lousy. They were sloppy and inconsistent in the first round and must step up the intensity on defense if they want to move on. For the Wild, it is all about Devan Dubnyk. He is the reason the Wild are in the playoffs and how far they go will be a result of his play. He has been stellar in net behind a very well balanced team and he can't stop his excellent play now.
My Pick: Blackhawks in 6. Corey Crawford is due for a good series and the Blackhawks have a balanced scoring attack to go with home-ice advantage. Chicago seems to do just enough to get by and will do so again.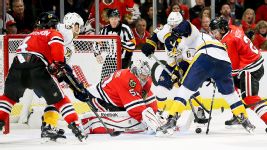 Kamil Krzaczynski/USA TODAY Sports
Anaheim Ducks vs Calgary Flames
These two teams had two very different first rounds. The Ducks did what everyone expected by handling the Jets without any issues, while the Flames upset the Canucks in the most entertaining series so far. The Ducks followed their script flawlessly against Winnipeg with Frederik Anderson playing solid in net all four games and top forwards Corey Perry and Ryan Kesler each netted three goals in those four games. The Flames had some thrilling games against Vancouver which culminated in a 3 goal comeback in Game 6. They are lead by former Anaheim goalie Jonas Hiller who found himself without a job in Anaheim and signed with Calgary to prove to the hockey world that he still has it. And he does. He played well in the regular season and the first round and now will have a chip on his shoulder as he faces off against his old team. Will it be enough against the best in the West?
My Pick: Ducks in 5. The Ducks are too good, too balanced, too prepared for this series. Hiller can't carry the Flames by himself and their top line has struggled so far. Can't pick against the Ducks and they will close out the series early on to rest up for the Western Conference Finals.
Shop Amazon DVDs – Save Up to 55% on Thousands of Movies & TV Shows