Pop quiz. When was the last time a team from Canada won the Stanley Cup? I'll give you a moment to think long and hard about that while I throw out some weird stats. Teams from California, Florida, Texas and North Carolina have hoisted the Cup more recently than a team from north of the border. Barry Melrose and his glorious mullet was the coach of the losing team in that Stanley Cup Finals. John Tavares, the current NHL leader in points, had not yet reached his third birthday. Give up? We have to go back all the way to the spring of 1993 to find the Montreal Canadiens celebrate their victory over the Los Angeles Kings led by goaltender Patrick Roy.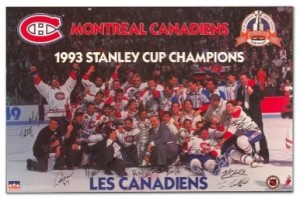 22 years is a long time to wait for a country that calls hockey their sport. Five teams from Canada have come close by getting to the Finals, before coming up short, so will the streak continue for at least another season, or do any teams have a shot at glory?   The top of the standings around the NHL is very tight with seven teams within two points of each other, but, as of writing this article, the Montreal Canadiens have 91 points, good for a tie in the race for the President's Cup. Meanwhile, out West, Winnipeg, Vancouver and Calgary are trying to hold on to the last few playoff spots. While any of the 16 teams that make the playoffs have a chance to win it all, we will focus on the Canadiens and their chances in the postseason.
Getting home ice advantage in the playoffs would be huge for Montreal, as they boast one of the top home records at 22-7-5 when playing in the Bell Centre. If they want that advantage, they will need to hold off Tampa Bay and both New York teams over the last 15 games in the regular season. To do that, they will need to rely heavily on goalie Carey Price, as they have done all season. Price is in position to win the triple crown of goaltending statistics, leading the league in wins (37), goals against average (1.87) and save percentage (.937). If Price can translate his regular season success into the playoffs, there may be no stopping the Canadiens. You could make an argument that no position is more important in any sport than the goalie is in hockey. He can single handedly steal a victory in the playoffs, keep a team competitive even if they are being out-skated and turn the momentum around in a game that wasn't going their way. And right now, no one is a better candidate to do just that than Carey Price.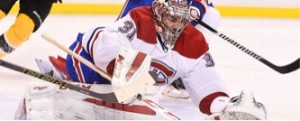 (Photo Courtesy of Steve Babineau/NHLI/Getty Images)
For all their strengths in net and on defense, the Canadiens have struggled to get consistent scoring to make Price's job easier. They rank first in the league in goals allowed, yet 22nd in goals scored. Sixth in the penalty kill, but 24th in power play percentage. To make a deep run in the playoffs and win it all, they will need to turn that around and not rely on Price every single night to make one or two goals hold up. Max Pacioretty has certainly lived up to the hype that comes with a first round pick by scoring 30+ goals for the third time in the last four seasons (he only scored 15 in 2012-13 because he missed half the season). Once you get past Pacioretty, the scoring gets a little thin with no other Canadien netting 20 goals yet. P.K. Subban is still one of the best defensemen in the league and pairs with Andrei Markov for a formidable blue line on the power play. If they are going to win those magical 16 games in the quest for Lord Stanley's Cup, they will need the secondary scorers like Tomas Plekanec, Brendan Gallagher and Alex Galchenyuk to step up in the big games.
But if there is one thing I have learned watching the NHL Playoffs is that you never bet against the best goalie in the league. We saw it last year when Jonathan Quick took the 6th seed Kings from a 3-0 deficit in the first round to Stanley Cup champs. If Canada is going to celebrate the return of the Cup this year, Price will need to do just that.   Anything short of excellent might not be enough to emerge from the very deep Eastern Conference. Only time will tell, but I wouldn't want to bet against a hot goaltender at home in front of a country starved for NHL success.