Whether these schools I've listed make the NCAA tournament or the NIT tournament, they all have a chance to shred some other team's goals like paper. If you are looking for some additional insight to boost your brackets for the office pool or score winning bets at the sports book I have a crafty list of tidbits to help you out as you pursue some action. The list includes schools from heavyweight conferences as well as little conferences you might never have ever heard of.
University of Texas-EL Paso Miners (C-USA)
Record (21-9)
The Miners of UTEP earned their best wins against Princeton, Xavier, and Old Dominion. In December they nearly upset mighty Arizona (55-60). As a team the offense and the defense are respectable but not amazing, except that five of the six leading scorers can catch a brush fire from behind the arc, sailing in a party of three pointers. Vince Hunter 6 ft 8 in. sophomore forward and Earvin Morris, a 6 ft. 4 in. sophomore guard, both average an awesome 40 % plus from three-point land. If this team gets open looks and feels the groove, somebody's going down!
Mississippi Rebels (SEC)
Record (20-11)
The Rebels are one of the teams who may very well prove that the SEC was not as down as everyone thought, it's just that Kentucky is that fantastic. Juicy tidbit number one is that their away record is better than at home. Heck they did after all, bang with Kentucky all night on their home court and forced the action into overtime in hallowed Rupp arena, barely falling by a tune of 86-89. It's a team full of heart, Kentucky kept decking them and Ole' Miss' kept coming after them for more. Stefan Moody, 5 ft. 10 in. junior, is their go to dude, who strokes from tripleville at 35 % and sinks free throws at an astounding 91.2%. Moody will even scrap his way into the lane and fight for rebounds! Their best wins have come against: Creighton, Cincinnati, at Oregon, and at Arkansas.
Brigham Young Cougars (WCC)
Record (24-8)
Here is what we know, their defense isn't going to scare anyone, and they are 222nd in the nation in stuffing opponent's shot attempts. However, they are 34th in the country when it comes to yanking candy from the baby, with an excellent 7.8 spg as a team. Of course, when you can space the floor, set screens, cut without the ball, pass the nachos, and pour on points in flash flood fashion like the Cougars [2nd in the nation with 83.8 ppg, 5thwith 16.9 apg ], you can feel good about your chances and even better when you realize these kids crash the boards on both ends, especially ranking 16th  in offensive rebounding in the nation for some put backs. They also take care of business behind the charity stripe at 77% as a team. Tyler Haws, 6 ft. 5 in. senior guard, tops the team with 22.2 ppg and 6 ft. 6 in. senior forward Kyle Collinsworth does about everything for them, 13.6 ppg, 8.6 rpg, 5.7 apg, and 1.9 spg. Their best victories have come against Stanford, UMass, and on Gonzaga's home court.
Here is a video of a BYU steal leading to a dunk on the fast break courtesy of ESPN.
Purdue Boilermakers (Big 10)
Record (20-11)
Coach Painter's kids struggled in the beginning at 8-5, but have come on with a 12-6 in conference record. Eventually they bought into Matt Painter's way and now they win by playing solid team defense, blocking shots, they physically own the paint, distributing the ball, and mental toughness. In the post they are blessed with supreme size as 7 ft. 0 in. 260 pound, junior A.J. Hammons is the starting center, and backing him up, his honorary younger and even bigger brother, Isaac Haas, who is appropriately named because he's 7 ft. 2 in. and 290 lbs of muscle. Both of these strong fellas can get up off the floor for a rim shattering dunk, shake a leg back and forth to get out on the break or get back for defense. Jon Octeus is a 6 ft. 4 in. slasher who can drain jumpers and drive it to the rack, and he is a tough defender on the wing. Who have the Boilers' defeated? BYU, NC State, Iowa, Illinois, Ohio State, and to the delight of their fans they swept their nemesis Indiana. This is a young team that is coming of age and they will likely upset someone in the big dance, perhaps even bust a move into the Sweet Sixteen.
Arkansas Razorbacks (SEC)
Record (24-7)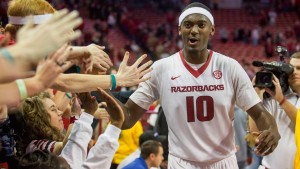 (Photo Courtesy of Gareth Patterson/Associated Press)
Learn the name of Bobby Portis, a 6 ft. 10 in. sophomore post man who delivers from on the block or jumpers that force the opponent to extend beyond the lane. Portis averages 17.8 ppg, 8.7 rpg, and 1.5 bpg while leading a dangerous team that has bested SMU, Iona, Dayton, at UGA, at Ole' Miss' , and Texas A & M. I expect them to go to the Sweet Sixteen or more if they get the right draw.
Eastern Washington Eagles (Big Sky)
Record (23-8)
On November 24th Eastern Washington hit the road and erased Indiana's streak of 43 consecutive non-conference victories at home. They also visited San Francisco and defeated them. Since then the Eagles built their resume by beating other mid-majors. Who is their top guy? Tyler Harvey, a 6 ft. 4 in sophomore who has a smooth touch to his shot, 42.9 % from three and 84 % at the charity stripe for a sensational 22.9 points a game.  Wouldn't it be cool if they got to match up against Gonzaga, seeing as they are from the same state but don't play one another annually?
Iona Gaels (MAAC)
Record (26-7)
Like Brigham Young these kids manufacture points with a 7th best in the nation average of 79.9 ppg.  A.J. English is a 6 ft. 4 in. junior point guard and 6 ft. 9 in. senior big man in David Laury, lead the way with 20.2 points and 19.5 points respectively per contest. English provides 5.1 apg while Laury gobbles 9.4 rebounds as well. Although, what does concern me is aside from Wake Forest the rest of the wins are in conference so they might be fool's gold. If they match up against a tough defense or a full court press team like VCU it's uncertain what would happen, but if they draw somebody who has a swiss cheese defense go for it.