On our first edition of Road to Indianapolis we took a long hard look at the Big 12 and their tournament bound teams. We looked at Kansas, Iowa State and a few others but eventually we concluded that even though are a couple of good teams in the conference, none of them has what it takes to cut down the nets in April. Up next for us is the SEC, a conference mostly defined by the success of a few elite schools and the failures of several others. This year the SEC is better overall from top to bottom despite off years from South Carolina, Florida and Vandy. Kentucky is the clear favorite to win another National Championship, but do any of the other SEC schools have a chance at a deep NCAA Tournament run?
Likely Tournament Teams:
Kentucky – 27-0 (14-0)
There isn't much left to say about John Calipari's Wildcats this season. They are the lone undefeated team left in college basketball, and they seem destined to return to the Final Four for a second consecutive year. The Cats have looked impressive in their last three wins after barely edging by both Florida and LSU on the road. Karl-Anthony Towns has finally started playing up to his talent level, and he and Willie Cauley-Stein both are showing scouts why they should be taken top-5 in the draft. Towns recorded 19 points, 10 rebounds, and four blocks last Saturday in a blowout win against Auburn. If the Cats are going to run the table this season, it will be on the backs of Towns and Caulie-Stein. Kentucky will easily secure a 1-seed in the tournament, and they will enter as the favorites to win it all.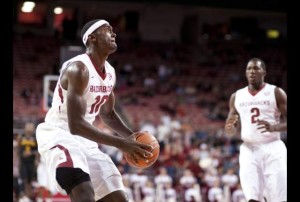 (Bobby Portis Photo Courtesy of AP Photo/Sarah Bentham)
Arkansas – 23-5 (12-3)
If Kentucky wants to go undefeated this season, they will first have to beat a scrappy Arkansas team at Rupp on Saturday. Arkansas beat a good Texas A&M team Tuesday night 81-75, but the real story was the first half. Arkansas was all over the place. They were pressing, crashing the boards, grabbing every loose ball and dominating A&M in every aspect of the game. Bobby Portis will be a factor on an NBA team someday, and a few other guys on this team have a real shot at going pro. If Arkansas plays Kentucky as hard as they played in the first half against the Aggies then the Cats are in for a real treat. After Kentucky, the Razorbacks have a game against South Carolina and then they finish the season against LSU at home. Arkansas has won seven straight, but their seeding in the tournament depends heavily on this game at Rupp. If the Hogs can somehow pull off the upset, they immediately jump into the conversation for a 2 or 3-seed. The more realistic option is that they settle for a 5 or 6-seed and are a nightmare second-round matchup for somebody.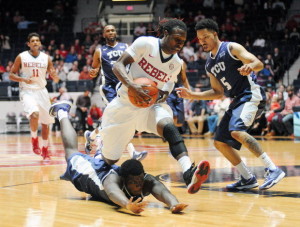 (Stefan Moody Photo Courtesy of AP Photo/Oxford Eagle, Bruce Newman)
Ole Miss – 19-8 (10-4)
Ole Miss comes into a Wednesday night matchup with Georgia slightly underrated. The Rebels have lost eight games this season, but six of those loses came by five points or less including an overtime loss to Kentucky and a one-point loss to aforementioned Arkansas. Stefan Moody, a 5-10 transfer player from Florida Atlantic, has ignited this team and helped fans quickly forget the painful Marshall Henderson era. If you haven't seen this kid play yet, I'd suggest you check him out. He can hit from all over the court, and he gets to the line at a great rate for someone so small. Ole Miss has four games remaining: vs Georgia, @LSU, @Alabama, and vs. Vanderbilt. The Rebels have a good chance at winning three if not all four of those games, and if they do so they will set themselves up nicely for a 6 or 7-seed in the Big Dance. I doubt they can make much noise in March, but I am interested to see how the end of their regular season turns out for them.
Bubble Teams:
Texas A&M – 19-8 (10-5)
The Aggies lost a tough game to Arkansas on Tuesday night, and they honestly deserved to. They looked sluggish and sloppy for the entire first half, and it took a huge second half to keep this game as close as it was. Texas A&M has played decent so far this season, but they have struggled against the best teams in the SEC. They may get an at-large bid to the tournament depending on their last three games and their performance in the SEC Tournament, but they don't rebound the ball well enough to scare anyone in March. A first round exit is likely for this squad, if they make it that far that is.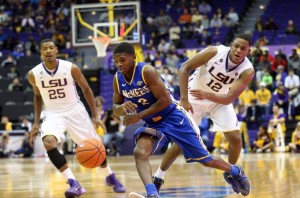 (Jamaya Burr Photo Courtesy of Crystal LoGiudice-USA TODAY Sports)
LSU – 20-8 (9-6)
LSU has a huge game this Saturday against Ole Miss that might determine whether or not LSU makes the tournament this year. A win in their last three games plus a solid showing in the conference tournament and LSU could be looking at a 7 or 8-seed, and a tough matchup for a lot of teams. Jarell Martin and Jordan Mickey are both NBA-caliber guys who create a nightmare matchup for opposing frontcourts. It is no wonder that LSU is third in the nation in rebounding with those two on the floor. They are complimented by sharpshooting Keith Hornsby and perimeter scorer Tim Quarterman to create a very tough team across the board. The Tigers are definitely a team no one wants to draw come tournament time, just ask Kentucky.
Georgia 17-9 (8-6)
Recent loses to Auburn and South Carolina may keep a very good Bulldog team out of the tournament again this season. The Dogs still have four games left: @Ole Miss, vs. Missouri, vs. Kentucky, and @Auburn but they need to win three out of four to even have a shot at an invitation. Even if they do get in, Georgia lacks the talent of some other SEC schools, and they would be eliminated very early.
Final Thoughts:
I believe Kentucky will win the National Championship.
I do not think they will go undefeated.
I believe Arkansas will advance to the Sweet 16.
A team not listed above will win the SEC Tournament.
That same team will use the momentum from the SEC Tournament and turn it into a win in their first game, followed by a loss in their second.
The SEC will put five teams into the field this season.
The SEC will outperform the Big 10 and Big 12 in postseason play.