The Heavyweight division should be full of personality and fireworks, and various styles like trash talkers, dancers, southpaws, brawlers, and behemoths in classic places: Los Angeles, Manchester, Mexico City, London, Atlantic City, and the event kings of the ring New York and Las Vegas. We can't forget the exotic locales like Manilla, Philipines, Kingston, Jamaica, and Tokyo, Japan with two modern gladiators heaving their knuckles like wrecking balls. Upcoming marquee cities are Macau, China and Dallas, Texas. From the 1920's and on up to the 1990's the heavyweight division has offered a ton of excitement. There is a reason boxing movies do so well, because the real thing has brought so much exhilaration.
Yet, for quite a while the heavyweight division has been lacking in pizazz as a division. For many years other than viewing who the two Klitschko brothers (Vitali and Wladimir) were going to pound into submission in their next bout, the division just hasn't been a lot to get moved by. Let's face it boxing gets much more stimulating when there are a many larger than life names out there matching wits, heart, and dukes, back and forth in re-matches, and rubber matches. Promoters with wild hair and verbal flair like Don King can help build the hype.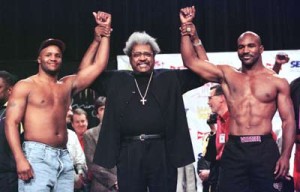 Infamous promoter Don King
(Photo Courtesy ofJeff Haynes/AFP/GettyImages)
In the late 90's and early 2000's you could feel the air slowly leaking out of boxing's tires, especially in the ranks of the heavies'. For a couple of years with an aging Lennox Lewis (whose prime was in the 90's) it got super boring as he blasted one old re-cycled has been after another. Then when Lewis faced Vitali Klitschko, we had two athletic titans taking it to one another.
Truth be told, if not for a cut over Vitlai's eye (which likely came from a right cross or incidental head contact almost immediately after, or my theory both-depends on who you ask), we were in for a delightful treat that could have gone the distance or had a thunderous knockout late by either man. In the early going Vitali rocked and dominated the fight, slipping jabs and countering his iron fists. Lewis charged back in the middle rounds only to have the fight called after six rounds. Lewis was behind on all three Judge's cards (56-58), and looking spent, the younger Klitschko had more gas in the tank and arguably was on his way to a victory as he danced, pawed, pursued, and landed more hard shots. Despite the ugly cut blinding the vision of the left eye, Vitali was visibly quite eager to back out there to pursue Lennox. Not long after that bout the 37 year old Lewis turned down Vitali Klitschko's offer in what could have been an economic windfall and epic re-match, thus hanging up the gloves. Vitali went on to wear the WBC crown dominating the likes of many such as Shannon Briggs.
For highlights of Vitali Klitschko versus Lennox Lewis slugging each other and other fighters that Vitali defeated see this link.
(Video Courtesy of HBO Boxing)
Wladimir and Vitali Klitschko took control of the division creating the Klitschko kingdom we still have today. They held the belts and being family there was never going to be a unification match. Both the late half of the Lewis era (but in the 90's during his prime, full of gifted fighters and Lennox defeated them) and the current era haven't appeared as talented overall in the sport as in the past. Even if that is so, I don't think it takes away from how awesome these three have been. Perhaps that is not fair to these three champs, but Wladimir has the opportunity now to show the dominance was real for all three as he is still a Champion and the only one left.
Watch Wladimir Klistchko crush Alex Leapai (a tough fighter known for a chin of steel, who batters the body with hooks and uppercuts to the jaw) in this link.
(Video Courtesy of ESPN)
There are some fine athletes now climbing the ranks of the squared circle. Quite a few of these warriors are undefeated and starving for a belt. In the next few years watch for some of these names (from every corner of the globe) to tangle with one another and take a shot at the title: Anthony Joshua ( 25 yrs old, 10-0, U.K.), Andy Ruiz Jr. (25 yrs old, 24-0, Mexico) Vyachesalv Glaskov (30 yrs old, 20-0, Ukraine), Joseph Parker (23 yrs old, 12-0, and New Zealand) and Hughie Fury (20 yrs old, 14-0, the U.K., and Tyson Fury's younger brother) can be included in this list. All are unbeaten and increasing the level of opposition in order to move up the ladder. Once Wladimir Klitschko, Bryant Jennings, Tyson Fury, Christian Hammer, and Deontay Wilder battle it out to determine an undisputed champion, there should be a number of fighters without a defeat just drooling for a chance for a world heavyweight championship. Not to mention there are good veterans like David Haye, Alex Leapai, and Alexander Povetkin who could always jostle for another crack for a major title. It's the kind of rich, flavorful stew needed to spark some taste onto the global stage for boxing.
Wladimir Klitschko is a 6 ft. 6 in. mountain of a man that looks like he came out of a comic book. His nickname is Dr. Steelhammer and he is from Ukraine. Wladimir holds three of the world's four major belts: the WBA, the IBF, and the WBO. His record is 63-3 with 53 of those victories coming by way of a steelhammer. Wlad's reach is 81 inches. He is known for boxing, not brawling, although he has the raw clout, he is so smooth for a big man, gliding around, side to side, like a predator looking for the angle to pounce, relying on a stiff left jab to set up bruising combinations that can floor his opponent at any time. Klitschko is now 38, so how much longer will he be around? 17 straight title defenses, his next bout is scheduled against Bryant Jennings, who is a young 30 years old due to only 19 professional bouts, but he's undefeated. Only 10 of those were by knockout for this American fighter, Bryant Jennings, yet he is predicting he will knock out Klitschko on April 25th in New York. Bryant is from Philly, so you know he carries that blue-collar toughness with him. Jennings is really an unknown, but he does have the reach advantage on Kltischko, despite conceding the height advantage.
Wladimir's time to shine is this year and next if he chooses to stick around. Wlad' is the quiet, smart, and confident type who wields a fat right cross, and a sharp left hook. Klitschko needs to beat a couple of these guys in order to validate his reign and his place in the history books. Does he have desire left in the tank or have years of being a World Champion emptied his tank? I predict Wladimir wins in a decision and faces Tyson Fury later this year.
Tyson Fury is (26 years old) 6 ft. 9 in., 23-0 with 17 KO's, and current holder of the WBO International heavyweight crown (not one of the 4 majors), with a reach that is 85 inches and a strong right hand. He is of Irish lineage from the U.K. and his next bout is against Christian Hammer, a good fighter out of Germany, on Saturday, Feb 28th,. Tyson Fury's best wins have come at the expense of the powerful Derek Chisora-twice. Fury is supremely confident, and never shies away from making comments. His trash talk in the U.K. accent is a delight to hear. Think of the fun we can have if he continues to stay in the mix. It is likely that he will defeat Hammer and that puts him in line to face Wladimir Klitschko.
(Video Courtesy of Ukraine Today)
Deontay Wilder is 29 years old and stands at 6 ft 7 in. with an 84 inch reach. Deontay is from the U.S.A., he just won the WBC belt, and is known as the bronze bomber. He is reviving his fellow American's interest in the sport. Wilder's strengths are a strong chin, a speedy, relentless snappy firm jab, a devastating overhand right, smooth footwork that dancing with the stars would appreciate, smart, technical defense, and he has the finishing power in both of his hands as 32 of his 33 victories have come by knockout. In fact, none of those KO's were beyond the 4th round. In securing his first belt, he did go the distance showing he has stamina as well. Wilder is not the type to start the smack talk, but he will defend himself. Wilder has developed a lot of mutual respect and garnered advice from both Wladimir and Vitali Klitschko, but as he has charged up the ranks, Tyson Fury has been barking at Wilder from across the pond. In that respect Fury and Wilder already have an arch-rivalry brewing. There is nothing yet on the slate for Wilder, but I am sure he will be defending his belt while looking at a chance to claim the rest of the collection in another year. It's a matter of time before Fury and Wilder mix it up.
Check out this video of Deontay Wilder training. He looks sharp and this report discusses some of the awesome trash talk started by Fury directed at Wilder, who has certainly responded in kind.
(Video Courtesy of ESPN News)
Oh yeah buddy, the heavyweight fight game is back!