I don't care who you are, if you like sports, you sit up a little straighter in your seat and pay a little closer attention to the game when an elimination game goes into sudden death.  As if the "winner-takes-all" mentality wasn't enough, let's go ahead and add the pressure of overtime to the situation.  The and the New York Rangers played an intense game and were tied 1-1 after 60 minutes in Game 7.  It would appear that these two teams were very evenly matched as they couldn't even decide who was better in 7 games.  So, there they were, the Rangers with their best record in the NHL during the season and their superstar in net vs the Capitals that boast the best skater in hockey and was responsible for their only goal in regulation.  Who would blink first?
The Rangers were fired up after a, let's say questionable hit from Brooks Orpik's elbow to Dan Boyle's head knocked the veteran defensemen from the game.  I'm quite sure Orpik will be visiting the commissioner's office in the offseason and will start the next season suspended, but it was Game 7, so that was a problem for another day.  The only thing the Rangers could do to get even was to win.
Shop Amazon DVDs – Save Up to 55% on Thousands of Movies & TV Shows
The Capitals dominated the first 11 minutes of overtime.  They out shot the Rangers and had more quality chances, but Henrik Lundqvist held strong and turned away each opportunity bring the crowd at Madison Square Garden to their feet.  Finally, the Rangers earned and offensive zone face off, won it, fired a shot from the blue line and saw the rebound bounce perfectly to the stick of Derek Stepan, who buried it, sending the Rangers to the Eastern Conference Finals and New York City into euphoria.
It was a brilliant game and wonderful end to the best series of round two.  The Capitals had their opportunities to finish off the Rangers when they were up 3 games to 1, but the Rangers came back, winning at home and on the road.  They improved their all-time record to 7-0 in home Game 7's which will give them a confidence boast for the next round where they will face the Lightning, who beat them three times in the regular season.  Should be a good one and any sports fans should hope to find themselves watching another Game 7 go to overtime.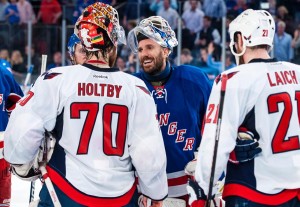 Corey Sipkin/New York Daily News