(Image Courtesy of Harry How/Getty Images)
A couple of big trades went down since my preview article for the upcoming trade deadline when Johnny Cueto was sent to Kansas City and Troy Tulowitzki was surprisingly sent to Toronto. Those won't be the last big name players to change uniforms this week, nor will it be the last surprising trade we see.
Johnny Cueto to Kansas City for prospects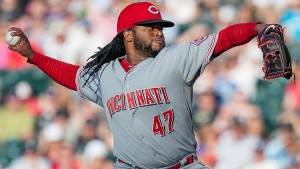 (Image Courtesy of Dustin Bradford/Getty Images)
In my preview article I wrote this about the Royals:
Edinson Volquez has been very good, but he projects as more of a #2 or #3 starter and would look much better pitching the game after, say, Johnny Cueto. Again, the price might be too high, but I'm of the opinion that when you are a contender (as the Royals clearly are) and you are merely one or two pieces away from getting that elusive World Series, go for it. A prospect that may or may not live up to hype isn't worth shorting yourself on a series run.
Not to toot my own horn, but this is exactly what happened. The Royals are going for broke in 2015, and who can blame them? They left the tying run at third base in Game 7 of the World Series last season, so they can't get a whole lot closer than that. Perhaps if they had Cueto to match up with Bumgarner, things could have turned out differently in the Series. But that was last year and the addition of Cueto immediately puts the Royals as the favorites to win the American League this year. Manager Ned Yost can rest easy with the decision to pencil in Cueto to pitch in Game 1 of the ALDS.
Cueto has posted four straight seasons with an ERA under 3 (5 if you count his injury shortened 2013 season), so he gets the "ace" label the Royals have desperately needed. He is a free agent after the season, so this is a straight up rental situation for K.C. unless he loves it there and signs a contract extension in the offseason. With that in mind, the Royals paid a steep price for Cueto.
Brandon Finnegan was a first round pick in 2014 and actually got called up to the majors that same season, making several appearances in the Royals playoff games. He might be a reliever, he might be a starter, but wherever he sticks, he should find success. The Royals mismanaged him this season flipping him between three different levels and starting some games, relieving others so his consistency hasn't been there in 2015 as opposed to 2014 when he made his rapid ascent to the majors. Once he finds a position, he can settle in and find his rhythm.
John Lamb is a little old to be a "prospect" at 25 because he lost a season to Tommy John surgery, but has bounced back big time this year.   A solid fastball and two above average secondary pitches so he profiles as a solid starting pitcher. He isn't destined for ace status like Cueto, but he should find his way to the middle of the Reds rotation in short order.
Cody Reed is more of a work in progress with some good tools, but needs some seasoning to stick on a major league team.
All in all, Cincinnati got a solid return for Cueto, who would only make about ten starts the remainder of the season for a non-playoff team if he stayed in Cincinnati. I give this a win for both sides with Cincinnati getting legitimate prospects for their rebuild and Kansas City getting the ace they will need in October.
Troy Tulowitzki and LaTroy Hawkins to Toronto for Jose Reyes and prospects
When I first heard the trade, I didn't know who the Rockies would be getting in return from Toronto, so my first thoughts were: bad trade by Colorado unless they get Daniel Norris, the Blue Jays number 1 prospect, and why did Toronto think they needed another right handed bat when they already have Josh Donaldson, Jose Bautista and Edwin Encarnacion? Why didn't Toronto go after the starting pitching they desperately need if they plan on catching the Yankees in the AL East (7 games back) or the Twins for the second Wild Card (3 games back)? A curious decision to me. Tulowitzki is a bona fide, no-doubt-about-it star – when healthy. He averages a 6.1 WAR (wins above replacement) when he plays more than 110 games, but has injury issues that has kept him from realizing his full potential. If he can stay healthy, he represents a clear upgrade over Jose Reyes, or any other shortstop for that matter. Reyes is good, but it has been a while (2011 to be exact) since he posted a WAR above 3.1. The Rockies have two choices with Reyes: they are either going to use Reyes as a stop-gap until Brendan Rodgers (the #3 pick in the last MLB draft) is ready for prime time or try to flip him for more prospects, eating a chunk of Reyes' salary in the process. We will see if they try to do that before Friday's deadline or wait for the offseason.
And then there are the contracts. Lot's of money is still owed to these two players and the Rockies will save about $50 million by moving Tulo. After this season, Tulowitzki has five more guaranteed seasons totaling $94 millions, plus a club option in 2021 for another $15. Reyes, has $22 million owed to him in 2016 and 2017 with a club option for the same amount in 2018 that will surely be bought out for $4 million. What will the Rockies do with that future savings? Fans can hope they spend it on pitching, pitching and then some more pitching.
LaTroy Hawkins is also headed up north to help solidify the Blue Jays bullpen, which will take the pressure off rookie flame thrower, Roberto Osuna. The 42-year old vet can show the 20-year old kid a few things about being in a major league bullpen.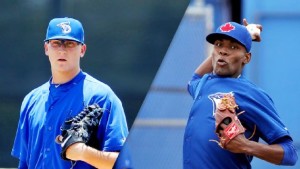 (Jeff Hoffman (left) and Miguel Castro (right) image courtesy of Icon Sportswire)
Besides Reyes, the Rockies acquired a few prospects to improve their farm system. Miguel Castro is the most polished of them and even made the major league roster out of spring training as a 20-year old. He throws hard, but doesn't have much to offer after that. If he can learn another pitch, he could be the Rockies closer of the future, if not, he will be suffering from whiplash as balls get hit around Coors Field.
Jeff Hoffman has the potential to make this trade a "win" for Colorado. He could have been the No. 1 pick in the 2014 draft, but had Tommy John surgery and fell to ninth. He has healed from the elbow injury and has pitched very well this year in the majors. If he can stay healthy and realize his potential, he fits very well near the top of the Rockies rotation.
Overall, I give the Blue Jays the slight win on this. I think the Rockies could have got a better haul of prospects from one of the New York teams, but maybe they weren't biting on Tulo. The only reason the Blue Jays didn't get an emphatic win on this trade was Tulo doesn't fill the obvious need for pitching they have. They improved their lineup, but the lineup didn't need helping. Toronto has scored 528 runs so far this year giving them a huge lead on the second most potent offense in the Yankees with 456. Perhaps they are thinking they can just win a bunch of games 11-10 and not need the elite pitching that other teams covet.