She's an Olympian Judoka. She's a model in the most recent Sports Illustrated Swimsuit Edition. She's an actress, appearing in two huge summer blockbusters this year. She's also a huge fan of Dragonball Z and WWE. Who's that girl you ask? Well she's also the UFC Women's Bantamweight Champion and the baddest chick on the planet. "Rowdy" Ronda Rousey, or as Eminem has dubbed her, "Slaughterhouse in a blouse."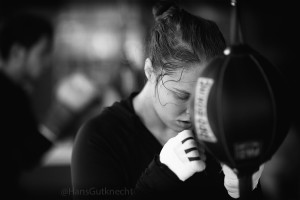 (Photo Courtesy of Hans Gutknecht)
And on Feb. 28th she will be defending her title once again. This time against someone who has earned the right to challenge her twice, the "Alpha" Cat Zingano. Both women are undefeated in their professional careers, Rousey boasting one more professional fight than Cat. And someone's 0 has got to go.
Now while Rousey always draws attention and always can sell a card on her persona alone, Cat Zingano isn't coming in to just be another piece of Rousey's streak, she's coming in to present actual problems. Cat is a highly skilled wrestler hoping to counter Rowdy's judo technique, put that along with some very strong striking, Zingano is here to make this matchup extremely interesting.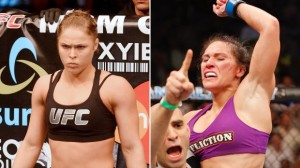 (Photo Courtesy of Donald Miralle, Josh Hedges via Getty Images)
Not only are these women both undefeated, but there has only been 1 decision combined between the two. These two have basically finished every opponent placed in front of them. Cat with some impressive knockouts, Ronda with probably the best armbar finishes in the sport, this fight has all you need to make it a "don't blink" matchup.
As obvious as it may sound, Cat can win by keeping this fight off the ground. She's a hard striker. She's been knocked and can come back strong. After her nasty knee injury, causing an initial cancellation of her first title fight vs Ronda, life didn't exactly get any easier. Zingano faced what could be career ending for many, her husband passed months after her injury. Taking his own life. The road to recovery could not have been any more difficult for Cat. But she's a fighter, and she fought her way back. Winning an impressive TKO finish against Amanda Nunes after a 17 month layoff. And now she's ready for her moment, ready to top that mountain and claim what she feels she deserves. But that journey must go through the Rowdy one.
Ronda is a deserving and defending champion. Even defending her title less than two months after her previous bout, both fights ending in the first. Can't knock her for that, some UFC champs don't see a title defense per year yet are "great champions". Ronda puts in the work and it shows. Only one fighter has taken her out of the first round and I don't think she plans on letting that happen again. Rousey is a crazy focused champion, she is ready to go to war at any moment. She's the kind of crazy that builds lifetime champions, while I don't believe any one fighter is unbeatable, looking into Rousey's fighting eyes will make me question that.
Zingano's wrestling could and probably will present problems, but Rousey isn't a one trick fighter. And we've actually seen her improve in every fight she's been in. Her hand work is extremely impressive as of late, and there is no question that if she wants to take you down, she'll think of a way to do so. So while Zingano could be her toughest challenge, I can't bet against Rowdy. Not yet. This will be a fight of the night type matchup and won't disappoint the viewers. I'm glad this fight got the main event status it deserved. It'll be worth it…don't blink.