The Natural vs The Iceman. To the casual reader, you would think I'm about to talk about an upcoming Marvel movie. But to MMA fans, it is one of the best fight trilogies we've witnessed between Randy Couture and Chuck Liddell. The trilogy ended in 2006 at UFC 57 with Liddell taking the 2-1 lead in the rubber match. But why stop at 3?
These two legends met for an incredible three part series in which neither of the three bouts ended by decision. While their first meeting in 2002 had Couture at the top of his game and division, by the time this trilogy came to a close, it was now Liddell standing atop the 205 lb weight class.
So here we are, both men retired since 2010 and 2011 (Surprisingly the older Randy retired after) and these guys are giving it another three rounds. This time there is no belt on the line, we aren't climbing the ranks or cementing a legacy…they've done all of that. This is quite simply for the fans and for a bit of pride. These guys didn't exactly retire with some gracious losses. Randy was front kicked out of MMA at the tender age of 47 by Lyoto Machida, losing a tooth in the process. And Chuck couldn't say bye, finishing his career with three consecutive highlight reel knockout losses, finally calling it a day after his date with Rich Franklin.
But there's a buzz about this fight. As a fan of the UFC, of MMA, you feel the excitement of watching these old school fighters give it one more go. It's as if we've unlocked some special characters in a video game, it's going down. The beauty is there isn't too much to break down about this fight either. These men know each others game, they've trained for these exact fights before. While Chuck may have the upper hand, a rematch can benefit the loser because they know where the mistakes were made prior, winners assume they can stick to the same plan.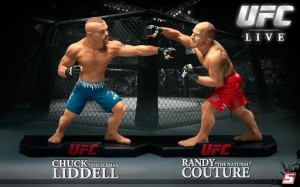 (Photo Courtesy of The Fighting Nerd)
Let's be real for a second though, do we think this fight goes any other way but by knockout? These guys have had their button pushed a few too many times. This fight is ending early and probably devastatingly. Neither has anything to really prove, we love them win or lose. But it's about one thing, your hand being raised at the end of the night, and these warriors will be doing whatever it takes to be that man. While I wish and believe they both rightfully deserve their hands raised, here's my honest opinion.
Liddell will knockout Randy once again. If one man has evolved, it's Chuck. The last two meetings between them told us all. Chuck is strong enough as a wrestler to defend anything Randy attempts, leaving this fight to stay standing. And while Couture can dirty box with the best, Liddell just needs one moment to finish it all. And it will land early.
Now in a fair world, and especially MMA, anything can happen! Chuck has not exactly been able to withstand much damage his last few fights, so if Randy can sneak one in, it could be the right touch at the right moment.
Either way, the true winners are us the fans. It's going to be an honor to watch these guys go at it once more. This won't be fight of the year or of the night for that matter. It's about the moment, and what these men represent. True warriors, true pioneers simply….
Legends.